Photo Coverage: (mostly)musicals Takes a ROAD TRIP at the E Spot Lounge
After a 3 month absence, (mostly)musicals made a long-awaited return to the E Spot Lounge on Monday, August 15 with ROAD TRIP, the company's 18th entry in a series of themed cabarets. BroadwayWorld takes you inside the event below!
Music director Gregory Nabours kept us on course for this ROAD TRIP, featuring performances from alums Sharon McNight (Tony nominee, STARMITES), Daniel Stewart (B'way: SPRING AWAKENING), Derek Carley (THE DODGERS), Emily Clark (SLIGHTLY DRAMATIC), Jason Peter Kennedy (upcoming LITTLE SHOP at the Cupcake), Kelley Dorney, (MARILYN), and Tod Macofsky (SEX, LOVE, AND YOGA); as well as first time (mostly)musicals appearances from Michael-Leon Wooley (Disney's THE PRINCESS AND THE FROG, B'way shows including: LITTLE SHOP OF HORRORS and FIVE GUYS NAMED MOE), Hannah Corrigan (VIOLET at San Diego Rep), Jenna Carley, John Devereaux (upcoming RENT 20th Anniversary Tour), Matthew Sims (RECORDED IN HOLLYWOOD), Marc Ginsburg (REAL HOUSEWIVES OF TOLUCA LAKE: THE MUSICAL), Miki Yamashita (LA OPERA), and Tiana Okoye (Judy in A CHORUS LINE at the Hollywood Bowl). ROAD TRIP also featured a special sneak preview of Triage Productions and Standing Room Only's production of NEXT TO NORMAL, currently playing at the Pico Playhouse.
Mark your calendars for (mostly)musicals #19: UP FOR DEBATE, on Monday, September 19 and visit www.mostlymusicalsLA.com for more information.
Photo Credit: Amy Francis Schott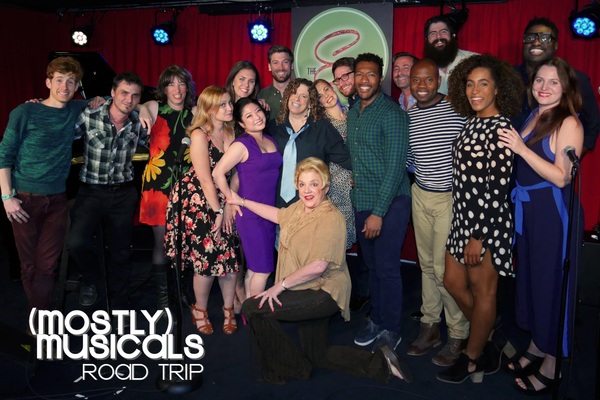 The (mostly)musicals ROAD TRIP family (from left): Daniel Stewart, music director Gregory Nabours, Amy Engelhardt, Emily Clark, Miki Yamashita, Jenna Carley, Derek Carley, producer Amy Francis Schott, Sharon McNight, Kelley Dorney, Marc Ginsburg, John Devereaux, Tod Macofsky, Matthew Sims, Jason Peter Kennedy, Tiana Okoye, Michael-Leon Wooley, and Hannah Corrigan. (Photo by Eric Cornwell)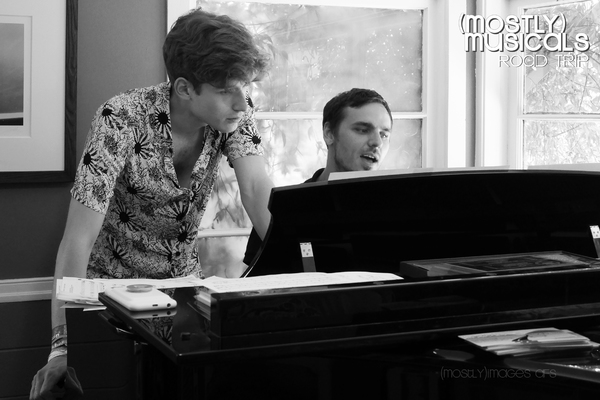 Daniel Stewart works on a song with Gregory Nabours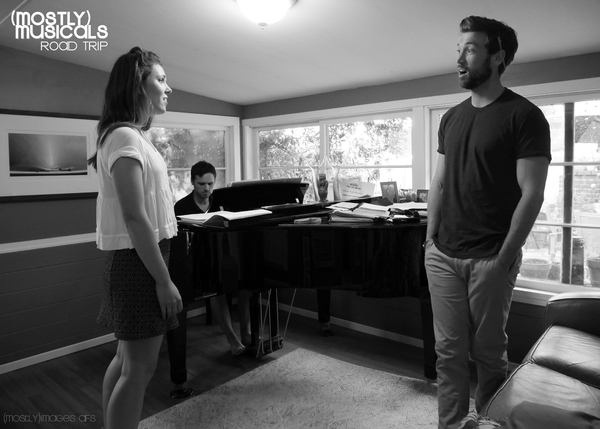 Jenna Carley, Gregory Nabours, and Derek Carley rehearse for (mostly)musicals

Matthew Sims rehearses for (mostly)musicals ROAD TRIP

Marc Ginsburg and Kelley Dorney rehearse with Gregory Nabours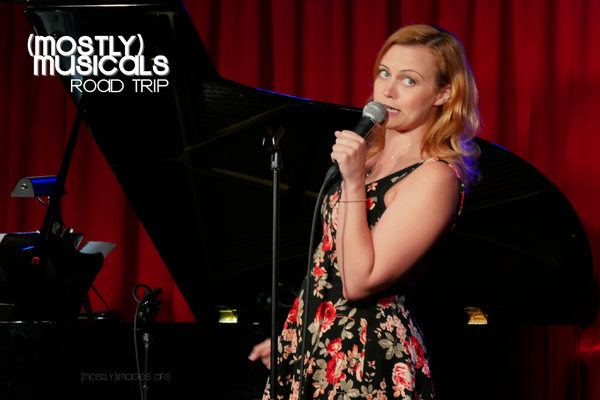 Emily Clark kicks things off with 'The Trolley Song' from MEET ME IN ST. LOUIS

Tod Macofsky directs us to get our kicks on 'Route 66'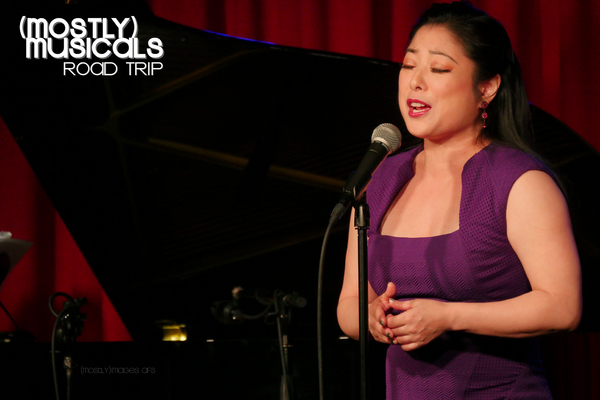 Miki Yamashita sings about the difficulty of being 'Far From the Home I Love'

Jason Peter Kennedy offers music director Gregory Nabours a ride in his 'Surrey with the Fringe on Top'

Derek and Jenna Carley sing 'I'd Give It All For You' from SONGS FOR A NEW WORLD.

John Devereaux and Daniel Stewart take a road trip together in 'Travel Song' from SHREK.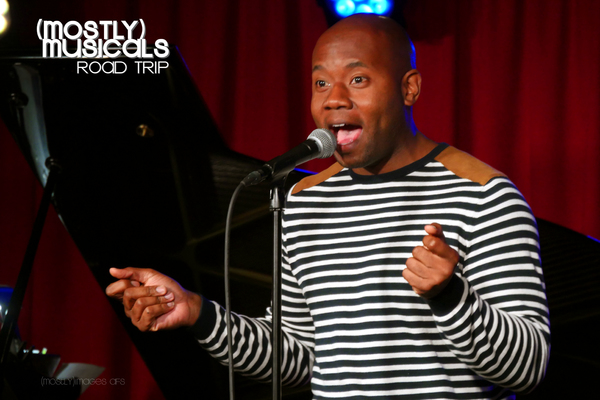 Matthew Sims suggests that we 'Take the A Train,' in the Duke Ellington classic.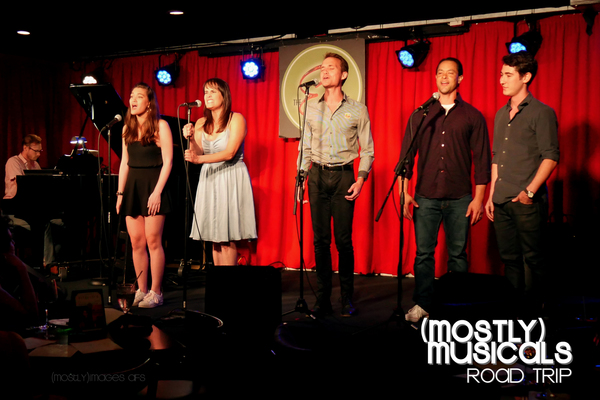 The cast of NEXT TO NORMAL performs 'Just Another Day', featuring Isa Briones, Michelle Lane, Harrison Meloeny, Nick Sarando, and Blaine Miller, with MD Taylor Stephenson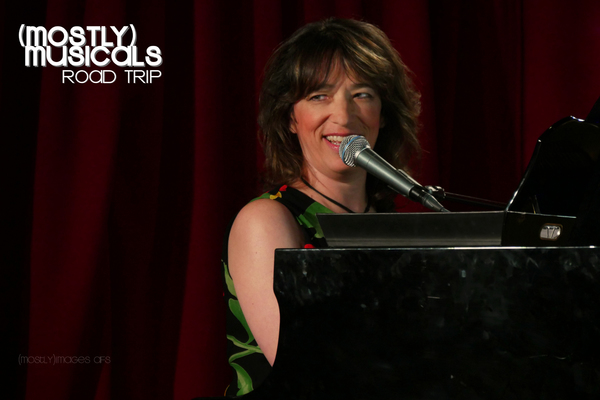 Amy Engelhardt performs her original 'Bridge and Tunnel'

Marc Ginsburg and Kelley Dorney song Jason Robert Brown's 'One Second and a Million Miles' from BRIDGES OF MADISON COUNTY

Sharon McNight invites the audience to ride the rails with her on the train they call 'The City of New Orleans'

Tiana Okoye takes us on a late night trip around NYC in Sam Carner & Derek Gregor's 'After Hours'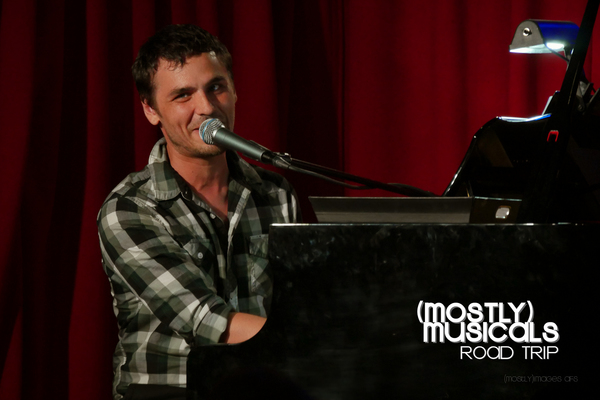 Gregory Nabours leads us down a different road with Joe Kinosian and Kellen Blair's 'Travelin' Man'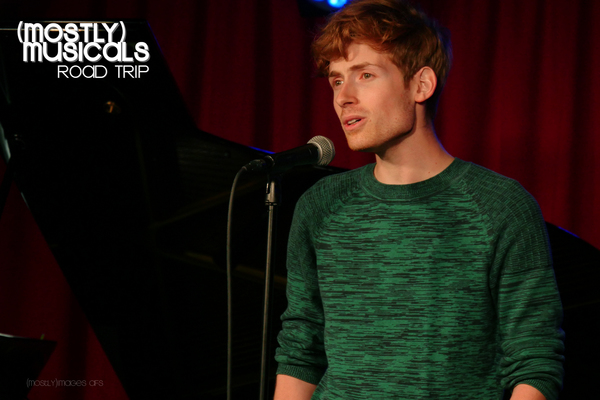 Daniel Stewart sings 'Run Away with Me' from Kait Kerrigan and Brian Lowdermilk's THE UNAUTHORIZED AUTOBIOGRAPHY OF Samantha Brown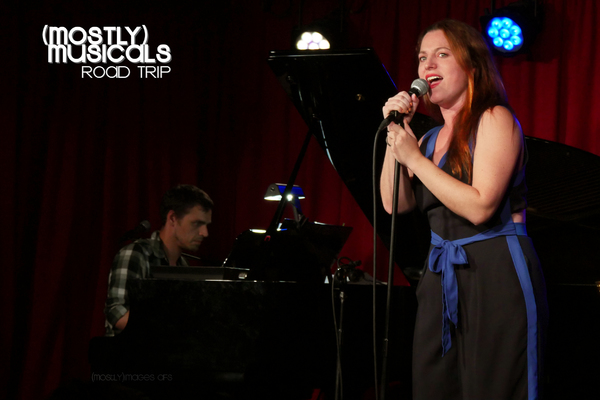 Hannah Corrigan revisits her leading role in the San Diego Rep's production of VIOLET with 'On My Way'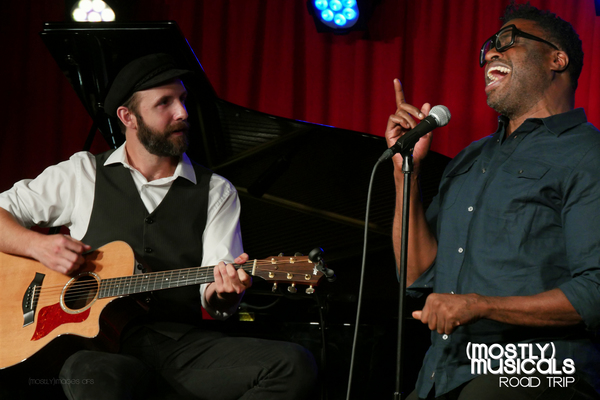 Michael-Leon Wooley (with guitarist Matthew Hornbeck) closes out the evening with Oleta Adams' passionate 'Get Here'