Open Fist Presents Beautiful, Moving, Funny UNDER MILK WOOD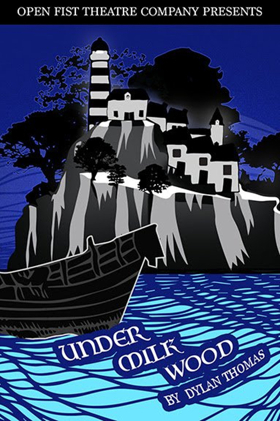 Intensely beautiful, poignant and sublimely funny. Open Fist Theatre Company presents a revival of Under Milk Wood, the linguistic tour-de-force by the great Welsh poet Dylan Thomas. Ben Martin directs for a July 27 opening atAtwater Village Theatre.
Reflecting the milieu in which
Dylan Thomas
grew up, Under Milk Wood recounts the dreams, gossip and waking hours of the sleepy, Welsh seaside town of Llareggub - a name that seems innocent enough until you read it backwards. A slice of life set over a period of 24 hours one spring day, Milk Wood exposes the secret thoughts and reveries of over 50 residents in the salty fishing town. Unforgettable characters such as
Jack Black
, the sexually repressed cobbler;
Mr. Pugh
, who constantly dreams of murdering his wife; sweet Polly Garter, loved by many men, but still pining for long-dead Little Willy Wee; Mr. Waldo, who has impregnated virtually every woman in the countryside; twice widowed Mrs. Ogmore-Pritchard, who dreams of assigning cleaning tasks to her two dead husbands; and town bigamist Dai Bread populate this odd place, and their affectionate charm and humor still captivate and entertain 65 years after it was written. The poetry wafts and enters through one's heart rather than one's head. Under Milk Wood, originally written for a BBC radio broadcast, was famously described by the author as "a play for voices." When Thomas read it for its first public performance in Cambridge, Massachusetts, in 1953, it was still unfinished. Published posthumously in 1954, it became his most famous piece. "Our production draws inspiration from the celebrated 'Living Theater,' explains Martin. "We're adding elements of music hall and British pantomime to bring
Dylan Thomas
's rollicking, bawdy, life-affirming masterpiece to life." According to Open Fist artistic director
Martha Demson
, "Under Milk Wood oozes a troubled yet exuberant lust for life and love, much like
Dylan Thomas
himself. In these angry days, full of vitriol and scorn for those who are different, it seems a welcome antidote to celebrate and embrace the flaws and weaknesses that come with being human, and all through Thomas' extraordinary language." The large Open Fist ensemble features Richard Abraham, Dillon Aurelio-Perata,
Bryan Bertone
, Christopher Cedeño, Stephanie Crothers,
Cat Davis
, Bruce A. Dickinson,Claire Fazzolari, Katherine Griffith,
Jennifer Kenyon
,
Carol Kline
, Tim Labor,
Gina Manziello
,
Paul Myrvold
, Neil Asa Oktay, Michael Philbrick, Katie May Porter, Kenia Romero and Jade Santana. The creative team includes music director and sound designer Tim Labor, lighting designer
Ellen Monocroussos
, costume designer
Carol Brolaski
Klineand graphic designer Liam Carl. Jennifer Palumbo is the production stage manager. The associate producers are
Beth Robbins
and
Amanda Weier
, andMartha Demson produces for Open Fist Theatre Company. One of the best-known British poets of the mid-20th century,
Dylan Thomas
is remembered for his highly original, obscure poems, his amusing prose tales and his turbulent, well-publicized personal life. Widely known for his powerful poetry readings over BBC radio, he became a popular, if not controversial, figure. Born in Swansea, Wales, in 1914, Thomas moved to London after grammar school. In 1934, his first book of poetry, "Eighteen Poems," was published. At this early age, he revealed unusual power in the use of poetic diction and imagery; the volume won him immediate critical acclaim. Thematically, these poems and virtually all that followed seem obscure because they contain elements of surrealism and personal fantasy. But the freshness and vitality of Thomas' language draw the reader into the poems and reveal the universality of the experiences with which they are concerned. His reading tours in the United States, which did much to popularize poetry readings, are famous and notorious, for Thomas was the archetypal Romantic poet of the popular American imagination: he was flamboyantly theatrical, a heavy drinker, engaged in roaring disputes in public, and read his work aloud with tremendous depth of feeling. He became a legendary figure, both for his work and the boisterousness of his life. Tragically, he died from alcoholism at the age of 39 after a particularly long drinking bout in New York City in 1953. Open Fist Theatre Company is a collective, self-producing artistic enterprise with all facets of its operation run by its artist members. The company's name combines the notion that an open spirit, embracing all people and all ideas, is essential, with the idea that determination, signified by a fist, is necessary if the theater is to remain a vital voice for social change and awareness. Under Milk Wood runs July 27 through Aug. 25 with performances on Fridays and Saturdays at 8 p.m. and Sundays at 7 p.m. Preview performances take place July 20 through July 22 on the same schedule, with an additional preview on Thursday, July 26 at 8 p.m. Tickets are $20 for all performances, except previews which are Pay-What-You-Want. Atwater
Village Theatre
is located at 3269 Casitas Ave in Los Angeles, CA 90039. On-site parking is free. For reservations and information, call (323) 882-6912 or go to
www.openfist.org
.