Merry Mystery A CHRISTMAS CACTUS Opens November 16 At Little Fish Theatre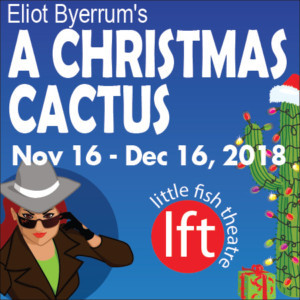 The last production of Little Fish Theatre's 2018 season is A Christmas Cactus, written by novelist and Washington, D.C. journalist Eliot Byerrum and directed by LFT newcomer Gloria Iseli. Opening November 16, this mystery mashes Dickens and Doyle in a charming Christmas tale where goodwill and justice triumph.
Christmas Eve is about to get interesting for Cactus O'Riley, a sassy private eye with the holiday blues. Between dodging the affections of Deputy D.A. Stuart Windsor, trying to hold on to her assistant Fred, and considering closing her business, Cactus now has to contend with two fugitives who break in wanting her help and a deceased detective named Jake Marley who still holds secrets from the grave. Add to this merry mix Fred's mother Adelaide, who thinks the gathering is a murder mystery party. Will Cactus be able to solve the case and take a second chance on love and sleuthing?
A Christmas Cactus features a gleeful group of both LFT company members and newcomers to the LFT stage. Playing the sassy sleuth Cactus is company member and prolific voiceover actress Melissa Brandzel*, who was last seen at LFT in Laughter on the 23rd Floor. Mary-Margaret Lewis* takes on the comedic role of Adelaide. Lewis's career spans such television series as St. Elsewhere and Speechless, and was in this season's Quartet. Windsor is taken on by Doug Mattingly who appeared in LFT's Dinner with Friends and recently starred in the short film Grand Cru which won "Best Thriller - Short" at the Culver City Film Festival. Faith Streng plays Fred Booker, Cactus's assistant. Streng performed in the world premiere of Tennessee Williams' The Day On Which A Man Dies. Fugitives Neville Smedley and Ramon Ramirez are played by Mel Hampton* and Blake McCormack. Hampton has worked at East West Players and in multiple grad school short films for USC and AFI. McCormack has performed at the Avery Schreiber Playhouse and in the full-length premiere of Fledgling at the STAGES Theater.
Director Iseli is directing the indie horror feature The Headless and has completed the documentary King Chess about the 2018 Candidates Chess Tournament and World Chess Championship. "A Christmas Cactus is a wonderfully quirky gem of a play. I was drawn to it because it made me nostalgic for some of my favorite things from childhood: Agatha Christie's plays, my parents' Murder Mystery parties, and Christmas Eve, all wrapped up in a tidy little bow," says Iseli. "I couldn't be happier to work with this amazingly talented cast, and I know the audience will be as charmed by them as I am. My hope is that in this time of holiday stress and reflection over a hard year, that the audience will leave feeling that, for a brief moment, they were able to leave their troubles behind and enjoy themselves at our little holiday party."
A Christmas Cactus will run Fridays and Saturdays November 16 through December 15 at 8:00pm, with two Sunday 2:00pm matinees on November 25 and December 16. The November 25 show features a special Talkback session where the actors and creative team will be available for a post-show discussion with the audience.
Diana Mann will be costuming A Christmas Cactus, with prop design by Madeleine Drake, lighting design by Stacey Abrams, and sound design by Cinthia Palmer.
Founded in 2002 as an artists' ensemble, Little Fish Theatre presents classic and contemporary plays in an intimate setting on Centre Street in downtown San Pedro.
*This production is presented under the auspices of the Actors' Equity Los Angeles Membership Company Rule.