MTG REWIND Revisits The Best Of MTG In A Special Benefit Concert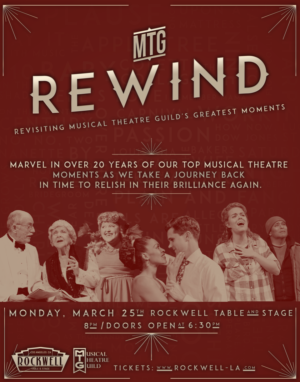 Musical Theatre Guild, the winner of the Los Angeles Drama Critic's Circle Margaret Harford Award for sustained excellence in the theatre, will present MTG REWIND, a special benefit to support Musical Theatre Guild's extensive youth outreach programs. The event, an intimate celebration of over 20 years of Musical Theatre Guild's best musical moments, will take place at Rockwell Table and Stage on Monday, March 25, 2019 at 8:00 pm.
Since 1996, the Musical Theatre Guild has showcased Broadway's forgotten gems and undiscovered treasures in concert staged reading format. MTG REWIND celebrates that legacy and revisits some of its best musical moments, performed by many of the original MTG cast members. With credits spanning Broadway, national tours, major regional theaters and concert halls around the country and the world, the company's membership roster of talent is a "who's who" of L.A.'s musical theatre performers. See why the Los Angeles Times called the Musical Theatre Guild "a treasured gift to Los Angeles for which we should all be grateful."
All proceeds from the evening support MTG's student outreach program and further our mission of preserving and celebrating musical theater for this and future generations.
MTG REWIND will feature Musical Theatre Guild company members Eydie Alyson, Eileen Barnett, Teri Bibb, Matthew Braver, Jill Marie Burke, Melissa Lyons Caldretti, Bryan Chesters, Will Collyer, Melissa Fahn, Joshua Finkel, Tal Fox, Anthony Gruppuso, Pamela Hamill, Barbara Carlton Heart, Kristi Holden, Paul Keith, Damon Kirsche, Carol Kline, Marsha Kramer, Ashley Fox Linton, Kevin McMahon, Glenn Rosenblum, Alyssa Simmons, Shannon Warne, Susan Watson, and Robert Yacko. The benefit will be directed by Joshua Finkel with musical direction by Cassie Nickols, and production support by Will Collyer, Kristi Holden, William Martinez and Leesa Freed.
Rockwell Table and Stage is located at 1714 North Vermont Ave in Los Angeles. Call 323-669-1550 or log onto to www.rockwell-la.com for tickets and more information.
| | |
| --- | --- |
| Vote Now for the 2022 BroadwayWorld Los Angeles Awards | |
| voting ends in | |