Los Angeles New Play Project Celebrates 2nd Annual Award Recipients
Los Angeles New Play Project supports new and original works presented on small stages within Los Angeles County.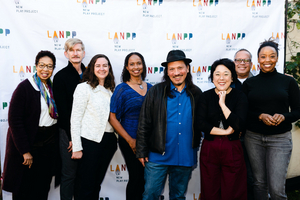 Winning playwrights and producers of the LANPP 2022 grants came together to celebrate the four new plays to be produced in the coming year. Two of the four plays selected are authored by a single playwright, David Johann Kim. Kim's Pang Spa, in a site-specific production staged in Koreatown, will be premiered by Chalk repertory Theatre, a company with a long history of site-specific work.
His play Two Stop will be produced by Ensemble Studio Theatre/LA. En route to that opening, Two Stop was presented in a workshop reading at the Inkwell Theater January 20-22. Both plays are set in the LA Korean community in the aftermath of the Rodney King verdict, and they are related in character and theme.
Rosie Narasaki's Unrivaled, produced by Jon Rivera of Playwrights' Arena, will have its premiere production at Boston Court Pasadena, opening March 25th. Narasaki's work has been developed and produced by Becky and Baldwin, David Henry Hwang Writers' Institute, and more.
Marlow Wyatt's SHE will be produced and presented by Antaeus Theater Company. Wyatt's writing takes its cues from everyday life, its rhythms, patterns and movements, representing authentic storylines from diverse American subculture. SHE is scheduled for full production in Fall of 2023, but en route will have a reading produced by Lower Depths Theatre at A Noise Within. This is her first full professional play production.
Los Angeles New Play Project supports new and original works presented on small stages within Los Angeles County. In 2023, each of the three playwrights received grants of $20,000. Each of the four submitting producers will receive an additional $20,000 to help offset the cost of producing. But there are many steps in between that rely on the facilities and input of the various theatres within the LA theatre community. Clearly, it takes a village! Winning productions must begin rehearsal within 18 months of the granting of the award in order to remain eligible for the $20,000 production award.
By helping to support new works with the financial grants, LANPP is hoping to usher in quality new writing for the vibrant and evolving Los Angeles small and midsize theatre community, and to encourage the production of exciting, untried plays.
LANPP was founded in 2021. For more information regarding the Los Angeles New Play Project please consult the website: https://cloud.broadwayworld.com/rec/ticketclick.cfm?fromlink=2220759®id=9&articlelink=http%3A%2F%2Flanpp.org%2F?utm_source=BWW2022&utm_medium=referral&utm_campaign=article&utm_content=bottombuybutton1.