Katherine Farmer to Helm SOUTH PACIFIC and HEISENBERG at RTC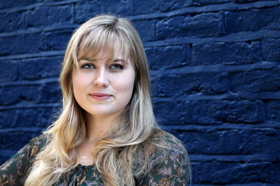 Rubicon Theatre Artistic Director Karyl Lynn Burns today announced that London-based director Katharine Farmer will helm the company's next two productions, a two-piano version of South Pacific (Dec. 5 - 23, 2018) which concludes Rubicon's 20th Anniversary Season, and Heisenberg (Jan. 30 - Feb. 17, 2019), a co-production with Laguna Playhouse, where the show runs Mar. 27 to Apr. 14, 2019).
Farmer made her Rubicon debut with Arlene Hutton's Last Train to Nibroc while on a Cultural Vistas exchange program in 2015. She received an Indy Award for her direction of the production, and subsequently directed the other productions in Hutton's trilogy for Rubicon, receiving two Ovation nominations for Best Director. (Her production of the final piece in 2017, Gulf View Drive, won the Ovation for Best Production of a Play, Larger Theatre.)
Farmer was appointed Rubicon's Director of International Programming in 2016, and subsequently directed the West Coast Premiere of Nick Payne's Incognito for the company to critical acclaim.
Says Burns, "We are so fortunate to have Katharine as a part of the Rubicon family. She has extraordinary insight and ability and we are inspired by her vision for these next two productions at Rubicon. Her production of South Pacific stars Ben Davis and Madison Claire Parks, and will be gritty and provocative, while also embracing the humor and romance of the story. And in early readings of Heisenberg, starring Faline England and Joe Spano, we are thrilled about the deep and interesting connections the cast and Katharine are finding between the characters. We are excited to share these productions with our audiences."
Farmer's other credits include Kiss Me by Richard Bean (2018, Wardrobe Theatre/The Other Palace Theatre UK); Silent Meat by David Levelsey (2017, The Pleasance, London UK); Last Train to Nibroc (2017, Bermuda Festival); 23.5 Hours by Carey Crim (2016, Royal Manitoba Theatre Centre, Co-Director); Pig Farm by Greg Kotis (2015, St. James Theatre, London); an adaptation of The Importance of Being Earnest (2015, Dominion Theatre) which raised £155,000 for the Duchenne Medical Research Fund; Glamping by Carey Crim (2015, Samuel French Off-Off Broadway Festival); 23.5 Hours (2013, St. James Theatre Studio); Who's Afraid of Virginia Woolf? by Edward Albee (WSAF, University of Warwick); and Look Back in Anger by John Osborne (2012, WUDS, Loft Theatre). Assistant Director credits include: Dracula by Liz Lochead at Loco Klub, Bristol UK (2018, dir. John Walton); Sleeping Beauty at Theatre Clywd, Wales (2017, dir. Zoe Waterman); Lonesome Traveler by James O'Neil at 59E59 Theater NYC (2015, dir. James O'Neil); The Last Five Years by Jason Robert Brown (2015, dir. Stephanie Coltrin, Rubicon Theatre); Wiesenthal by Tom Dugan at Theatre Row NYC (2014, dir. Jenny Sullivan); Conviction by Carey Crim at Rubicon (2014, dir. Scott Schwartz); and Scenes from a Marriage at St. James Theatre, London (2013, dir. Sir Trevor Nunn).
Rubicon is Ventura's premiere professional not-for-profit theatre company. The theatre is located at 1006 E. Main Street, Ventura, CA 93001 (the corner of Main and Laurel). For tickets to South Pacific and Heisenberg at Rubicon Theatre Company, call (805) 667-2900 or go to www.rubicontheatre.org.