Fountain Theatre's Katrina-Set RUNAWAY HOME Will Support Hurricane Harvey Relief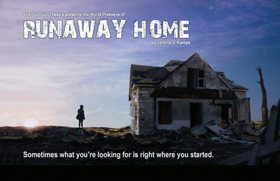 The Fountain Theatre will donate a portion of all ticket sales from its upcoming production of Runaway Home to the Houston Food Bank. Runaway Home is set during the aftermath of Hurricane Katrina.
"Runaway Home is about the people of New Orleans rebuilding their lives after Katrina," explains Fountain co-artistic director Stephen Sachs. "The play puts a human face on citizens rebounding from the hurricane and flooding, and the government's role (and inefficiency) in that recovery. With so many homes destroyed and families struggling after Hurricane Harvey, the play could not be more timely."
"We at the Fountain are committed to combining our art with social action," he says. "Our mission is to use theater as a vehicle to raise awareness and empathy for the human condition. It's critical that we encourage our patrons to engage, to do something."
A lyrical and poignant new play about the power of community, Runaway Home is set in New Orleans' Lower 9th Ward three years after Katrina. In the play, 14-year-old runaway Kali embarks on a journey to pick through the wreckage of what used to be her life, rhyming, stealing and scamming her way through the still-destroyed neighborhood. While the rest of the country's attention drifts, the community's residents are left to repair the damage from the inside out. Playwright Jeremy J. Kamps was inspired by his experiences as a volunteer "gutting and mucking" (stripping homes to the studs to remove mold) in New Orleans two years after Katrina.
The Houston Food Bank is a nonprofit organization providing food and supplies for individuals and families impacted by Hurricane Harvey. In addition to contributing to the Houston Food Bank, the Fountain will make materials about disaster relief, climate change and social action available in the lobby and schedule a series of post-show discussions.
Runaway Home is directed by Shirley Jo Finney and stars Leith Burke, Jeris Lee Poindexter, Armando Rey, Maya Lynne Robinson, Camille Spirlin, Brian Tichnell and Karen Malina White.
Performances are scheduled Saturdays at 8.p.m., Sundays at 2 p.m. and Mondays at 8 p.m. Sept. 16 through Nov. 5. Tickets range from $20 to $40, and every Monday night is pay-what-you-want. A portion of all ticket sales will be donated to the Houston Food Bank. For more information and to purchase tickets, call (323) 663-1525 or go to www.FountainTheatre.com.
More Hot Stories For You