Disney's NEWSIES Gets Encore Screening at El Capitan Theatre This Weekend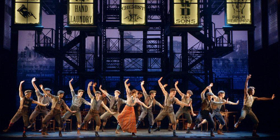 Seize the day one last time! NEWSIES: THE BROADWAY MUSICAL, the TonyAward-Winning Broadway Musical, is back by popular demand for a special encore presentation at The El Capitan Theatre, August 4-9, 2017 and stars Jeremy Jordan, reprising his Tony Award-Nominated performance as "Jack Kelly." NEWSIES: THE BROADWAY MUSICAL will screen August 4th and 5th at 7:00pm and 10:25pm, and August 6th through 9th at 7:00pm.
Fathom Events and Disney Theatrical Group are thrilled to be able to present Disney's NEWSIES: THE BROADWAY MUSICAL to the big screen. Captured live at the Hollywood Pantages Theatre in 2016 and transformed onto the movie screen, the event stars Jeremy Jordan reprising his Tony Award-Nominated performance as Jack Kelly. Joining Jordan are original Broadway cast members Kara Lindsay as KATHERINE, Ben Fankhauser as DAVEY and Andrew Keenan-Bolger as CRUTCHIE, and NEWSIES North American Tour stars Steve Blanchard as JOSEPH PULITZER and Aisha de Haas as MEDDA LARKIN.
Since opening on Broadway in 2011, NEWSIES has played 1,711 performances between Broadway and the North American tour, to more than 2.5 million audience members in 65 cities across the country.
Tickets now on sale for $18, available at the El Capitan Theatre (6838 Hollywood Blvd.), online at www.elcapitantickets.com or by calling 1-800-DISNEY6. Special group rates for parties of 20 or more are available by calling 1-818-845-3110. Show times and dates are subject to change. A special VIP ticket for $20 includes VIP Preferred Seat, Popcorn in an El Capitan Theatre Souvenir Popcorn Tub & 20 oz. Drink.
"Our earlier engagement of NEWSIES: THE BROADWAY MUSICAL thrilled and galvanized our El Capitan Guests, and we are delighted to be the only theatre offering 8 more showings of this audience favorite. This exhilarating Tony winner took New York and the country by storm and will do so at The El Capitan Theatre once again! " said Ed Collins, General Manager of The El Capitan Theatre.
NEWSIES: THE BROADWAY MUSICAL, features a Tony Award-winning score with music by eight-time Academy Award winner Alan Menken and lyrics by Jack Feldman, a book by fourtime Tony Award winner Harvey Fierstein and is produced by Disney Theatrical Productions. NEWSIES: THE BROADWAY MUSICAL is directed by Tony nominee Jeff Calhoun and choreographed by Christopher Gattelli, who won a 2012 Tony Award for his work on the show.
Set in New York City at the turn of the century, NEWSIES: THE BROADWAY MUSICAL is the rousing tale of Jack Kelly, a charismatic newsboy and leader of a ragged band of teenaged 'newsies,' who dreams only of a better life far from the hardship of the streets. But when publishing titans Joseph Pulitzer and William Randolph Hearst raise distribution prices at the newsboys' expense, Jack finds a cause to fight for and rallies newsies from across the city to strike for what's right.
NEWSIES: THE BROADWAY MUSICAL is inspired by the real-life 'Newsboy Strike of 1899,' when newsboy Kid Blink led a band of orphan and runaway newsies on a two-week-long action against Pulitzer, Hearst and other powerful newspaper publishers. The stage version introduces seven brand-new songs by the original team of Menken and Feldman, including a song written specifically for the tour called 'Letter from the Refuge,' while keeping many of the beloved songs from the film, including 'Carrying the Banner, 'Seize the Day,' 'King of New York' and 'Santa Fe.'
Since the film's 1992 theatrical release and subsequent DVD release, NEWSIES has grown into a cult phenomenon, and for years had been the single most requested title of all the Disney musical films not yet adapted for the stage. (The film featured a screenplay by Bob Tzudiker & Noni White (Tarzan, 102 Dalmatians).
Declared a Historic Cultural Monument by the City of Los Angeles and restored to showcase its original lavish architecture, The El Capitan Theatre has been since 1991 an exclusive first run theatre, equipped with state-of-the-art technology, for The Walt Disney Studios. The theatre also hosts live stage shows, world premieres, special events, and screenings of classic Disney films.
In the 1920s, real estate developer Charles Toberman and Sid Grauman built the Egyptian, Chinese and El Capitan theatres. Los Angeles based Stiles O. Clements designed the elaborate cast-concrete Spanish Colonial style exterior; San Francisco architect G. Albert Lansburgh, known for his design of over 50 West Coast theatres and luxury cinema houses, designed the lavish East Indian inspired interior. Originally a legitimate theatre (over 120 plays and musicals were staged), it was converted for film for the world premiere of Orson Welles' "Citizen Kane." The theatre then was renovated, reopening in March 1942 as the Hollywood Paramount, a streamlined "art moderne" first run movie house.
In 1989, the Walt Disney Company joined forces with Pacific Theatres and launched a two-year, museum quality restoration of The El Capitan Theatre, led by renowned theatre designer Joseph J. Musil. Musil with the supervision of the National Park Service's Department of the Interior, and guidance from conservator Martin Weil and architect Ed Fields, achieved the goal recreating the original 1926 look and feel -- including original design elements such as the ornate plasterwork found hidden behind walls and the opera boxes in the main auditorium.
Photo Credit © Disney
More Hot Stories For You