Darkly Comic THE CRIPPLE OF INISHMAAN Gets Partner-Cast Production at Antaeus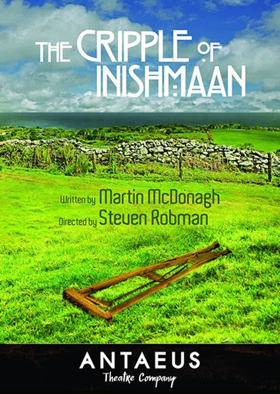 Dreams are in short supply on the island of Inishmaan, especially for Billy Claven, orphaned and crippled since birth. Antaeus Theatre Company presents The Cripple of Inishmaan, a darkly comic Irish yarn by master storyteller Martin McDonagh. Steven Robman directs a partner-cast ensemble for a Jan. 24 and Jan. 25 opening (one opening night for each cast) at the Kiki & David Gindler Performing Arts Center in Glendale, where performances continue through March 11. Low-priced previews begin Jan. 17.

Inspired by the real-life filming of the documentary Man of Aran - director Robert J. Flaherty's seminal 1934 documentary about the primitive way of life on the barren, limestone islands in Galway Bay - McDonagh's dark comedy is set on the small Aran Island community of Inishmaan (Inis Meáin), where the inhabitants are excited to learn of a Hollywood film crew's arrival in neighboring Inishmore (Inis Mór) to shoot the film. "Cripple" Billy Claven, eager to escape the gossip, poverty and boredom of Inishmaan, vies for a part in the film, and to everyone's surprise, the orphan and outcast gets his chance.

According to Antaeus co-artistic directors Bill Brochtrup, Rob Nagle and Kitty Swink, "In all of our production history we've never taken on an Irish play, though we've been circling around them for some time. Exploring themes of isolation, poverty, alternative facts and the myth of Hollywood, this play is as hysterically funny as it is disturbing. And it's filled with delicious roles for our company."

McDonagh has famously noted, "I suppose I walk that line between comedy and cruelty because I think one illuminates the other. We're all cruel, aren't we? We are all extreme in one way or another at times and that's what drama, since the Greeks, has dealt with."

In the Antaeus tradition known as "partner casting," Matthew Grondin and Ian Littleworthshare the role of Billy, with Rhonda Aldrich and Kitty Swink as Kate and Julia Fletcher andMary-Pat Green as Eileen, the two elderly sisters who took Billy in as a baby and have cared for him since. Stephen Caffrey and JD Cullum team up as Johnnypateenmike, the town gossip who sells his bits of "news" for food; Seamus Dever and John Bobek double as the moody Babbybobby Bennett; Emily Goss and Abby Wilde partner in the role of fierce beauty Slippy Helen; and Sebastian Fernandez and Joey Millin divvy up the role of village idiot (and Helen's brother) Bartley McCormick. Also in the ensemble: John Allee and Philip Proctor as Doctor McSharry, and Anne Gee Byrd and Anne McNaughton as Johnnypateenmike's drunken Mammy.

The creative team includes set designer John Iacovelli, costume designer Garry D. Lennon, co-lighting and projection designers Kaitlyn Pietras and Jason H. Thompson, sound designerJeff Gardner, props designer Erin Walley and dialect coach Lauren Lovett. The production stage manager is Jessaica Shields.

Martin McDonagh, born to Irish parents in London in 1970, is one of the most celebrated playwrights of his generation. He achieved great success with his first play, The Beauty Queen of Leenane, part of a trilogy that includes A Skull in Connemara and The Lonesome West. Next came the Aran Islands trilogy: The Cripple of Inishmaan, The Lieutenant of Inishmore and The Banshees of Inisheer. Other plays include The Pillowman, A Behanding in Spokane andHangmen. McDonagh has received three Olivier Awards and four Tony Award nominations. In recent years, he has devoted much of his time to film as both a writer and director. His best known movies are In Bruges (2008), which starred Colin Farrell, Brendan Gleeson and Ralph Fiennes, and the Golden Globe and BAFTA Award-winning Three Billboards Outside Ebbing, Missouri (2017).

Antaeus is a cooperative theater ensemble founded to empower the actor and to bring classical theater to Southern California. The company exists to create a family of artists and audiences and is dedicated to exploring stories with enduring themes. Taking their company name from the Titan who gained strength by touching the Earth, Antaeus members - many of whom are familiar to film and television audiences - regain their creative strength by returning to the wellspring of their craft: live theater. Members of the company span a wide range of age, ethnicity and experience; they have performed on Broadway, at major regional theaters across the country, in film, television and on local stages, and are the recipients of numerous accolades and awards. Audiences frequently return to see the same play in the hands of an equally excellent but very different set of actors.

The Kiki & David Gindler Performing Arts Center complements Glendale's ongoing commitment to integrate vibrant arts space into the fabric of city life, ensuring the arts remain accessible to all. Located just a few blocks away from The Americana at Brand and the remodeled Glendale Central Library as well as the Alex Theatre, the center promises to build upon Glendale's growing reputation as an arts and entertainment destination. The center includes an 80-seat theater, a reconfigurable 45-seat performance/classroom space, and a theater classics library.

Performances of The Cripple of Inishmaan begin on Thursday, Jan. 24, with performances taking place thereafter on Fridays at 8 p.m., Saturdays at 8 p.m., Sundays at 2 p.m. and Mondays at 8 p.m., through March 11. Six preview performances take place Jan. 17 through Jan. 23. Tickets are $35, except preview tickets which are priced at $15.

The Kiki & David Gindler Performing Arts Center is located at 110 East Broadway,Glendale, CA 91205 (between N. Brand Blvd. and Artsakh Ave.). The first 90 minutes of parking is free, then $2 per hour, in Glendale Marketplace garage located at 120 Artsakh Ave. (between Broadway and Harvard). The theater is air-conditioned and wheelchair accessible.

For reservations and information, call 818-506-1983 or go to www.antaeus.org.

Related Articles View More Los Angeles

Stories

Shows
More Hot Stories For You