Latest News on Steven Robman
Steven Robman Awards and Nominations
Drama Desk Awards - 1978 - Outstanding Director - Play
Steven Robman, Uncommon Women and Others
Steven Robman News
GRISWOLD By Angela J. Davis is Selected as the Winner of the Playhouse Creatures 2022 New Works Celebration
by Stephi Wild - Jun 26, 2022
Playhouse Creatures Theatre Company has announced the winner of its 2022 Dr. R.J. Rodriguez Emerging Playwrights' Celebration: GRISWOLD by Angela J. Davis.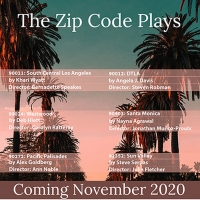 Travel to L.A. with Antaeus Theatre Company's ZIP CODE PLAYS Podcast Series
by Chloe Rabinowitz - Oct 13, 2020
Celebrate the culture and history of the diverse neighborhoods of Los Angeles from the safety of your home. Antaeus Theatre Company presents The Zip Code Plays: Los Angeles, a series of six original audio plays, each set in a different L.A. zip code.

Rory O'Malley Takes Over as Full Time Host of Geffen Playhouse Podcast
by Julie Musbach - Feb 6, 2019
The Geffen Playhouse Unscripted podcast has been renewed for a third season with PodcastOne, the nation's largest advertiser-supported podcast network, it was announced today. In addition, Tony-nominated Rory O'Malley (Hamilton, The Book of Mormon) has joined the podcast series as its new full-time host.
Bart DeLorenzo Directs West Coast Premiere of Nicky Silver's TOO MUCH SUN
by Julie Musbach - Jan 30, 2019
"People surprise you all the time. Just when you think you have them all figured out." Bart DeLorenzo directs the West Coast premiere of the acclaimed off-Broadway hit Too Much Sun by Nicky Silver (Broadway's The Lyons), presented by Indie Chi Productions in a guest production at the Odyssey Theatre. Previews take place on Feb. 28 and March 1, with opening night set for March 2 and performances continuing through April 21. 

BWW Review: Antaeus' THE CRIPPLE OF INISHMAAN - A Feckin' Fine Production!
by Gil Kaan - Jan 26, 2019
Add Martin McDonagh's THE CRIPPLE OF INISHMAAN to the already lengthy resume of stellar productions that the always dependable Antaeus Theatre Company manages to assemble on their stage. Steven Robman sure-handedly directs his talented Irish-brogued ensemble of seven (The Fripple Frapples cast of the double castings) at a quick, smooth pace; vividly illustrating McDonagh's smart, witty and brutal tale based on the real-life filming of the 1934 documentary Man of Aran. Buried in the 'news' the town gossip Johnnypateenmike spreads, the arrival of a film crew from America looking to make a movie on the neighboring Inishmore piques everyone's interest.

Darkly Comic THE CRIPPLE OF INISHMAAN Gets Partner-Cast Production at Antaeus
by Julie Musbach - Dec 17, 2018
Dreams are in short supply on the island of Inishmaan, especially for Billy Claven, orphaned and crippled since birth. Antaeus Theatre Company presents The Cripple of Inishmaan, a darkly comic Irish yarn by master storyteller Martin McDonagh. Steven Robman directs a partner-cast ensemble for a Jan. 24 and Jan. 25 opening (one opening night for each cast) at the Kiki & David Gindler Performing Arts Center in Glendale, where performances continue through March 11. Low-priced previews begin Jan. 17.

BWW Review: Brian Dennehy Inhabits Lives Remembered in HUGHIE and KRAPP'S LAST TAPE at the Geffen Playhouse
by Shari Barrett - Nov 20, 2018
Both one-acts in this masterful and memorable double-billing, directed by Steven Robman, are reflective and confessional in nature, with each of the main characters portrayed by masterful actor Brian Dennehy sharing tales of their lives in an attempt to make sense of the way it has turned out for them, especially since the present does not seem to have lived up to the excitement of the past. Perhaps that universal truth is what united these two one acts, with O'Neill and Beckett asking audiences to take a look back at our own lives and realize that even when things seem hopeless and/or meaningless, memories of times past may be the thing to break your downward spiral.

BWW Interview: HUGHIE & KRAPP'S LAST TAPE's Steven Robman Back to Directing His First Love - Theatre
by Gil Kaan - Nov 9, 2018
Already in previews at the Audrey Skirball Kenis Theater of the Geffen Playhouse, HUGHIE & KRAPP'S LAST TAPE (by Eugene O'Neill & Samuel Beckett, respectively), a double bill starring Brian Dennehy, will open November 14, 2018. I had the chance to chat with director Steven Robman, a frequent collaborator of Brian, as he was driving to a mid-day appointment.

Antaeus Theatre Company Announces 2018-19 Season of Four Modern Classics
by Julie Musbach - Jul 6, 2018
Antaeus Theatre Company has announced four modern classics by American, Irish, British and German playwrights for its 2018-19 season at the Kiki & David Gindler Performing Arts Center in Glendale. 
Michael Arden, Jo Bonney, Robert O'Hara to Direct in Geffen Playhouse's 2018/2019 Season
by Julie Musbach - Jun 7, 2018
The Geffen Playhouse today announced that it has added three directors to its upcoming 2018/2019 season, the first from new Artistic Director Matt Shakman. Tony Award nominee Michael Arden will direct Charles Dickens' A Christmas Carol, adapted by and starring Tony Award winner Jefferson Mays; Obie Award winner Jo Bonney will direct the world premiere of Jose Rivera's The Untranslatable Secrets of Nikki Corona; and Obie Award-winner Robert O'Hara will direct the world premiere of Inda Craig-Galvan's Black Super Hero Magic Mama.
Steven Robman Frequently Asked Questions
What awards has Steven Robman been nominated for?
Outstanding Director - Play (Drama Desk Awards) for Uncommon Women and Others .