Casting Announced For Matthew Bourne's CINDERELLA At Ahmanson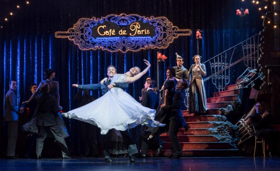 Casting is set for Matthew Bourne's "Cinderella" from New Adventures, which will be presented by Center Theatre Group at the Ahmanson Theatre February 5 through March 10, 2019. With direction and choreography by Matthew Bourne and music by Prokofiev, "Cinderella" will open on February 6 at 8 p.m.
Following their triumph playing 'Victoria Page' in "The Red Shoes," the role of 'Cinderella' is performed by Cordelia Braithwaite and Ashley Shaw. Cinderella's heroic Pilot, 'Harry,' is performed by Andrew Monaghan and Edwin Ray. 'The Angel,' Cinderella's fairy godfather is danced by Paris Fitzpatrick and Liam Mower.
'Sybil,' Cinderella's stepmother, is performed by Madelaine Brennan and Anjali Mehra. 'Robert,' Cinderella's father is performed by Jack Jones and Alan Vincent.
Cinderella's step brothers and sisters and the people of 1940's London complete the cast: Stephanie Billers, Ben Brown, João Carolino, Reece Causton, Jackson Fisch, Sophia Hurdley, Jack Jones, Daisy May Kemp, Kate Lyons, Stephen Murray, Matthew Petty, Danny Reubens, Mark Samaras, Catrin Thomas, Joe Walkling, Katie Webb, Seren Williams and Dan Wright.
One of New Adventures' most loved productions Matthew Bourne's "Cinderella" is a thrilling and evocative love story, set in London during the Second World War.
Matthew Bourne's interpretation of the classic fairy tale has, at its heart, a true war-time romance. A chance meeting results in a magical night for Cinderella and her dashing young RAF pilot, together just long enough to fall in love before being parted by the horrors of the Blitz.
Photo by Johan Persson