Click Here for More Articles on STUDENT CENTER - COLLEGE EDITION

CAP UCLA Presents Taylor Mac's HOLIDAY SAUCE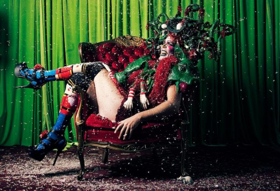 UCLA's Center for the Art of Performance (CAP UCLA) presents the incomparable, Taylor Mac's Holiday Sauce for a two-night engagement on Friday, December 14 and Saturday, December 15 at 8 p.m. at Royce Hall. Tickets for $26-$116 are available now at cap.ucla.edu, via Ticketmaster, by phone 310-825-2101, and at the UCLA Central Ticket Office.
Hot on the very high heels of the hugely successful epic extravaganza, A 24-Decade History of Popular Music, the incomparable Taylor Mac returns to Los Angeles with the ultimate holiday survival guide - Taylor Mac's Holiday Sauce. Joined by longtime collaborators, set and costume designer Machine Dazzle, music director and arranger Matt Ray and a band of musicians and special guests, Taylor celebrates the holidays in all their glorious dysfunction with unique renditions of the songs we love and the holidays we hate.
Holiday Sauce is produced by Pomegranate Arts (Executive Producer, Linda Brumbach; Associate Producer, Alisa Regas) and Mac's company Nature's Darlings. Taylor's aim is to unnerve and unleash. "My job as a theatrical artist," Mac told The Paris Review, "is to remind people of the things they've forgotten, dismissed or buried, or that other people have buried for them."
Playwright, actor, singer-songwriter, performance artist, director and producer, Taylor Mac is a 2017 MacArthur Fellow and is the author of seventeen full-length works of theater. Mac's A 24-Decade History of Popular Music won the 2017 Edward M. Kennedy Award for Drama inspired by American History and was a 2017 Pulitzer Prize Finalist for Drama. The work was also made The New York Times "Best of 2016" lists in three categories: Performance, Theater and Classical Music.
Taylor Mac's A 24-Decade History of Popular Music, a 24-hour live performance that debuted in Brooklyn in 2016, was a tectonic work. New York Times critic Wesley Morris called the show "one of the great experiences of my life." The program offered battle hymns, black spirituals, Tin Pan Alley songs, blues, Broadway musicals, reconstructions of "Yankee Doodle" and lesbian-feminist punk -- 246 songs in all, and all popular in one community or another in the United States over the last 240 years. The program has since been performed in parts and in its entirety all over the world including Melbourne, Los Angeles, London, San Francisco and Philadelphia.
Funds provided by the Ginny Mancini Endowment for Vocal Performance.
Photo by Little Fang Photography.
| | | |
| --- | --- | --- |
| | Donations | Arts Orgs |
Related Articles
More Hot Stories For You