Burbank International Film Festival Announces 2017 Program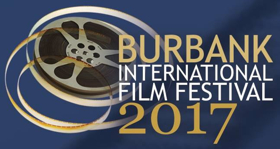 The Burbank International Film Festival today announced official program selections for the 9th Annual edition of the festival set for Wednesday, September 6th, through Sunday, September 10th, 2017.
More than 180 feature and short films representing 60 countries will be presented during the five-day event, along with artist tributes, panels, and festivities. Afterparties, red carpet, receptions, and networking opportunities will occur throughout Burbank, Media Capital of the World, with all of the screenings taking place at the AMC Burbank 16 in Downtown Burbank. For tickets, festival passes, and more, please visit www.burbankfilmfest.org.
Representative categories include independent full-length films, shorts, special event movies, comedy, drama, student filmmakers, sci-fi, faith-based, animation, foreign language, and documentary films.
"With more than 60 countries represented, and 25 world premieres, the festival has grown significantly in the U.S. and we are continuing to form new international relationships every year" stated Jeff Rector, president and festival director. "From Hong Kong, to New Zealand, to South Africa, 20% of film submissions were from abroad this year, and the quality of work continues to be extraordinary."
The Lifetime Achievement Award will be presented to Emmy Award-winning actress Veronica Cartwright for her career spanning six decades in the film and television industry. The Awareness Award will be given to actress Tippi Hedren for her work as an animal rights activist. The Garry Marshall Spirit Award will be presented to NBC Weathercaster and comedian Fritz Coleman for his philanthropic work and dedication to the community. Academy Award and Emmy Award-winning makeup artist Michael Westmore will be honored for his lifetime career in the field of makeup for film and television, as well as to recognize the Westmore family's 100 year anniversary in the entertainment industry.
The 9th Annual Burbank International Film Festival is proud to highlight the following films and special events. For a complete listing, please visit www.burbankfilmfest.org:
THE LIST (Directed by Harris Goldberg, 2016.) Starring Patrick Fugit (Outkast), Karen Gillan (Guardians of the Galaxy I & II, Dr Who), and Jennifer Morrison (Once Upon a Time), THE LIST is the story of an unassuming dog trainer dating the ideal woman. When he pops the question, she produces a list of improvements intended to create the ideal couple, forcing him to question his beliefs and values. Opening Night Screening - Wednesday, September 6th at 7:00 PM. To be followed by a Gala Reception at Market City Caffe.
BRAND NEW OLD LOVE (Directed by Cat Rhinehart, 2017.) Starring Arturo Castro, Aya Cash, Josh Brenner, and Mindy Sterling with Brian Doyle Murray, BRAND NEW OLD LOVE tells the story of former high school friends running into each other and drunkenly deciding to make good on their promise to marry one another...Only to discover that all the things they liked when they were younger have changed. Thursday, September 7th at 8:00 PM.
LIMELIGHT (Directed by James Cullen Bressack, 2017.) Starring Paul Vandervort, Brit Shaw, and Sean Kanan. In a society obsessed with fame and validation, one small-town narcissist pulls out all the stops in his pursuit of absolute stardom. Thursday, September 7th at 9:00 PM.
GARLIC & GUNPOWDER (Directed by B. Harrison Smith, 2017.) Starring James Duval (Donnie Darko), Vivica A. FOX (Empire), and Michael Madsen (The Hateful Eight). A comet dangerously close to Earth has everyone in a panic, and there's a plan to transfer and stash money in mines. Two wise guys scheme to hijack the convoy, along with a rival Chinese Mafia leader. Friday, September 8th at 8:00 PM.
THE LAST SMILE (Directed by Shankey Srinivasan, 2016.) Starring Danny Arroyo (Sangre Negra), Keith Stevenson (The Pursuit of Happiness), and Bettina Devin (Rent). Inspired by Jeevan Zutshi's book "The Last Smile" and based on a true story, a bereaved father searches for answers to explain the untimely death of his son. The film aims to increase awareness about the unregulated health supplements industry in US. Friday, September 8th at 9:00 PM.
OVER-THE-RHINE (Directed by Mitch Teemley, 2016.) This faith-based feature film stars Christine Jones, Michael Wilhelm, and Rupert Spraul. He killed her only son...how do you forgive the unforgivable? Saturday, September 9th at 1:30 PM.
STAR TREK CONTINUES: WHAT SHIPS ARE FOR (Directed by Vic Mignogna, Chris White, James Kerwin, Julian Higgins, 2017.) STAR TREK CONTINUES is a critically-acclaimed, award-winning, fan-produced webseries and brainchild of Vic Mignogna, completing the final year of the original Star Trek five year mission. Episode 9, WHAT SHIPS ARE FOR, sees Captain Kirk struggling with a society whose inhabitants view their isolated world in a unique way. Saturday, September 9th at 9:00 PM. This special screening is free to the public.
LIFE HACK (Directed by Sloan Copeland, 2017.) Starring Devin Ratray, Sean Kleier, and Derek Wilson. LIFE HACK is a timely ensemble comedy about digital privacy... or lack thereof. A humorous cautionary tale about cyber threats in the digital age. Cover your webcam. Saturday, September 9th at 5:00 PM.
THE LANDING (Directed by David Dodson & Mark Dodson, 2017.) Starring Don Hannah, Jeff McVey, Warren Farina, Cindy Adkins, Page Adler, Arlene Hughes-Martinez, Robert Pine, Joe Santaniello, and Craig Stepp. A fascinating investigation into the tragic end of Apollo 18. Witnesses and participants peel back the layers of mystery surrounding the events that nearly destroyed an American institution. Saturday, September 9th at 6:30 PM.
CROWS OF THE DESERT - A HERO'S JOURNEY THROUGH THE ARMENIAN GENOCIDE (Directed by Marta Houske, 2016.) A documentary based on the Memoirs of Levon Yotnakhparian, a true story of one man's brave adventures to stay alive, and help save his people from near extinction. Sunday, September 10th at 10:00 AM.
UMA (Directed by Alain Maiki, 2017.) Starring Orlando Delgado, Ana Turpin, and Henry Zakka. An inexplicable chemistry ignites two people in Italy on the coast of Gaeta, but an accident will change their lives. Sunday, September 10th at 11:30 AM.
FALLEN (Directed by Scott Hicks, 2017.) Starring Addison Timlin, Jeremy Irvine, Harrison Gilbertson, Lola Kirke, Daisy Head, and Joely Richardson. Luce tries to piece together deeply fragmented memories and is left with a feeling of longing for her one true love. FALLEN is the revelation of a love story that has been going on for centuries, shattering the boundaries between heaven and earth. Sunday, September 10th at 1:00 PM.
EYES OF THE ROSHI (Directed by Jon Mark Nail, 2017.) Starring Eric Roberts, Nico Romero, and Ethan Marten. A fugitive grandmaster must summon his inner warrior to protect the people he loves. Sunday, September 10th at 2:30 PM.
ROD TAYLOR: PULLING NO PUNCHES (Directed by Robert de Young). Starring Maggie Smith, Angela Lansbury, and Tippi Hedren. A film about the life and times of iconic Australian actor Rod Taylor. Followed by Q&A with Tippi Hedren and Veronica Cartwright. Sunday, September 10th at 3:00 PM
The History of Cinema program includes the 20th anniversary screening of STARSHIP TROOPERS (directed by Paul Verhoeven, USA, 1997), accompanied by a Q&A with cast, including Casper Van Dien, Denise Richards, and screenwriter Edward Neumeier. More cast members to be announced soon. Saturday, September 9th, at 6:00 PM.
CLOSING NIGHT GALA & AWARDS SHOW:
SUNDAY, SEPTEMBER 10TH
5:30 PM - 9:00 PM - LOS ANGELES MARRIOTT BURBANK AIRPORT HOTEL CONVENTION CENTER BALLROOM
The Burbank International Film Festival is made possible in part through Downtown Burbank Partnership, Visit Burbank, and the Los Angeles Board of Supervisors through the Los Angeles County Arts Commission. For further information, schedules, and tickets, please visit www.burbankfilmfest.org.
Special room rates at Burbank hotels are available for festival attendees at http://reservations.visitburbank.com/hotel/list/8324.
The Burbank International Film Festival is a 501(c)(3) non-profit organization.