BWW Review: THE COLOR PURPLE Speaks Directly to the Need for Hope and Redemption During Challenging Times
THE COLOR PURPLE was written by American author Alice Walker in 1982 as an epistolary novel and went on to win the 1983 Pulitzer Prize for Fiction and the National Book Award for Fiction. Its popularity soared after it was adapted into a feature film directed by Stephen Spielberg in 1985 featuring Whoopi Goldberg, Oprah Winfrey, and Margaret Avery, all four of whom were nominated for Academy Awards. The fact that the film received 11 nominations but won no Oscars does not diminish the impact it had on bringing Broadway musicals back to the silver screen successfully.
The original Broadway musical production featuring a book by Marsha Norman and music and lyrics by Brenda Russell, Allee Willis (who was in the Greenway Court Theatre audience on opening night) and Stephen Bray, ran from 2005 to 2008, earning eleven Tony Award nominations in 2006. An enthusiastically acclaimed Broadway revival opened in late 2015 and ran through early 2017, winning two 2016 Tony Awards including Best Revival of a Musical. Needless to say, its popularity with all audiences guarantees it will continue to be produced around the world for years to come.
I cannot even think of enough accolades to share about the current production being staged by Greenway Arts Alliance
(Whitney Weston and Pierson Blaetz, Co-Founders and Co-Artistic Directors) at the Greenway Court Theatre (544 N. Fairfax Avenue, Los Angeles) through December 9. The totally entertaining and artistically brilliant production, directed and choreographed by NAACP Theater Award-winner Jeffrey Polk, pulled me in from the moment it started until the end, given the amazingly talented cast who bring the characters so realistically to life that you can actually feel all the emotions each is going through from moment to moment. You will laugh, be fearful, cry and celebrate with all of them by the time the show ends.
THE COLOR PURPLE is an inspiring family saga
that tells the unforgettable story of Celie, a downtrodden young woman whose personal awakening over the course of 40 years forms the arc of this epic story. Her journey, through love, gives her the strength to triumph over adversity and discover her unique voice in the world. With a joyous score featuring jazz, ragtime, gospel, African music and blues, THE COLOR PURPLE is a story of hope, a testament to the healing power of love, and a celebration of life.
With the focus of the story on the life of African-American women in the 1930s, addressing numerous issues including their exceedingly low position in American social culture, it is the talented actresses who must shine in order
for the musical to succeed. And I can tell you that Polk perfectly cast his production with 15 of the most talented triple-threat actor/singers in town, each of whom knows how to work together as an ensemble to allow the show to soar, starting with the lead, Gabrielle Jackson as Celie who literally raised herself to new emotional heights during "I'm Here" effectively inhabiting Celie to her heart and soul. Her sister and confidant Nettie is portrayed to perfection with the necessary backbone as well as timidity by Elizabeth Adabale, with her own family ties to Nigeria adding to her spiritual rendition of "African Homeland" that opens Act 2.
Broadway star April Nixon is a standout as Shug, the fast and loose woman who blows into town and sets Celie on her journey to self-discovery. Her song renditions are show stoppers, especially her wake-up call to Celie, telling her she is "Too Beautiful for Words,"
and her powerhouse and oh-so-sexy "Push Da Button" performed with the ensemble on the opening night at Harpo's club. Dominique Kent adds real zest to curvy and outspoken Sofia, from her "Hell No!" anthem to speaking up for herself to her celebration of sexiness with her husband Harpo (Jeremy Whatley) during "Any Little Thing" after she forgives his dalliance with Betty-Boopish Squeak (Rachel Sarah Mount, who certainly knows how to display her assets to their best advantage).
But it is Aaron Braxton's hate-inducing
performance as Mister, the user and abuser of women who marries Celie when neither Nettie nor Shug is willing to care for him, his home and four kids, or stand for his beatings that sets your blood boiling until his later transformation into a caring, older gentleman who takes responsibility for tearing Celie's life apart and arranges for the sisters' reunion that will bring tears to your eyes as your heart opens in response to their absolute joy thanks to Jackson and Adabale's performances.
Commenting on everything going on in town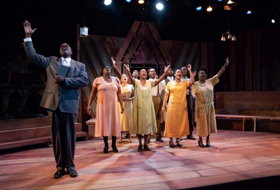 is a quartet of very opinionated Church Ladies (Carol Dennis, Lynette DuPree, Mariah Strickland, and Jacquelin Schofield) who banter as they arrive and depart during scenes, acting as the Greek Chorus of the musical. Their soulful sass and incredible harmonies added in much laughter and knowing nods from audience members. I especially enjoyed their every appearance, especially during "Miss Celie's Pants" as the women finally learn to accept who they are and stand tall on their own two trousered feet. Dana Rebecca Woods costume design adds to the humor of this scene and overall beauty of the entire show.
Rounding out the ensemble are Ernest Carter, Otis Easter, Justyn Malik, and Charles McCoy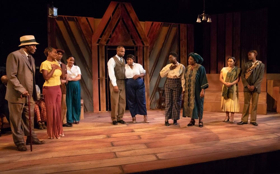 who portray all of the other men who populate the story and set the women on their paths to hardship and glory. Technical credits are top notch from Christopher Scott Murillo's scenic design, azra King-Abadi's lighting design, to sound design by Julie Ferrin which allows each of the cast's amazing voices to be heard clearly over the rocking 6-piece band under conductor Patrick Gandy's musical direction.
THE COLOR PURPLE plays at Greenway Court Theatre, 544 North Fairfax Avenue, Los Angeles, CA 90036 through December 9, 2018 on Fridays at 8:00 p.m., Saturdays at 8:00 p.m., and Sundays at 4:00 p.m. Regular performance ticket prices for general admission are $45 and Student/Senior prices are $20. Subscription and single tickets are available online at GreenwayCourtTheatre.org/THECOLORPURPLE. For more information call 323-673-0544 or visit GreenwayCourtTheatre.org. Free parking is available in the shared lot on Fairfax and Clinton, directly adjacent to the theatre. Do yourself a favor and order your tickets soon as the run is bound to sell out due to the Broadway quality of this production!
Photo credit: Darrett Sanders