Latest News on Darrett Sanders
Darrett Sanders News
BWW Interview: Playwright/Director Sharon Yablon of A GARDEN OF TERRIBLE BLOOMS
by Shari Barrett - Feb 2, 2022
Interview with award-winning playwright/director Sharon Yablon whose love of surrealism, noir and the darker side of Los Angeles led to the creation of A GARDEN OF TERRIBLE BLOOMS, which offers a dreamlike tour of short plays led by characters through a city that is vanishing, even as they move through it. Each play is set in a different part of L.A., or in nearby places where locals go to escape the city, but find themselves still haunted by it.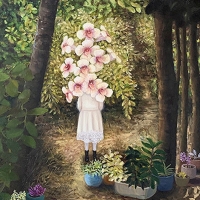 A GARDEN OF TERRIBLE BLOOMS Podcast Series Features Short Plays Of The Weird And Surreal Set In Los Angeles
by A.A. Cristi - Jan 14, 2022
Dear Marie, the newest episode in award-winning playwright/director Sharon Yablon's A Garden of Terrible Blooms "short plays of the weird and surreal set in Los Angeles" podcast series, is set to launch on Valentine's Day. To date, ten episodes are available for listening at www.terribleblooms.net.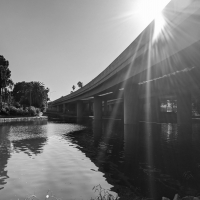 BWW Review: UNDERNEATH THE FREEWAYS OF LOS ANGELES at The Echo Theatre Company
by Tracey Paleo - Apr 4, 2021
'We hope you can help us understand what happened here so it never repeats itself and justice can be served.'
BWW Interview: Playwright Matthew Paul Olmos UNDERNEATH & All Around LOS ANGELES
by Gil Kaan - Apr 1, 2021
The Echo Theater Company's next production UNDERNEATH THE FREEWAYS OF LOS ANGELES will live-stream April 2 for sixteen Zoom performances. Written by playwright Matthew Paul Olmos, this interactive murder mystery experience has been inspired by historical events centering in and around the Los Angeles neighborhood of Boyle Heights. Michael Alvarez directs the cast of Mia Ando, Morgan Danielle Day, Amy K. Harmon, Gloria Ines, Roland Ruiz and Darrett Sanders.
Virtual Interactive Murder Mystery UNDERNEATH THE FREEWAYS OF LOS ANGELES' Begins Next Month
by A.A. Cristi - Mar 16, 2021
'Clue' meets Chinatown in a live-streamed, interactive murder mystery experience inspired by historical events. Set in 1960 in East L.A.'s Hollenbeck Park — newly divided by the Los Angeles Freeway Interchange that famously displaced over 15,000 residents in Boyle Heights — Underneath the Freeways of Los Angeles.
Photo Flash: First Look at POOR CLARE at Echo Theater Company
by Stephi Wild - Mar 12, 2020
Echo Theater Company presents the world premiere of Poor Clare, a play by Chiara Atik about what happens when your eyes are opened to the injustice of the world around you — and you can't look away. Alana Dietze (Dry Land, The Wolves) directs for a March 14 opening, with performances continuing through April 20 at Atwater Village Theatre.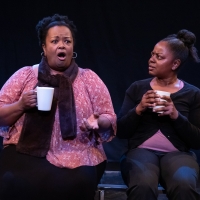 Photo Flash: Open Fist Theatre Company Celebrates 30 Years with RORSCHACH FEST
by Chloe Rabinowitz - Feb 17, 2020
Perception is everything. Open Fist Theatre Company opens its 30th anniversary season with three programs of short works, performed in rotating repertory, by playwrights renowned for pushing the boundaries of theatrical invention. Rorschach Fest, featuring seminal work by John O'Keefe, Daniel MacIvor, Harold Pinter and Caryl Churchill, opened Feb. 14 at Atwater Village Theatre, where performances continue through April 5.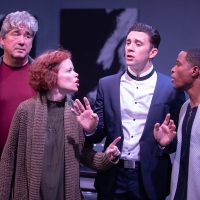 BWW Review: World Premiere Play DISPOSABLE NECESSITIES Offers a Comedic Look at Eternal Life
by Shari Barrett - Dec 31, 2019
Rogue Machine is presenting the world premiere of DISPOSABLE NECESSITIES, written by Neil McGowan and directed by Guillermo Cienfuegos, at the Electric Lodge in Venice through February 23. The play's title refers to the physical body we all live with, a cage of meat and bones that signals the end of life as we know it when it breaks down and stops functioning. This new comedic fantasy examines what life might be like in Maryland in the year 2095 when those wealthy enough have the ability to live forever exactly as they choose to be, creating a future where our physical bodies have become disposable, something to be tossed aside and replaced with another model which is better functioning. But what does that mean to our personal relationships when anyone can completely change their physical appearance on a whim?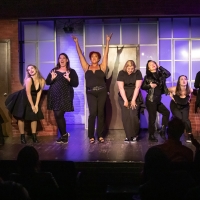 BWW Review: New Musical LIFE IN BOOBS Lovingly Satirizes the Lifelong Trials and Tribulations of Being a Woman with Curves
by Shari Barrett - Nov 29, 2019
The dynamic story shared through comedy skits and songs deals with the journeys many women face from admiring their mother's chests (a?oeOne day I'll be like Mommy or Barbie!a??), to training bras and cup sizes, dating while dealing with wandering eyes (a?oeCleavage'), to pumping at work and breastfeeding in public (a?oeDon't Blame Me, My Baby is Hungrya??), to facing breast cancer. The energetic songs incorporate humorous pieces like a?oeLife in Boobs,a?? a?oeWife Beater Tank Top,a?? and a?oeSuck It, Cancera?? to the inspirational a?oeI'm Dianea?? which will tug at your heartstrings and inspire you to accept yourself exactly the way you are.