Review: Ruskin Group Constructs A Sturdy RAINBOW BRIDGE On The Road to Hilarity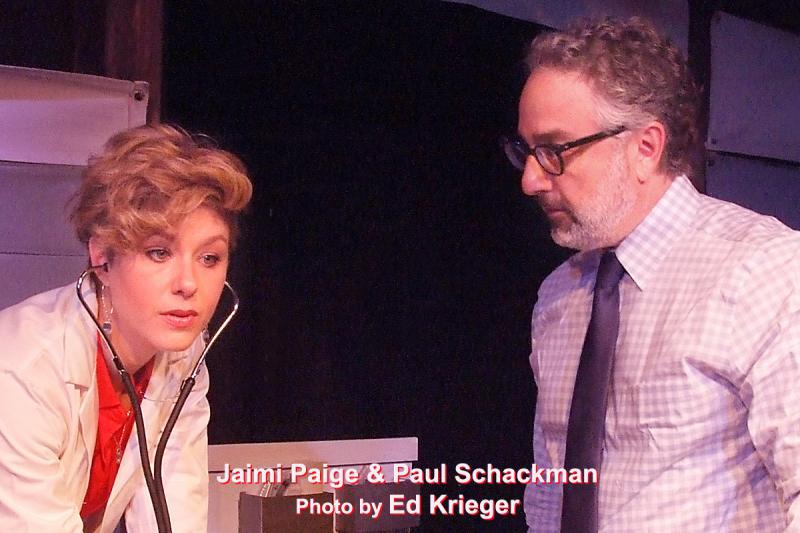 THE RAINBOW BRIDGE/by Ron Nelson/directed by Michael Myers/Ruskin Group Theatre/thru September 17, 2017
In Ruskin Group Theatre's world premiere of Ron Nelson's THE RAINBOW BRIDGE, Michael Myers briskly directs a concise 75 minutes of snappy dialogue led by the high-energy, powerhouse performance of Paul Schackman as the conflicted, haunted lawyer Jerry. Schackman nails Nelson's machine gun-spouting dialogue, full of witty angst and genuine emotions, with lots of laughs along the way. Schackman instantly switches to whom he's talking to as if he's carrying on two separate conversations simultaneously. (He is!)
Playwright Nelson's crafted his characters' flaws and strengths visibly written right there within his script allowing the audience to get acquainted with each character almost immediately. Schackman's Jerry, usually an in-control, in-charge type, might be losing his mind, something completely evident in the first scene. Jerry's a hot mess.
Opening scene sets up the entire conceit of THE RAINBOW BRIDGE in an entertaining flash. The dutiful Jerry has brought his Mom's sick dog Charlie to his veterinarian Dr. Stein. Jaimi Paige's teasingly tempting as the horny, inappropriate Dr. Stein. Her professionalism slips as she makes the moves on her semi-grieving client Jerry. In an unexpected twist, Jerry ends up consoling the beautiful, yet insecure and lonely Dr. Stein; instead of the more proper process of the vet consoling the sorrowful pet owner. Kudos to Paige and Shackman for making a scene of animal euthanasia actually comic and very sensual. Too, too funny! Too, too sexy!!!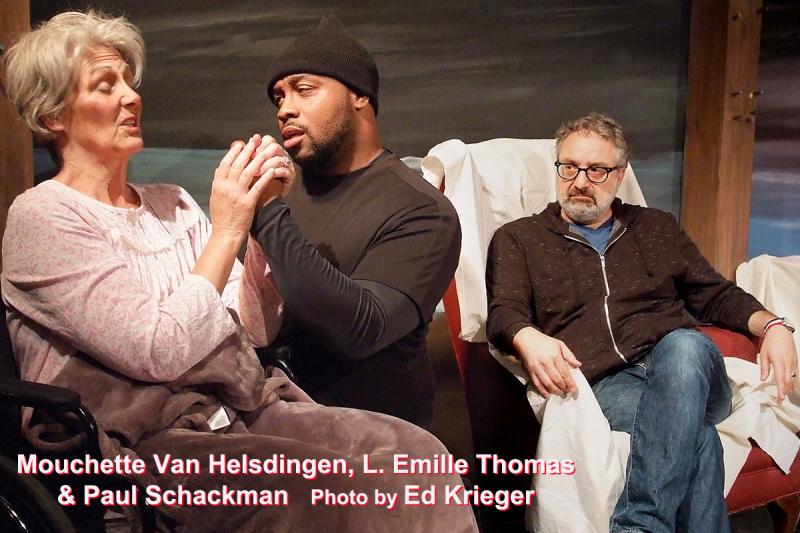 Interrupting this seduction, Jerry's Mom and sister Amanda appear in the examination room. But only Jerry can see or hear them as they're... (Wait for it!) ghosts. Lynne Marie Stewart starts off her Mom as a cute and loveable character, but quickly becomes a ghost of singular bitterness and revenge. Mary Carrig fares way better as Amanda, still angry at Jerry for leaving her to take care of their Mom, and also, for having a happy family she never could achieve herself. Carrig effortlessly communicates Amanda's various range of conflicting emotions towards her brother, finally admitting her true feelings for her Mom. Nice!
Amanda and Mom stalk Jerry at his yoga lesson, his daughter's sporting competition, and even at his day in court defending accused arsonist Theodore (winningly essayed by L. Emille Thomas). To say Theodore's not your typical arsonist would be an understatement in so many ways.
Emily Jerez' totally vulnerable, concerned and supportive as Jerry's wife Karen. His unexplained split personalities worry her to no end.
Mouchette Van Helsdingen makes her mark as the not-so-Zen yoga instructor Megyn, the Alzheimer's-afflicted Harriet and voiceover of Jerry and Theodore's trial judge.
Scenic designer Hillary Bauman has created a fine utilitarian, multi-use set (Dr. Stein's exam room, yoga studio, various living rooms), save for the superfluous switching of the nondescript canvas panels.
A deserved shout-out to costume designer Sarah Figoten Wilson for the very hot, very sexy, fire red dress Paige's Dr. Stein wears for a "house call."
Go and cross that RAINBOW BRIDGE at Ruskin.