Review: PARADISE, a Divine Bluegrass Musical Comedy Made Great Again at Ruskin Group Theatre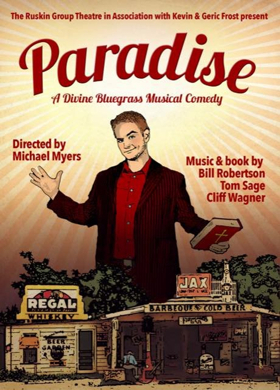 The small coal mining town of Paradise has seen better days and its citizens are facing hard times after the town's only mine shut down. Can a charismatic new preacher, Rev. John Cyrus Mountain (the remarkable and versatile Jon Root who originated the role at the Ruskin in 2013) who has arrived in town with his bombshell sidekick Chastity Jones (Nina Brissey, also the originator of the role), who he rescued from the stripper pole in Las Vegas, save the day? Given her pole dancing antics during her suggestive "Jesus is Deep Inside Me" number, there is no doubt the men in town will follow her anywhere, while the women may find her spiritually disturbing or just want to be like her.
This satirical musical hoedown about living the American Dream tells the tale of what happens when the town gets invaded by the Preacher who says he is their "For Profit Prophet."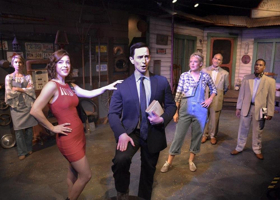 In cahoots with Peter Martinez (Jamie Daniels), the son of a reality TV producer from Hollywood, the two soon convince the citizens of Paradise that the way to its salvation, fame and fortune is through being the subject of a new "Reality TV" show so the Preacher can raise funds to build a new "Mega-Church" in town to spread the gospel and bring more citizens into his flock. After all, he claims, "If they believe 'The Bachelor' is real, they'll believe anything."
But will Paradise's riotous group of citizens be convinced
to go along with the idea? We get to know them through music and book by Bill Robertson, Tom Sage and Cliff Wagner with updated songs and a tighter storyline that flows as smoothly as the band's many talents (musical director Jim Doyle, John Groover McDuffie, Gregory Boaz, and Devitt Feeley) keep the audience's toes tapping throughout. There's the town's blind watchman, Ezra Johnson (Dave Florck), a gruff but lovable character who celebrates his roots in the song "Hillbillies."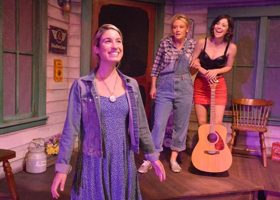 Paradise's only shop owner, Louanne Knight (Kelsey Joyce) is trying to carry on in her mother's footsteps, beautifully letting us know how much she misses her during the tender "I Miss You."
Mayor Gayheart (the hysterically funny Chip Bolcik) is a closeted germaphobe and his hand-protecting rubber gloves got more colorfully outrageous with each scene. A devoted lover of all things Broadway, he has been grooming his mixed-race adopted son, Tater (Randy Taylor) to make a career singing and dancing on the Great White Way,
a dream that Tater comically shatters with "I Don't Want to Sing on Broadway." The two men shine during their soft shoe duet at the end of the number, complete with top hats and canes! This number totally captivated the audience as did their "The American Way" number with the Preacher in which they each claim "mine is bigger" since bigger is always better in the USA. All swagger and innuendo, this number was definitely an audience favorite.
And then there is madcap, itinerant pig and chicken farmer
Cyndi (Paige Segal) who celebrates getting back at those who have mocked her with the comical "The Missing Link" during which she celebrates her excellent revenge antics by lighting a flaming bag of shit. I must admit, Segal's enthusiasm got me singing and laughing along with her. Such fun! And kudos to the band for bringing the essence of bluegrass to this number and more during the show.
By the time this highly entertaining and politically incorrect show wraps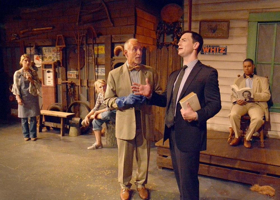 and the real truth about the Preacher and Chastity is revealed, awash in red lighting designed by Edward Salas, you will be sorry to see this tale of Southern pride and gullibility come to an end. Kudos to director Michael Myers for his brilliant direction of a show destined to take the country by storm when it goes out on its first national tour! So if life is overwhelming and things just don't seem to be going your way, lighten up and forget your troubles for a few hours and I guarantee you will leave the Ruskin Group Theatre knowing they have made Paradise great again!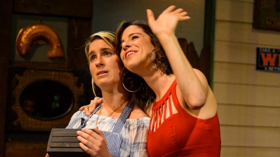 PARADISE - A Divine Bluegrass Musical Comedy runs Fridays and Saturdays at 8 pm, Sundays at 2 pm through September 23, 2018. Ruskin Group Theatre is located at 3000 Airport Avenue, Santa Monica, CA 90405. Free parking is available at the theater. Tickets are $30 - $35 (group discounts with 6 or more) and can be purchased in advance online at www.ruskingrouptheatre.com or by calling (310) 397-3244. Available tickets are sold at the box office prior to each performance, which sold out during its first run. So get yours soon!
Photos by Ed Krieger and Michelle Hanzelova