Review: JACOB JONAS TAKES CONTEMPORARY DANCE TO A NEW FEEL, VIBE AND LEVEL OF EXPERTISE at The Wallis Annenberg Center For The Performing Arts
Out-of-the-box creativity, fantastic agility, flexibility and control describes the Jacob Jonas Dance Company. From the first few movements in their first piece of the evening, it was clear this was going to be a visual treat. There were five different dance pieces presented; all World Premieres. Three choreographed by Jacob Jonas, with two other diverse choreographers contributing to the concert; Donald Byrd and Omar Roman De Jesus. Each piece had a different theme and flavor.
The first piece, entitled "Transfer," was so technically precise and absorbing to watch. By the end of the formidable piece, a unique style began to emerge, incorporating other facets of physical movements, namely acrobatics and gymnastics, to the already established balletic, jazz, modern, adagio and other similar sources of movements. It adds another dimension to the choreography and the meaning of the piece itself. Also more difficult to perform, stamina wise; and technically. Which speaks to the talent and durability of the entire dance company. The lifts and transitions during the piece were unique and unexpected. A back aerial somersault here, angular, asymmetrical positions there, intricate floor work, beautiful lines; all very physically controlled and perfected.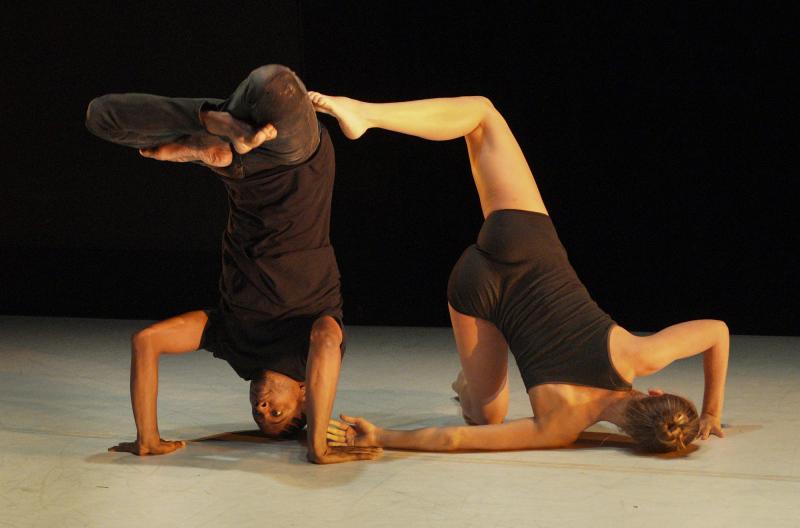 The next piece, "Unknown Territories," choreographed by Donald Byrd, an esteemed choreographer and long-standing member of SDC, was indeed strenuous; ever-changing groups and formations with an African-feel... the number that had so much intricate floor work and amazing feats that it was dazzling to observe. Again, very gymnastic and limber in nature, the dancers went from slow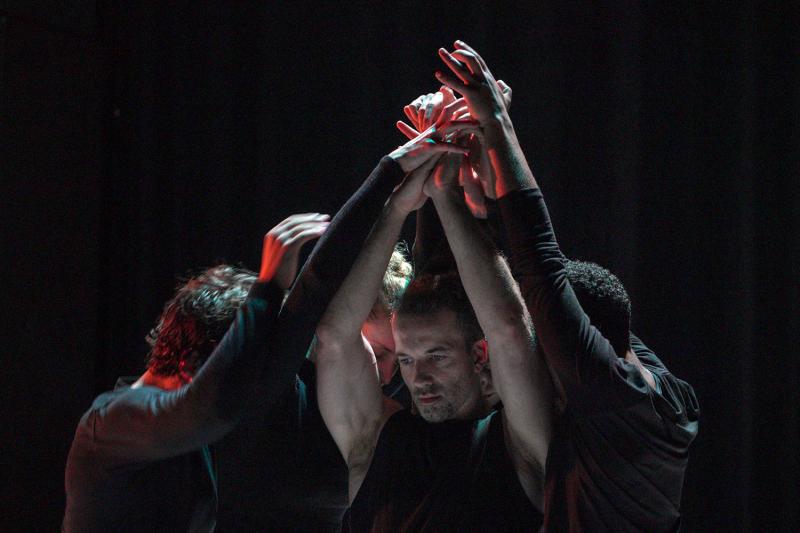 lucid movements to wild gyrations, all very angular, tight and playing off one another with superb skill. There were many amazing lifts, innovative and original.
The Third piece was entitled "Make a Toast" and was a fun improvisational exercise, as the audience members were asked to come up to a microphone and individually make toasts to someone that was important to them. As that person spoke, one dancer at a time would interpret what was said through their movements, which varied greatly, making each statement unique, solid and fleshed out.
"Cupido," choreographed by Omar Roman De Jesus, was a delightful tribute to the feelings of love, some not able to be expressed verbally, but magnified by inner feelings expressed through the body. Set mostly to flute, oboe and strings, sections were choreographed to the
different languages the melodies were sung in. With amazing control and litheness, the dancers cleanly worked off of each other, beautifully expressing the melody and lyrics, again, a lot of angular lines, strong poses and unique steps and lifts.
The guest artist in the last piece, "Crash," which was my favorite of the evening, Okaidja Afroso, besides writing the score, performed with the dancers, showcased behind the dancers on a raised area center stage. He sang chants, played congas and guitar and enriched the movements he accompanied immensely.
The sound of waves, the visual motion of them, the energy and repercussions from them and the uniqueness of each and every one of them was the central theme of the piece. Jacob Jonas created this piece by observing waves and their whitewater aftermath at the Santa Monica Pier. It is truly a magnificent piece of art.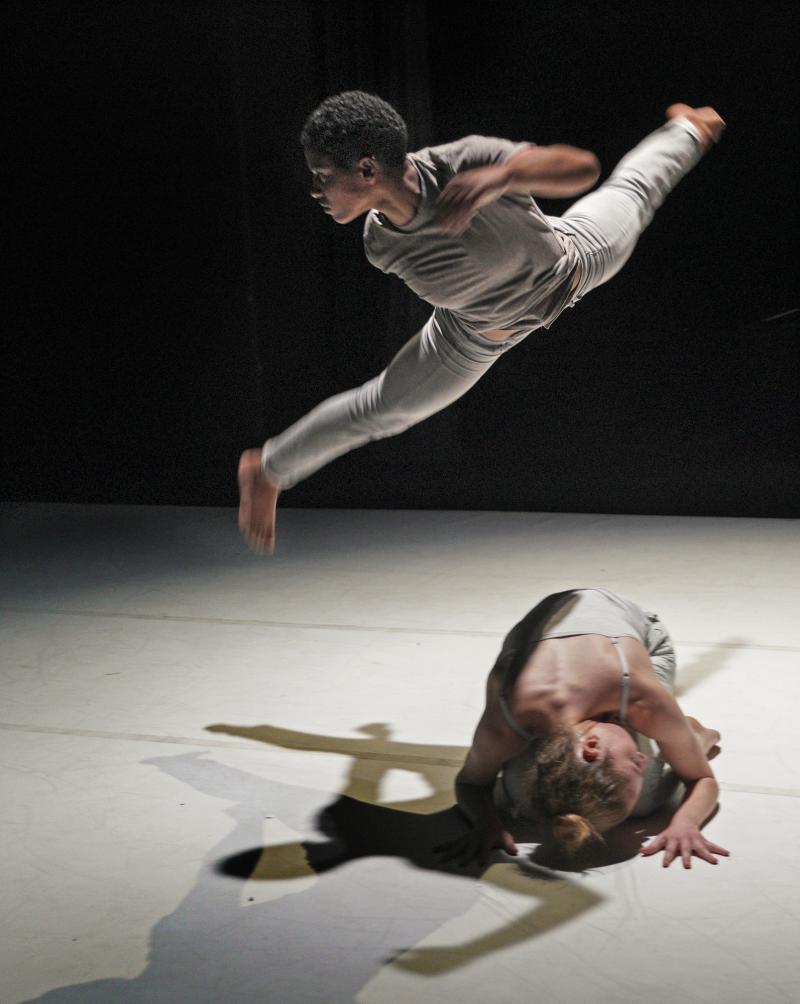 The lighting, music and staging gave us a magical experience of being oceanside, with fluidity and precision, never repeating the same combination of movements; flowing arms, smooth body rolls and contractions, stuck tightly together, then alternating movements, giving us a sense of the ebb and flow of the ocean. Throughout the piece, there were many outbursts of gymnastic expertise, such as somersaults, handstands, butterflies, inside-out backbends, sideways tours en la air, all done in a very controlled manner; duets, solos, groupings, that were done as they finished another movement and blended into the next, the movement continually rolling, rippling and adjusting to the ever-increasing tempo and musical intensity. The dancers have complete control of their bodies, and build at the end to a feeling of strong currents affecting their movements, wearing them out from all the tossing around, as they seem to be swimming ashore.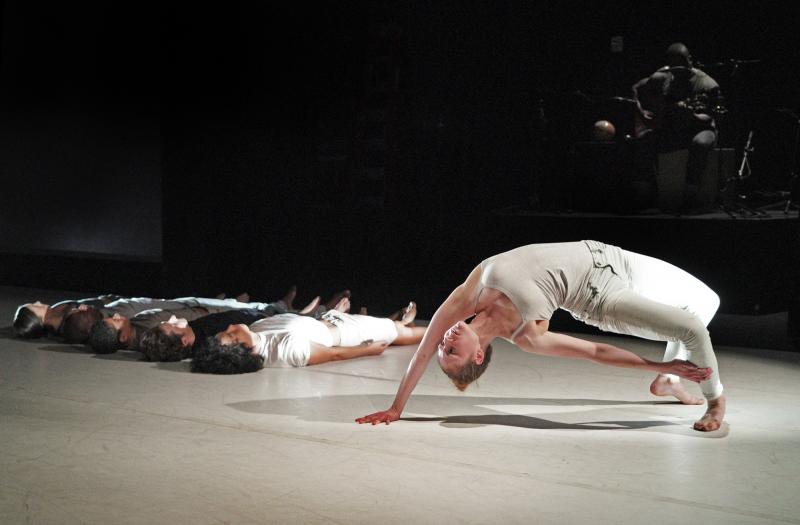 This Los Angeles-based company is a most interesting one, with their own signature style and Herculean strength that is well-showcased during the program. It will amaze you and command your attention by the sheer difficulty of their repertoire.
The amazingly strong dancers performing were Lamont Goode, Jacob Jonas, Jacob "Kujo" Lyons, Mike Tyus, Jill Wilson, Joy Isabella Brown, Danielle Coleman, Byunggyu "Jack" Kim, Lorrin Brubaker, and Emma Rosenzweig-Bock. William Adeshek provided the complimentary and dramatic lighting, They appeared October 24th - 27th, 2018, at the Wallis Annenberg Center for the Performing Arts.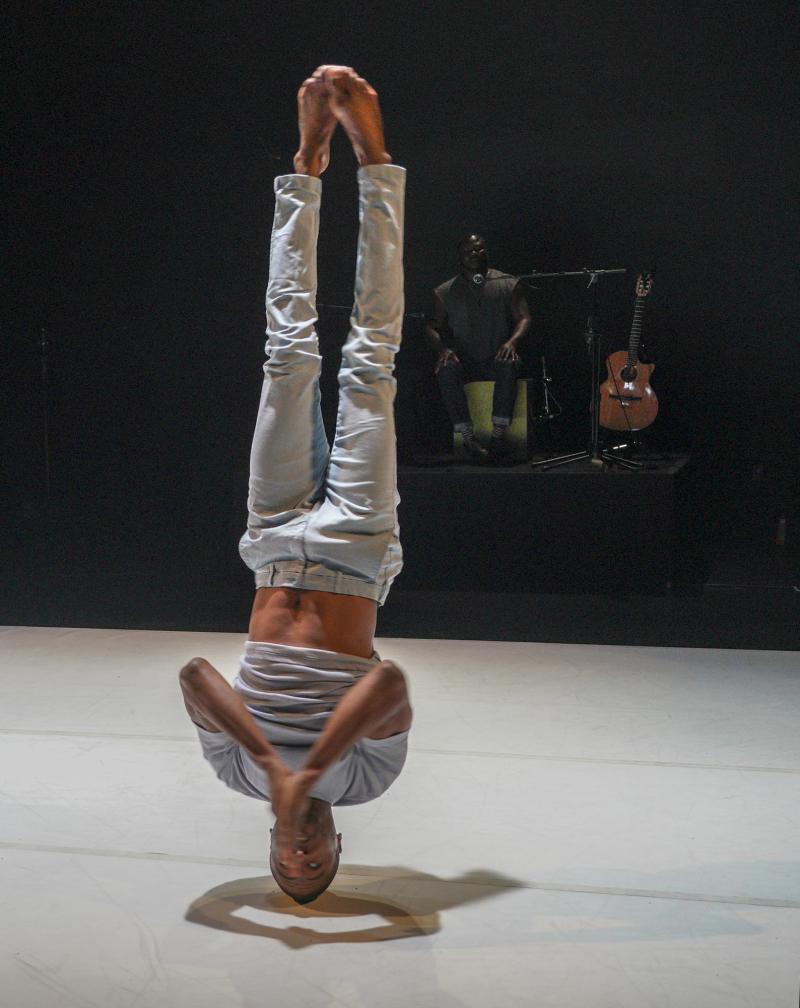 Photos by Lawrence K. Ho.