Click Here for More Articles on COME FROM AWAY
BWW Review: Heartfelt COME FROM AWAY Exudes the Best of Humanity at OC's Segerstrom Center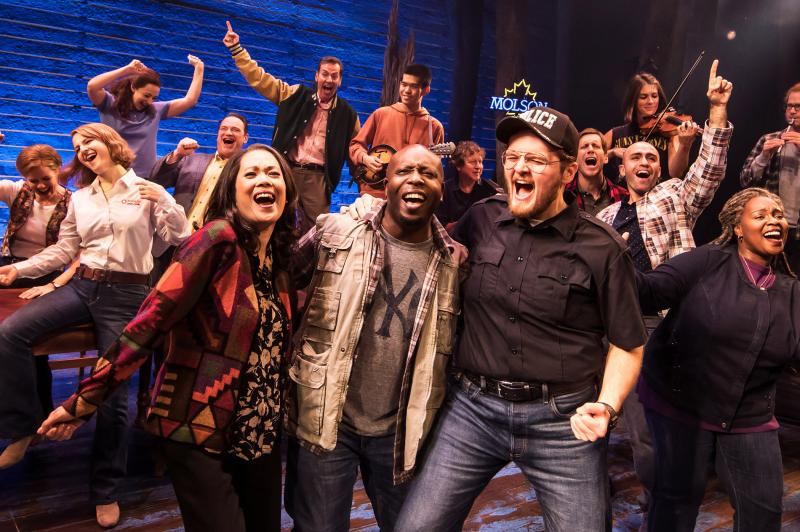 Nowadays, it is so easy for most people to feel jaded or disheartened about our current geopolitical climate---particularly as we navigate daily through such polarizing, divided times where the visceral, go-to emotion is blind, hatred rather than informed compassion or understanding.
Even worse, it all feels inescapable. After just a few minutes of watching talking heads scream over each other on cable television or even just scrolling briefly through Twitter or Facebook---which have both lately morphed into petrie dishes of unbelievably mean comments and the most vile hatred one can spew freely on social media---civil discourse and thoughtful examination has all but disappeared, as our lives now constantly feel like we're swimming in a lit powder keg about to explode.
Perhaps this is why one stage show in particular---a much-needed antidote to the harsh vitriol of our current environment---is rightly enjoying its status as the cheerfully positive, feel-good musical we all need in our lives (and, really, always): the moving surprise sleeper hit COME FROM AWAY.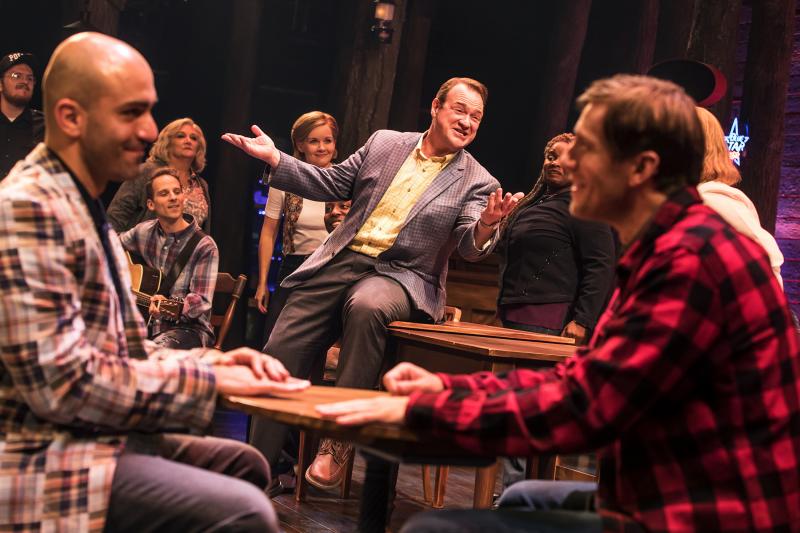 Currently a welcome, much-lauded presence in each city it visits, the top-notch first national tour of the multi-award-winning 2017 Broadway musical COME FROM AWAY---currently enchanting audiences at OC's Segerstrom Center for the Arts in Costa Mesa through February 17---is just the kind of timely show our splintered nation needs to experience right now: a heartwarming, winningly-presented collection of true stories that showcase the unvarnished beauty of human kindness and, ultimately, the absolute best examples of selflessness and generosity that seem rare these days.
And, yes, not only is it a truly feel-good musical that extends its comforting embrace right from the stage, COME FROM AWAY is also a genuinely entertaining, enthusiastically rousing, and beautifully-staged theater piece that overflows with amiable grace, appealing music, and swiftly-paced criss-crossing stories that capture your attention right from the get-go (the musical runs almost two hours without an intermission, but you won't notice this at all because of how well done and how riveting it all is).
From its roaring opener "Welcome to the Rock" to its rock-out finale that had the audience leaping to its feet in enthusiastic ovation (and then doing the rare move of actually staying put to watch the on-stage band led conductor Cynthia Kortman Westphal finish the final music of the show), the show is as outwardly entertaining as it is inwardly satisfying.
Mixed in with moments of light comedy and smile-inducing sweetness are vulnerable, heartbreaking scenes that remind us also about the unbelievable real horrors that exist in our world that test our resolve and, in some, encourage swift heroism and good will. It is in this refreshing display of unabashed kindness and neighborly hospitality that elevates COME FROM AWAY from being just another run-of-the-mill musical, but, rather, into one marked by quiet but impactful power.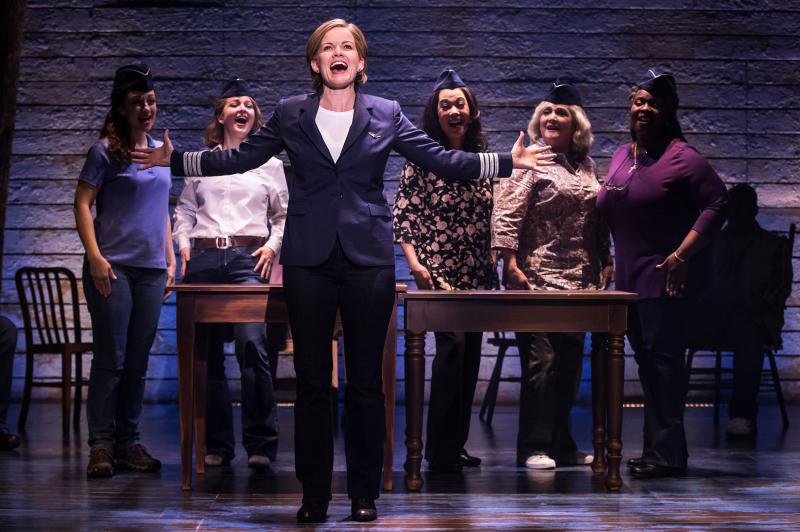 Directed with engaging, unapologetic jubilance by Christopher Ashley and featuring music, lyrics and book by Irene Sankoff and David Hein, COME FROM AWAY is the inspiring fact-based musical that recalls the real-life events set during the week of the September 11th terrorist attacks in 2001, and how a steadfast Canadian community banded together to shelter and play hosts to strangers from different backgrounds---just because it is absolutely the decent and right thing to do.
With the world thrown into utter chaos, confusion, and paralyzing fear as the attacks began unfolding with no warning, hundreds of civilian and commercial airplanes around the world---particularly ones already flying near the airspace of the attacks---were forced to land and stay grounded in various airports in Canada as part of an initiative called "Operation Yellow Ribbon" whose end goal is to ensure that all aircraft be taken off airspaces as soon as possible so that they cannot be targeted or, worse, be used as potential weapons as many were earlier that day.
One of these airports is located in the tiny hamlet of Gander in Newfoundland, where its quiet, quirky, small town life is suddenly disrupted by the sudden arrival of 38 planes carrying over 7,000 temporarily stranded passengers and flight crew members, which, all told, are actually more people than the town's then population.
Knowing that many of these new arrivals will be hungry, confused, and stuck there for an unknown period of time, the residents of Gander immediately spring into action without even a moment's hesitation, organizing everything from temporary shelters, impromptu overnight accommodations, and ad-hoc cafeterias and mess halls, to clothing drives, toiletry runs, and mass transportation (this emergency situation even temporarily halted the strike of the bus drivers).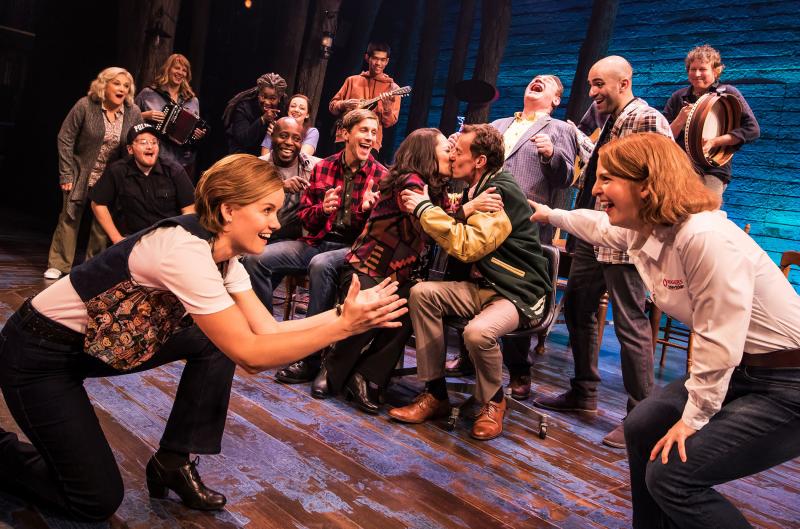 Understandably, the confused travelers---unaware about the true dangers that just occurred---are understandably surprised and even cautious at first. How sad that unconditional kindness is immediately seen as a strange, foreign concept, that is when it is displayed and distributed so liberally and without any expectation of compensation or reciprocity.
With a multitude of parallel and interweaving storylines in play, COME FROM AWAY presents multiple characters that are both composites of several real people, as well as many singular real individuals---both Gander residents and the stranded travelers that have "come from away"---that actually lived through this ordeal, adding a more riveting authenticity to this absorbing narrative (a quick YouTube search will yield several short documentaries and news interviews with the real-life counterparts of many of these characters, which you'll find fascinating post-show).
To keep all these multiple characters---both local Gander residents and weary travelers---discernible from one another, COME FROM AWAY, as expected, has assembled a harmonious, hard-working ensemble cast filled with some of the best singer/actors working on the stage today. Such a show almost demands it, particularly since the number of cast members are less than the collection of characters they have to play. Plus, they also have the added pressure of honorably portraying the very real people who lived through these events.
Like a well-staged, well-choreographed, seamlessly executed life-sized chess game, every single one of these accomplished, incredibly talented actors (not a single weak link in the bunch) skillfully transition from one vivid personality to the other, each magnificently distinguishable and distinctive from the next---even if the change is merely a character's cadence or accent or a small addition of a hat or jacket. It becomes so natural and second-nature that whenever an actor pops up, you know exactly who they are playing at any given moment and you completely dive into this world wholeheartedly (well, possibly because in the span of two hours, you sorta fall in love with everyone and want to be their BFF or at least host you for a week).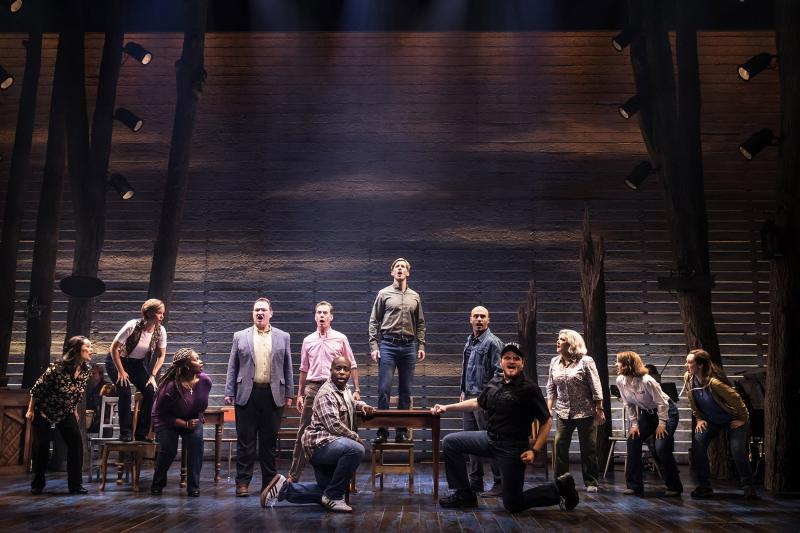 Some cast members, of course, stood out more, mostly because their "main" characters (the personalities they act out longer on stage) earned more visibility (or a significant featured solo moment). Kevin Carolan is a standout as several town mayors, including Claude Elliott, Gander's even-keeled mayor. Becky Gulsvig (with her amazing voice) is terrific as Beverley Bass, the first female captain of an American Airlines aircraft and one of the many pilots stranded at Gander. Chamblee Ferguson and Christine Toy Johnson make an adorkable couple who begin a flirty romance while stuck in Gander.
Also worth noting are James Earl Jones II, who steals the show with his hilarious turns as a suave pilot (complete with over-confident swagger) and as Bob, who takes a while to warm up to infamous Canadian hospitality. I slightly fan-girled a bit after realizing Megan McGinnis was part of the cast, playing among other roles, Bonnie Harris, Gander's animal-loving SPCA worker. Gander's porn-stached police constable Oz Fudge earns plenty of laughs thanks to Harter Clingman's performance. Emily Walton does a great job as newbie on-air reporter Janice Mosher, who is suddenly thrust to the spotlight as she reports from the suddenly overpopulated Gander.
I was also enamored by the camaraderie between Julie Johnson's school teacher Beulah (Julie Johnson) and Hannah (Marika Aubrey), two women who bond over the fact that both their sons are firefighters---except that Hannah's son is still missing in New York, another reminder about what awaits for these passengers once they leave. And finally, I especially enjoyed the beautiful work essayed by Andrew Samonsky and Nick Duckart, who among their other characters played gay couple Kevin and Kevin, whose relationship is affected by this stressful situation. Duckart also plays the character of Ali, a Muslim man who suddenly becomes the unfortunate (and unfounded) target of prejudice given the tragic events of the past few days.
The remaining cast members, all of whom also play multiple characters, include Danielle K. Thomas, Jane Bunting, Michael Brian Dunn, Julie Garnyé, Adam Halpin, and Aaron Michael Ray.
Additionally, COME FROM AWAY's beauty and power stretches well into its technical aspects as well. The simple but evocatively rustic set designed by Beowulf Borritt is an intriguing canvas of rough, natural textures that stay fairly static (except for a rotating turntable floor), relying heavily on easily movable chairs and tables that cast members use to tell their story---letting the performances and the narrative be the focus of the audience's attention. In the same vein, Borritt's set is is beautifully enhanced by the work of lighting designer Howell Binkley to create separate but discernible spaces and moods---some happy and celebratory, some melancholy and reverent. Toni-Leslie James' costumes and David Brian Brown's wigs adorn the cast in early Aughts threads, comfortable, not too time-specific, and not distracting, but enough to differentiate the actors between their multiple characters with impressive ease.
Most intriguing of all are the movements devised by Kelly Devine. Subtle, but wholly expressive movements throughout the show are as purposeful as they are mesmerizing, adding a haunting layer to some of the more harrowing scenes and a jubilation of tradition during the rather memorable bar dance scene. Especially fascinating is how Devine managed to elicit excitement and electricity in seemingly mundane scenes that featured passengers sitting on a plane or having discussions in a restaurant or in solemn prayer at a church. It is quite moving and beautiful at times.
Brimming with heart, kindness, and just all-around warm fuzzies, COME FROM AWAY is a comforting piece of theater that I enjoyed experiencing even more the second time around. It is certainly the kind of a show that feels like a beacon of hope and light in the face of dark times. Its palpable energy and feel-good vibes make it an easily entertaining communal experience. Though it took a tragic event for such goodness to come to light, the emotional journey is sill worth it, particularly for those who actually lived this narrative during those memorable days in 2001.
As I was flooded with emotion and infectious glee as I watched people portray acts of kindness towards complete strangers, I am once again hopeful that such humanity exists at all in our world. At the very least, it certainly reiterates that lovely stereotype about Canadians---that they treat anyone like family, are ready at any given moment to extend kindness, friendship, or even just a hug to anyone in need of it.
COME FROM AWAY and The Town of Gander is that giant hug we all want---a vivid, heartwarming reminder of a world we should strive for, where helping out your fellow human regardless of their race, age, gender, economic background, or sexual orientation is one's automatic, go-to act.
----
COME FROM AWAY
Book, Music and Lyrics by Irene Sankoff and David Hein. Musical Supervision and Arrangements by Ian Eisendrath. Orchestrations by August Eriksmoen.
Scenic design by Beowulf Boritt, costume design by Toni-Leslie James, lighting design by Howell Binkley , sound design by Gareth Owen. Musical staging by Kelly Devine. Directed by Christopher Ashley.
Photos from the National Tour of COME FROM AWAY by Matthew Murphy, courtesy of Segerstrom Center for the Arts.
Performances of the National Tour of COME FROM AWAY at Segerstrom Center for the Arts continue through Sunday, February 17, 2019. Tickets can be purchased online at www.SCFTA.org, by phone at 714-556-2787 or in person at the SCFTA box office (open daily at 10 am). Segerstrom Center for the Arts is located at 600 Town Center Drive in Costa Mesa. For tickets or more information, visit SCFTA.org.
** Follow this reviewer on Twitter: @cre8iveMLQ **

Related Articles
A So. Cal. Contributing Editor since 2009, Michael Lawrence Quintos is a talented, mild-mannered Designer by day. But as night falls, he regularly performs on (read more...)