Review: FAITH HEALER Presents a Rashomon Style Tale of Three Characters Struggling with Their Inner Demons Together
According to Wikipedia, the Rashomon effect occurs when an event is given contradictory interpretations by the individuals involved. The effect is named after Akira Kurosawa's 1950 film Rashomon, in which a murder is described in four contradictory ways by four witnesses. Such is the case in Irish playwright Brian Friel's uniquely structured FAITH HEALER which illustrates the healing power of faith over inner demons via four separate monologues performed by 3 characters travelling together through small towns in the United Kingdom in the 1970s. Their goal is to present small community meetings as best they can, in which they hope to occasionally prove that pure faith can heal even the darkest of maladies.
But what about overcoming their own inner demons, thus allowing their faith to shine through and carry them above the many roadblocks to success, both personally, spiritually and financially,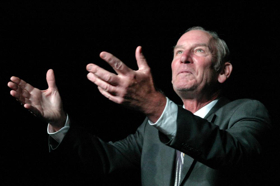 faced by this weary team of apparent gypsies? First, we meet Frank, played by charismatic Paul Norwood, as he grapples with his "gift" amid his own serious self-loathing. Is Fantastic Francis Hardy a miracle worker or just a showman in search of a dollar? Can his few real "healings" really be the result of anything he has done? As he struggles with his drinking habit while celebrating his few real accomplishments, it is easy to understand his struggle and damaged psyche.
Such is also the case of Frank's patient but long-suffering German-born wife, Grace, portrayed by the luminous Diana Cignoni.
Grace's steadfast loyalty to Frank is admirable, even though following him to the outskirts of nowhere has drained any joy from her soul by instigating the most dreadful of marital spats, and the personality-splitting loss of a baby delivered in the back of their broken-down traveling van. Of course, we hear all three sides of this heartbreaking story, leaving us to wonder if anything Grace tells us is really totally truthful or a compilation of the fantasy stories she dreams up while on her own drinking binges.
Lastly, we meet Frank's promoter and set-up man,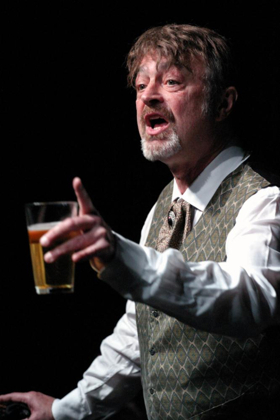 a Cockney named Teddy who on the surface appears to be the most rational of the lot. Also a hard-drinking man who prefers beer over whiskey, jovial Ron Bottitta puts a touching and comical show business spin on all the events previously shared by Frank and Grace, giving us a bystander's look at the inner demons driving all of them to the brink of disaster. Friel's magnificently written character study with enough metaphysical mysteries and poetic self-reflections will keep audiences on the edge of their seats while trying to comprehend what really happened to these three weary travelers led down a path of no return by an itinerant Irish healer.
You see, even though Frank's epilogue brings the play to a startling conclusion, FAITH HEALER will still leave you questioning the power of faith in the face of manipulative showmanship just to make a buck.
Just how can we believe in his self-proclaimed talent if he loses faith in himself? And thanks to the brilliant skill of its three talented actors, this "monologue play" will leave it up to you to decide if Frank is really a shaman or charlatan, or perhaps a bit of both.
The creative team includes set designer Stephanie Kerley Schwartz, lighting designer Rose Malone, sound designer Christopher Moscatiello and costume designer Denise Blasor, all of whom contribute to the dark, wet and dreary atmosphere of the rundown barn in which the revival meetings take place, as well as many other locations to which the trio has traveled.
The Odyssey Theatre Ensemble continues its 50th anniversary season with Brian Friel's mysterious and often humorous 1979 drama FAITH HEALER,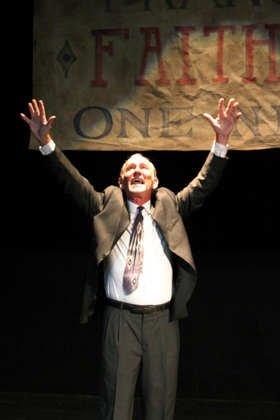 directed by Odyssey Theatre Ensemble founder Ron Sossi, who first directed the play "amid raw lumber and sheetrock dust to open this building thirty years ago." Founded in 1969 when Ron Sossi decided to demonstrate that experiment-oriented theater could have populist appeal and be fiscally solvent while maintaining the highest artistic standards, the Odyssey continues to explore, produce and present works on the forefront of contemporary theater art in its three-theater complex in West Los Angeles. Be adventurous with him and investigate the upcoming season, with information and tickets available at OdysseyTheatre.com.
FAITH HEALER performances continue through May 12 on Fridays and Saturdays at 8pm, Sundays at 2pm. Additional weeknight performances are scheduled on Thursday, April 18; and Wednesday, May 8, all at 8 pm. Tickets range from $32 to $37; with additional discounts available at select performances for seniors, students and patrons under 30. The Odyssey Theatre is located at 2055 S. Sepulveda Blvd., West Los Angeles, 90025. For reservations and information, call (310) 477-2055 or go to OdysseyTheatre.com.
Photos by Enci Box