Review: Brian Dennehy Inhabits Lives Remembered in HUGHIE and KRAPP'S LAST TAPE at the Geffen Playhouse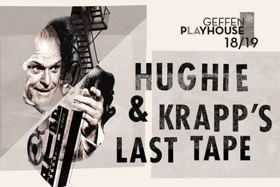 Actor Brian Dennehy is a legendary interpreter of Eugene O'Neill's work, winning a Tony award for his volcanic Tyrone in "Long Day's Journey Into Night." If the two had ever met, no doubt the actor and author would have laughed, argued, brawled, and commiserated while drinking late into the night at some Irish bar on the Lower East Side. But since they were born in different ages, we can only experience their bond through the theatre when the magical connection between actor and writer is brought to life. The same is true with Irish playwright Samuel Beckett whose pathos and humor seem to be reflected in Dennehy's bones.
At least that is my take on his performances in two one-acts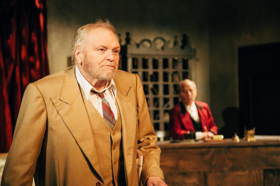 at The Geffen Playhouse in which Dennehy brilliantly reprises roles that have garnered him critical and popular acclaim for his skill at bringing searing humanity to life via his extraordinary dramatic skills.
HUGHIE by Eugene O'Neill features Dennehy as high-rolling gambler and small-time hustler Erie Smith who loses his confidant Hughie, the long-time front desk clerk at the now run-down flea bag hotel where he has lived for 15 years, causing him to take a turn for the worse via the bottle. It begins as Smith returns from a 4-day bender
to discover a new desk clerk has been hired named Charlie Hughes (Joe Grifasi on the night I attended, with Star Trek's Armin Shimerman stepping into the role as of 11/27), and proceeds to regale the mostly disinterested newcomer about how great his adventures with Hughie were, as he continues to drink, getting sloppier and more forgetful as time passes. As it progresses, perhaps you will wonder, as I did, if the new desk clerk is the same "Hughie" who recently passed away and the lobby is really a waiting room to the gates of Heaven. But that was not the case, as logical as it seemed to me!
KRAPP'S LAST TAPE by Samuel Beckett is a solo one-act in which Krapp sits at a desk in an empty room, preparing for his annual birthday ritual when he stumbles upon a recording of a tender memory from a lifetime ago.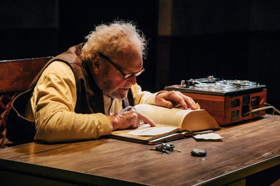 As his emotions get the best of him, Krapp exits the stage to consume drink after drink, which we can assume are of the alcoholic variety given Dennehy's overwhelming talent at portraying drunken behavior so realistically you would think he really was imbibing the real thing. As he immerses himself in his own personal history, Dennehy's wonderful facial expressions and gruff verbal responses, as well as the moments he decides to fast forward the tape, take us inside Krapp's inner turmoil as he realizes no matter what he records on this birthday, there is no way it could ever be as memorable as his past, especially when it comes to his love life.
Both one-acts in this masterful and memorable double-billing, directed by Steven Robman, are reflective and confessional in nature,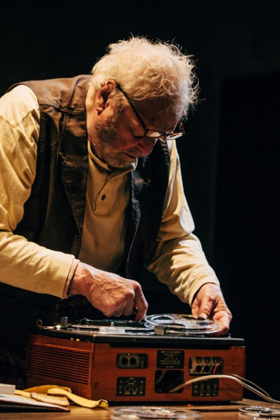 with each of the main characters portrayed by masterful actor Brian Dennehy sharing tales of their lives in an attempt to make sense of the way it has turned out for them, especially since the present does not seem to have lived up to the excitement of the past. Perhaps that universal truth is what united these two one acts, with O'Neill and Beckett asking audiences to take a look back at our own lives and realize that even when things seem hopeless and/or meaningless, memories of times past may be the thing to break your downward spiral. I'd like to think that positive message will ring true with audiences who may find both plays rather dull and pointless (other than enjoying Dennehy's remarkable work as an actor fully engulfed in both roles), with nothing much but self-searching memory monologues taking place.
HUGHIE and KRAPP'S LAST TAPE continue through Sunday, December 16, 2018 on Tuesday-Friday 8pm, Saturday 3pm & 8pm, Sunday 2pm
in Geffen Playhouse's intimate Audrey Skirball Kenis Theater, 10886 Le Conte Avenue, Los Angeles, CA 90024. Tickets run $30-$120, available in person at The Geffen Playhouse box office, by phone at 310.208.5454 or online at www.geffenplayhouse.org. Rush tickets for each day's performance are made available to the general public 30 minutes before showtime at the box office. $35.00 General / $10.00 Student. Run time is two hours including one 15-minute intermission.
Photo credit: Jeff Lorch