Review: Antaeus' THE CRIPPLE OF INISHMAAN - A Feckin' Fine Production!
THE CRIPPLE OF INISHMAAN/by Martin McDonagh/directed by Steven Robman/Kiki & David Gindler Performing Arts Center/thru March 11, 2019
Add Martin McDonagh's THE CRIPPLE OF INISHMAAN to the already lengthy resumé of stellar productions that the always dependable Antaeus Theatre Company manages to assemble on their stage. Steven Robman sure-handedly directs his talented Irish-brogued ensemble of seven (The Fripple Frapples cast of the double castings) at a quick,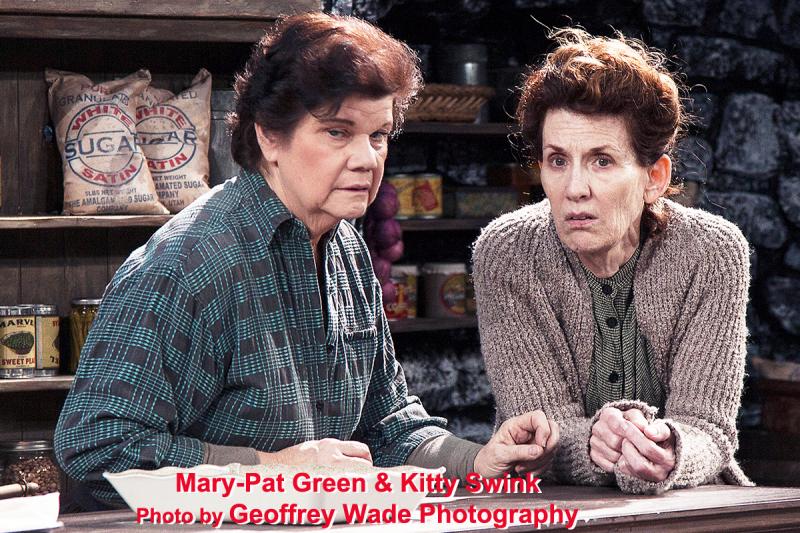 smooth pace; vividly illustrating McDonagh's smart, witty and brutal tale based on the real-life filming of the 1934 documentary Man of Aran. Buried in the 'news' the town gossip Johnnypateenmike spreads, the arrival of a film crew from America looking to make a movie on the neighboring Inishmore piques everyone's interest.
THE CRIPPLE OF INISHMAAN opens in the Inishmaan general store that two spinister sisters Kate and Eileen run. Kitty Swink (Kate) and Mary-Pat Green (Eileen) charm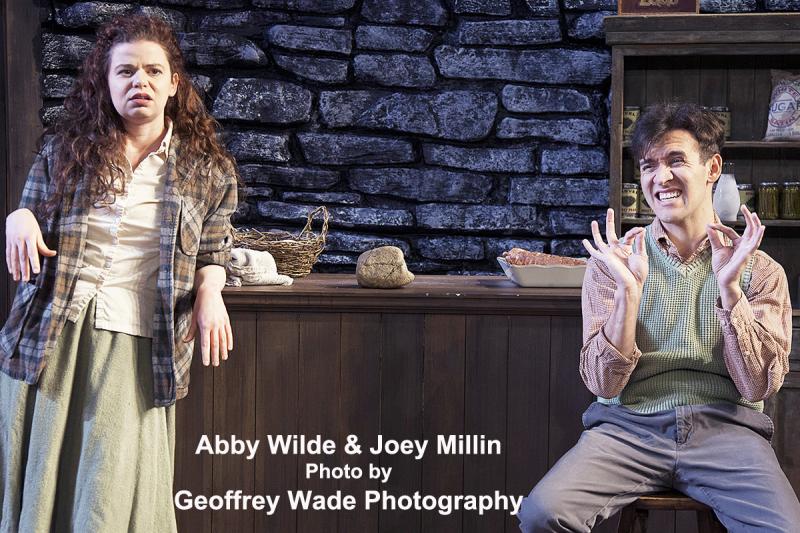 with their good-natured, volleying banter while worrying about the whereabouts of their crippled charge Crippled Billy. Matthew Grondin physically contorts and mentally embodies Crippled Billy as a most sympathetic, innocent, yet more-aware-than-anyone-knows, complete person.
Bartley (a delightfully clueless Joey Millin) enters the store looking for specific candies like Yalla-mallows or Mintios. His sister Helen comes in to deliver fresh eggs from her boss the egg-man. Abby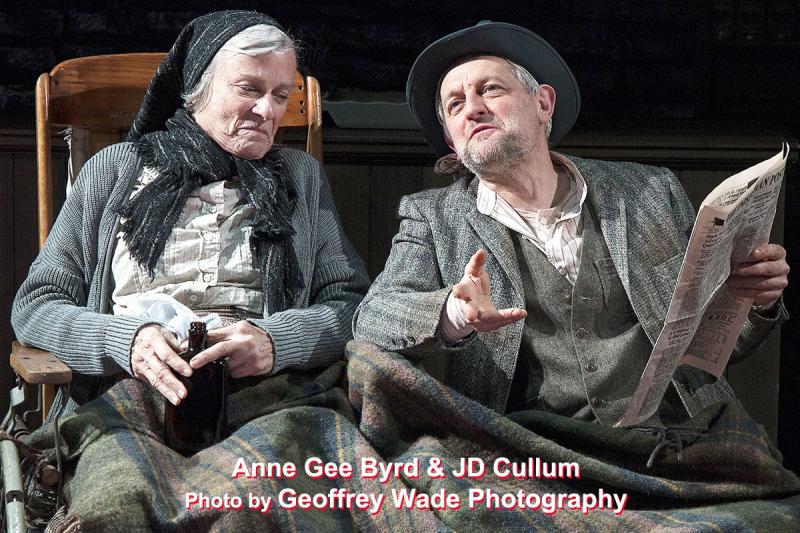 Wilde inhabits the crass, take-no-prisoner Helen who knows how to persuade men with her kisses to mold them to her thinking or wants. Helen wonderfully gets to frequently utter the "Fecking this," and the "Fecking that" lines.
JD Cullum imbues his Johnnypateenmike with a frenzied salesman spiel he has down pat. Straddled with an ailing mother he's saddled to care for, Johnnypateenmike gives in to her frequent request for bottles of liquor. Anne Gee Byrd steals all her scenes as the alcoholic Mammy who alternately chides her son, while conspiratorially agreeing with him.
Looking to get cast in the documentary, Helen and Bartley have arranged for BabbyBobby to transport them from Inishmaan on his boat to the nearby Inishmore. When Crippled Billy learns of their plans, he sneaks out the house in the middle of the night to ask BabbyBobby to take him to Inishmore also. Seamus Dever effortlessly reveals BabbyBobby's sensitive undersides beneath his rough and tough exterior. Grondin and Dever's quiet scene together speaks volumes.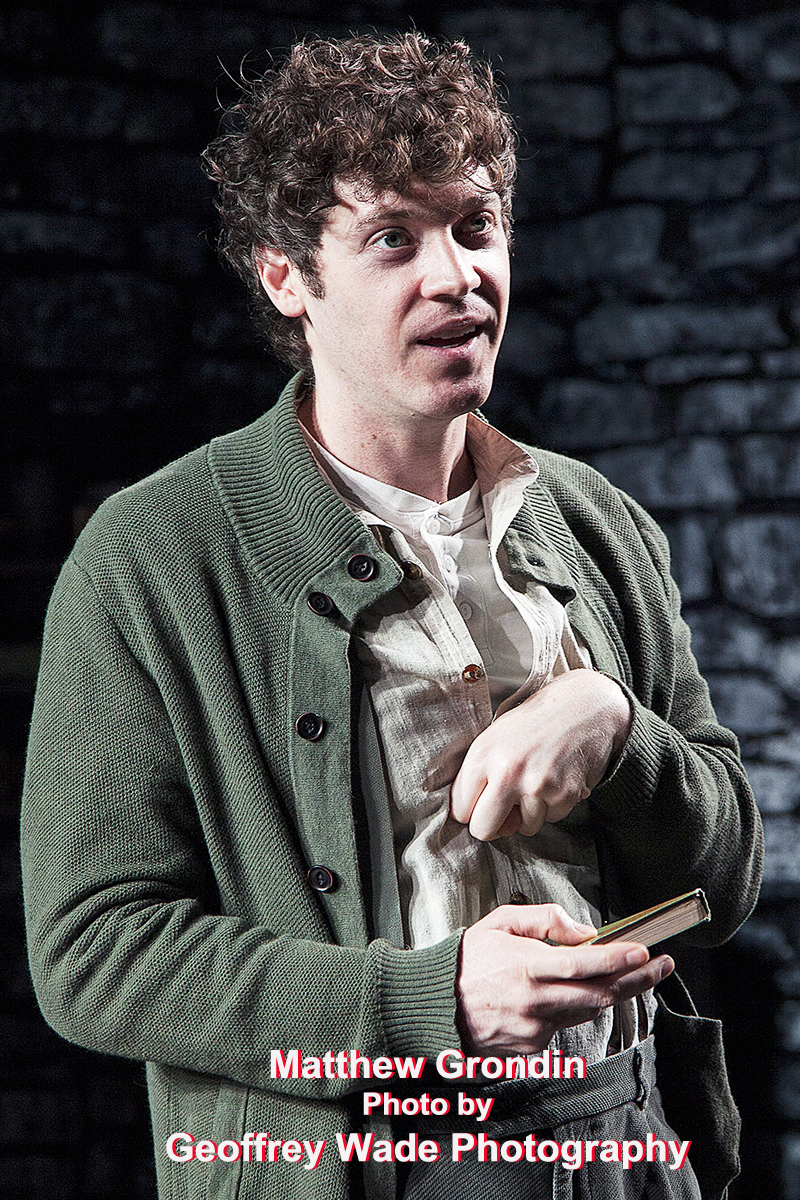 My only point of trepidation - an extremely violent scene near the end seems so out of character for the BabbyBobby we have been introduced to.
Phil Proctor ably makes the most of his short time on stage as the wise and knowing town physician Doctor McSharry, reveling in his scenes opposite his cares.
Kudos to scenic designer John Iacovelli for his stone-walled main set of Kate and Eileen's store with a pebble-embedded path downstage easily suggesting the seashore. Very clever, seamless scene transitions covered with co-projection designers Kaitlyn Pietras and Jason H. Thompson's plot-forwarding projections, complemented by sound designer Jeff Gardner's sound effects or musical interludes.
To parody a line from the play: "INISHMAAN mustn't be such a bad place, if Antaeus wants to go here."