Interview: Tovah Feldshuh, Dr. Ruth, and Mark St. Germain on BECOMING DR. RUTH
A new production is now streaming from North Coast Repertory until July 4th.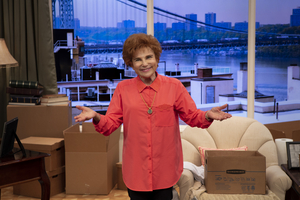 With a powerful new production of Becoming Dr. Ruth now available for streaming, BroadwayWorld had the chance to sit down with playwright Mark St. Germain, actress Tovah Feldshuh who is taking on the one-woman show, and the title character herself, Dr. Ruth.
Becoming Dr. Ruth tells the incredible true story of one of the most beloved media figures of the last century. A survivor of the holocaust, a pioneering sex therapist, and so much more, this one-woman show explores some of the darkest chapters of recent history with the humor, insight, and engaging personality of the one and only Dr. Ruth.
You can access the stream of the production on demand from North Coast Repertory through July 4th at their website.
This conversation has been edited for length and clarity.
---
Let's start with the story of the play itself. How did the play come to be?
Mark St. Germain: When my play Freud's Last Session was playing in New York, Dr. Ruth went to see it several times. When Ruth goes to a show and likes it, she simply walks backstage and tells the Actors that. She did so, several times, at Freud. Martin Rayner, who played Freud, told me that he found Dr. Ruth fascinating. "You really should write about her," he insisted.
All I knew about Ruth was her radio and television work. I got hold of her autobiography and was gobsmacked with her history and the turns her life took. Martin told Ruth that I might be interested in writing about her. She responded that enough has been written about her, she wasn't interested. She was a public figure, she added to Martin, so I could write what I wanted.
I called her office and left a message telling her I wouldn't want to write about her without her participation and thanking her for her important work. A call from Ruth followed, inviting me to breakfast the next day. When I arrived we sat at her kitchen table and after five minutes she was bringing out stacks of books that she wrote and putting them before me. I was confused. "Does this mean we're doing the play?" Of course, she answered. And we did.
Dr. Ruth, as noted by Mark, your life is a very powerful and inspiring story - what do you hope audiences take away from seeing the show?
Dr. Ruth: Good question! In today's world how important it is to stand up and be counted. This play is a testament for people to remember. A testimonial that the holocause happened, not just to the Jewish people, but to anyone the Nazi's saw as not in their image - a very important message for today's world. I'm also very happy that this play can teach about tolerance, as the early socialization of my life was so good in those early days, that even with everything that has happened, I have no regrets whatsoever. This play is like a graveyard for my family that doesn't have graves.
Shifting to the performance aspect, how has your approach to the work shifted in creating something to be streamed as opposed to in front of an in-person audience?
Tovah Feldshuh: I have worked in film, and I have worked on Broadway, but to toggle back and forth with the same piece within one week's time is unprecedented in my career. With streaming, the camera is my intimate other. On stage, I want to make sure the last row is my intimate other. When I film, my task is to fill time with truth. The camera creates the spatial relationship. It chooses the close-up, the master shot, or even aerial crane shot. Live on stage, one must fill both time and space with truth. In filming for the stream at North Coast Rep, we had the advantage of taking the play in segments. Yes, we did do an initial full run-through, but then decided as a team to benefit our audience, we could mine more varied and subtle adjustments by taking the play piece by piece. Fortunately, the structure of the play lent itself to this approach because the character's mind is "going in all directions." In live performing, I am taking the single bungee jump to inhabit Dr. Ruth K. Westheimer. There are no second takes.
Dr. Ruth, what has the experience been like for you not only seeing the play created but to see very talented performers, like Tovah, clamoring to play you?
Dr. Ruth: I am jumping for joy because Tovah Feldshuh has played Ruth Bader Ginsburg, Golda Meir, and now me! I have known her for many years. In preparation for this role, she came and spent three days with me going over every line of the play. She has also written a wonderful book (Lilyville: Mother, Daughter, and Other Roles I've Played), which I am not in yet - so she's going to have to write another one!
Tovah, in what ways do you really connect to Dr. Ruth?
Tovah Feldshuh: It's funny you should ask because on opening night, when Dr. Ruth was brought to the stage at curtain call, we discovered we were dressed literally like twins. This was absolutely unplanned. Talk about "an actor prepares!" I had the gift of spending three Wednesdays with Ruth where we combed through the script, and I observed the details of her apartment. Then I had them photographed and transmitted to the marvelous production staff of NCRT from the magnificent view out her windows down to her last porcelain turtle!
How do I connect with Ruth? We are both short, fast, energetic, and committed to what I call "the full life movement." Oh yes, and we're both sex experts! I try to imbibe her virtues of relentless optimism and her way of always thinking of "the other." Ruth can't do enough to acknowledge those around her. She is my north star in the charitable work that I do. Her latest mitzvah was the Ruth K. Westheimer Endowed Scholarship in Psychology at Ben Gurion University. Because of the war, Ruth was denied the right to graduate from high school. There are many Bedouin students at Ben Gurion who also lack a high school diploma, and it is Dr. Ruth's hope that the scholarship will be won by Bedouin women, so they, like her, can go on to degrees of higher education. The most compelling aspect of Ruth's story is her resilience and her refusal to look at the negative. When she is knocked down, she chooses to get up again and go forth. It is my hope that whoever watches Becoming Dr. Ruth will also be inspired to do the same.
Did anything unexpected happen during the creation process?
Tovah Feldshuh: At North Coast, I wouldn't say it was unexpected, but the journey to explore the rainbow arc of Ruth's life was enlightening and enriching. In a one-woman show, the relationship between the director and the actor is crucial. I have been blessed to work with two greats: David Ellenstein and Scott Schwartz. Their different approaches to the piece have benefitted my work enormously. There were three of us instead of two of us excavating Becoming Dr. Ruth. When I come to rehearsal, I come open and ready to run with their suggestions. Also, it should be mentioned that the streaming of the show would not have been possible without the expertise and counsel of Aaron Rumley, Chris Williams, and Phil Korth, with Gabrielle Holley on book.
Finally, what should audiences expect when they tune in? Why should they tune in?
Mark St. Germain: To see an inspirational story that brings us hope. Both Dr. Ruth and Tovah are one of a kind and at the top of their fields. Tovah brings to her performance the passion Dr. Ruth has brought to her career and then the world.

Tovah Feldshuh: What they should expect is Ruth's extraordinary humor and unbridled optimism. What they might not expect is her breathtaking survivor-rich story from orphanage to famous international sex therapist. It's her backstory that grabs and informs us. The audience should also expect to spend an hour and a half in the hands of an excellent playwright: Mark St. Germain, who writes a woman with an incredibly positive mental attitude, vision, and will. They should expect to see the value of not giving up. They should expect to witness a life that continues to effect the healing of the world-with a couple of helpful hints for the bedroom! I find Ruth's story "rightsizes" my life. If my bad day is being frustrated with my WiFi connection, all I have to do is step into Ruth's shoes. What would she do? The answer is humbling and helpful.
Photo Credit: Aaron Rumley