Award Winning RAIN AND ZOE SAVE THE WORLD By Crystal Skillman Selected For Living Room Series At The Blank Theatre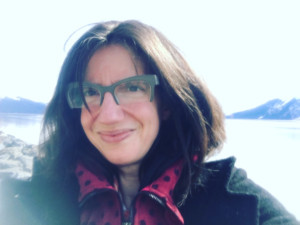 Award Winning RAIN AND ZOE SAVE THE WORLD by Crystal Skillman has been selected for a reading in the Living Room Series at the Blank Theatre in Los Angeles.
The reading will take place on Monday, March 18th at 8 PM at The Blank's 2nd Stage Theatre at 6500 Santa Monica Blvd in Hollywood.
The reading will feature Devin Fluker, Mateo Mpinduzi-Mott, Susan Louise O'Connor, and Travis York directed by Associate Artistic Director Christopher James Raymond.
"The Blank Theater's Living Room Series is thrilled to be presenting a read of this timely but timeless play on climate change," said Christopher James Raymond. "I knew the minute I read the piece that it was something special, a radical coming-of-age story that is is both beautifully rendered and quirkily funny, heartfelt, and most of all optimistic and the transformative power of theatre."
In Rain and Zoe Save the World, two Seattle teenagers embark on an impulsive motorcycle journey to join a group of oil protesters on the east coast. But as they follow a major pipeline across the country, what began as two young activists' longing to belong to something greater than themselves gives way to Rain and Zoe discovering that the true danger in this world might just be growing up.
The play, which was selected by a national panel of judges for the 2018 Earth Matters on Stage (EMOS) New Play Competition, received a student production at the University of Anchorage.
"Rain and Zoe Save the World is absolutely beautiful with characters who are complicated but easy to love and root for. As a previous recipient of the Earth Matters on Stage competition, I was delighted that it was selected for last year's EMOS award. I hope it gets all kinds of stagings in the year(s) ahead," said E.M. Lewis, playwright of Magellanica and The Gun Show.
Rain and Zoe Save the World was originally workshopped two years ago at the New Harmony Project, which nurtures and promote new works for the stage, television, and film that sensitively and truthfully explore the positive aspects of life.
Lori Wolter Hudson, Artistic Director of The New Harmony Project shares: "Rain & Zoe Save the World is as whimsical and fun as it is moving and deep. We are proud that this play, fully developed at The New Harmony Project, is having such an impact on the theatrical community!"
"Proud to be a producer on this rockin' eco episodic drama about saving the world. I saw a version at the University of Alaska for the EMOS conference, and as part of the Living Room Series staff I'm so happy to bring this to L.A," said theater artist Brenda Varda, who will be the creative producer of the upcoming reading at the Blank Theatre.
The Blank Theatre is committed to the enrichment of Hollywood's cultural life through production of first-rate theatre, education of current and future artists, and creation of groundbreaking new works for the theatrical repertoire. Founded in 1990 in Hollywood by current Artistic Director Daniel Henning, in April of 1996, The Blank took up residence at the 2nd Stage Theatre on Hollywood's Theatre Row. The Blank's Mainstage productions have garnered rave reviews, audience acclaim, and numerous theatrical honors. This year we have won the BroadwayWorld Award for "Best Play - Los Angeles" and have been nominated for 4 L.A. Weekly Awards including "Production of the Year."
Now in its 28th year, The Living Room Series is a New Play Development program, which embodies The Blank's commitment to developing new work by diverse voices from both established and emerging writers.
The Living Room Series (LRS) takes place on Monday evenings at the 2nd Stage Theatre in Hollywood between Labor Day and Memorial Day. LRS offers a week-long rehearsal process for the playwright, director, and actors to explore and refine the play before presenting it to an audience.
The performances are minimally staged, with actors carrying scripts, and are a wonderful opportunity for the playwright to get a sense of the play's full potential.
Upcoming Living Room Readings will feature plays by playwrights Tori Keenan-Zelt, Marilynn Barner Anselmi, and James La Bella.
Over the years, The Blank has won every "Best Production" award in town: 5 Ovation Awards including "Best Musical" (24 nominations,) 13 LA Drama Critics Circle Awards including "Outstanding Production" (16 nominations,) 8 LA Weekly Awards including "Musical of the Year" (37 noms,) 4 NAACP Theatre Awards including "Best Production" (12 noms,) and won 20 Back Stage West Garland Awards including "Best Production." The Blank Theatre is the recipient of the Hollywood Arts Council's Charlie Award, "for pursuing artistic excellence, for nurturing the next generation of playwrights and challenging itself with a grand vision."The Drama League designated The Blank as "one of the best Theatre Companies in America" and The Blank was also honored with a resolution by the LA City Council for over 20 years of commitment to excellence and innovation in the Theatre Arts.
The Blank has a history of attracting top talent to its stage. Their alumni include a glittering array of artists who have achieved wide acclaim in the fields of theatre, television and film including Chris Pine, Noah Wyle, Mike Farrell, Molly Shannon, Edward Asner, Barbara Bain, Allison Brie, Valerie Harper, Virginia Madsen, Debra Messing, and Tony Award Winners Alice Ripley and Gregory Jbara.
For reservations please please visit: https://www.theblank.com/livingroomseries/.