Andreas, Arnaz, Barrowman, Calloway. Ziemba and More Join The Star-Studded Cast Of ONE NIGHT ONLY BROADWAY SHOWTOPPERS At The McCallum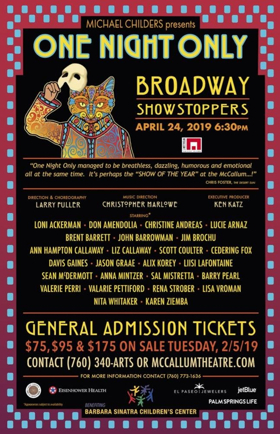 Michael Childers' star-studded musical production of One Night Only Broadway Showstoppers will be presented on Wednesday, April 24, 2019 @ 6:30pm, at the McCallum Theatre. This year's show benefits Barbara Sinatra Children's Center.
Tickets will go on sale Tuesday, February 5, 2019. General admission tickets are $175, $95 and $75 and are available through the McCallum Theatre Box Office at 760-340-ARTS or online at www.mccallumtheatre.com. Limited sponsorships and VIP tickets (including premier seating and the after performance dinner with the cast hosted by Acqua California Bistro @ The River) are available through the Barbara Sinatra Children's Center at (760) 773-1636.
In this year's show, One Night Only Broadway Showstoppers, twenty Broadway and Hollywood performers will come together for an evening of all your favorite songs from the greatest musicals. One Night Only will be directed by famed Broadway choreographer and director Larry Fuller, with music direction by Christopher Marlowe. All performers donate their time and talent for this one-of-a kind performance. Performer appearance is subject to availability. This year's performers include: Loni Ackerman, Christine Andreas, Don Amendolia, Lucie Arnaz, Brent Barrett, John Barrowman, Jim Brochu, Ann Hampton Callaway, Liz Callaway, Scott Coulter, Davis Gaines, Alix Korey, Liisi LaFontaine, Sal Mistretta, Sean McDermott, Anna Mintzer, Barry Pearl, Valerie Perri, Valarie Pettiford, Rena Strober, Lisa Vroman, Nita Whitaker and Karen Ziemba.
"One Night Only managed to be breathless, dazzling, humorous and emotional all at the same time. It's perhaps the "show of the year" at the McCallum...!" Chris Foster, The Desert Sun
Founded in 1986 by Barbara and Frank Sinatra,Barbara Sinatra Children's Center located on the internationally acclaimed Eisenhower Medical Center campus in Rancho Mirage, California. The Barbara Sinatra Children's Center is a non-profit organization that provides individual, group and family therapy, along with special programs that address issues associated with children suffering the effects of child abuse and neglect. The Center also focuses on prevention and has created a highly successful outreach program that includes a series of online animated videos that are accessible worldwide and free of charge. For information visit http://barbarasinatrachildrenscenter.org or call (760) 773-1636.