Alice Lee, Carly Sakolove, and More Star in PORN AWARDS: THE MUSICAL!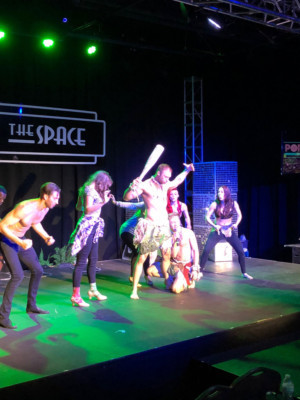 Max Ziegfeld's Porn Awards: The Musical!, welcoming you to The 69th Annual Golden Dick Awards, will hit Rockwell: Table & Stage Aug. 27 at 8 PM.
The pageantry of Ziegfeld and the humor of modern burlesque collide in 10 hilarious new numbers by Santino DeAngelo with additional music by Beau Cassidy, Jim Territo, and Jeff Thomson.
Walk the red carpet and get snapped by paparazzi at The 69th Annual Golden Dick awards in Porn Awards: The Musical, a semi-immersive theatrical experience. The finalists for best tantric musical compete for audience votes to determine who goes home with the most dick. In the style of Mel Brooks, Trey Parker and Matt Stone, celebrity hosts introduce you to everything from Bigfoot romance to Cleopatra's court to Golden Girls Gone Wild!
With choreography by Tiger Martina, the evening will feature performances from Alice Lee (Heathers, Bare), Beau Cassidy (Ogunquit Playhouse's Million Dollar Quartet), Riley Costello (Hairspray Live!, Bye Bye Birdie), Lesley McKinnell (Wicked national tour, Gentleman's Guide national tour), Lindsay Roginski (Chicago), Carly Sakolove (The Book of Merman, NEWSICAL), Amanda Hootman, Chris Hodges, Luke Allen, Spirit Duomo and more.
Costume design is by Chris Newlander.
Rockwell: Table & Stage is located at 1714 N. Vermont Ave. in Los Angeles. There is a two-drink minimum. Tickets and information are available at http://tickets.rockwell-la.com.
MAX ZIEGFELD (lyricist, co-book writer) has had the pleasure of working with comedy great Marty Ingels, Jack Carter and Tony Curtis. He is the lyricists and co-book writer of the Vegas-aimed comedy show Porn Awards: The Musical! and Bigfoot's Love Slave (winner of the 2017 LA Comedy Fest Best Music Video), directed by Emmy winner Heather Tom. Max studied at the Cornish Institute of Allied Arts where the dean once confided in him that it was better to be offensive than boring. Max took this to heart. Max has performed at the White House (on the front lawn) and is infamous in New York for dropping into full spilts at bars. He has always depended on the kindness of strangers.
SANTINO DeANGELO (music) is a New York based playwright, composer+lyricist, and commercial producer of musical theater, experimental theater, orchestra, ballet, and film. Described by the New York Times as having a "gift for engaging melodies", Santino's music for the theater is frequently performed domestically and internationally. Full length plays and musicals include Foolerie (winner of NYMF 2015 Next Link Project), Sex Therapy, Slow to Burn, and A Haunting. Santino is the recipient of numerous grants and awards, including the Rod Serling Award for Best Screenwriting (2007), NMI's 2014 New Voices Project (Walt Disney Imagineering), and is a 2011 Harpur Fellow. Recent and upcoming commissions include Essay for Orchestra for the Binghamton Philharmonic's 16/17 Season and When in Carthage, a new farce, for the Cider Mill Playhouse. Additional work for the concert hall: Fantasy Overture to the Trojan War, Salmacis: A Tale of Unrequited Love for Piano & Cello, and Narcissus: An Ancient Roman Pantomime (recently recorded for broadcast on WSKG/PBS). Santino is the Executive Producer of The Foolish Company in New York, the President of Binghamton's Art Mission and Theater, and a 2018 MFA Playwriting candidate at Columbia University. www.santinodeangelo.com