A Love Affair Continues At Santa Monica Playhouse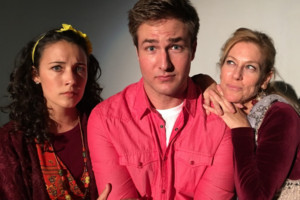 Feel the Love. Jerry Mayer's critically acclaimed, award-winning romantic "A Love Affair" extends at Santa Monica Playhouse through Saturday, April 29, 2018. Featuring Playhouse Co-Artistic Directors Evelyn Rudie (TV's Eloise, Playhouse 90, A Touch of Love, Audition: The Musical!) and Chris DeCarlo (Author! Author! an evening with Sholom Aleichem, Moliere's The Fools, Aspirin & ELEPHANTS) as the mature Alice and Jimmy, and Andrea Adnoff (Sunday on the Rocks, Pasadena Playhouse; The Lucky 6; Legend of Woodview Road), and Jacob Cooper (We Are Marshall - Warner Bros; Clybourne Park; La Bete) as their younger-selves joined by Rachel Galper (Turning Thirty, A DeLUSIONAL Affair, How to Love a Republican). This production is part of the Playhouse Jerry-Mayer-A-Thon celebrating Mayer's 30 years of play writing.
A Love Affair follows the roller-coaster-ride of a 38-year (and counting) marriage, from the romantic naiveté of a 1950's honeymoon, to the loving annoyances of daily life in the trenches in the Coming-of-New Age '90's. The successes, the disappointments, the sex, the traumas, the traumas about sex and the budget and the children and the adventure of casting your lot with another human being...for life.
Playwright Jerry Mayer has had an impressive career in television, writing and producing such prized shows as M*A*S*H, The Bob Newhart Show, All in the Family, The Mary Tyler Moore Show, The Facts of Life and five Mitzi Gaynor's TV Specials, plus her famous Las Vegas Act. Mayer thoroughly enjoyed his TV career, but has happily discovered that by far his first love is writing for the theatre. His award winning plays and musicals, notably Aspirin & ELEPHANTS, A Love Affair, Killjoy, 2Across, Black & Bluestein, Dietrich and Chevalier, and You Haven't Changed a Bit and Other Lies all premiered in Los Angeles theaters and have appeared successfully in New York City (Off Broadway) and in hundreds of theatres across the US, Canada, and in Europe. Most of Mayer's plays deal with the "ups, downs and sideways" of male/female relationships, for which he humbly thanks the guidance of his lovely muse/wife (for lots of years), Emily Bettman Mayer.
Acclaimed veteran (and frequent Mayer) Director Chris DeCarlo helms. His most recent projects include the world premiere of Albert Kallis's A Delusional Affair and Mayer's How to Love a Republican, as well as the critically acclaimed revivals of Mayer's Almost Perfect, Aspirin & ELEPHANTS, and 2Across; Arnold Schulman's Sleeping Ugly; Lisa Phillips Visca's Climax, Raise Me Up and Turning Thirty; and the LA Times Critic's Choice productions of Last of the Knotts and Made Me Nuclear.
A Love Affair continues on Saturdays at 7:30 p.m., Sundays at 3:30 p.m., through April 30, 2018. Tickets are $35: $27.50 for students, teachers, seniors and the military. Group rates are also available. Contact the Playhouse box office in person, by phone (310) 394-9779 ext. 1, or online at SantaMonicaPlayhouse.com/a-love-affair.html
Santa Monica Playhouse is at 1211 4th Street (between Wilshire and Arizona) in downtown Santa Monica. There is convenient parking across the street in city lot #1. By public transportation: take the Santa Monica Blue Bus or the LA Metro Rapid #720 and exit at 4th and Wilshire, or take the Metro Expo line to 4th and Colorado.Santa Monica Playhouse is supported in part by the Los Angeles County Board of Supervisors through the Los Angeles County Arts Commission, by the City of Santa Monica and the Santa Monica Arts Commission and by U.S. Bank.
More Hot Stories For You