A LITTLE NEW MUSIC Debuts at The Sorting Room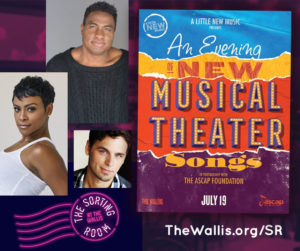 A Little New Music will bring its entertaining showcase of emerging musical theatre talents to The Sorting Room's 2018 Summer Sessions at The Wallis Annenberg Center for the Performing Arts on Thursday, July 19 at 7:00 p.m. A Little New Music's audiences will discover brand new musical theatre songs firsthand before they land on Broadway or beyond.
The event will be co-hosted by a dynamic duo of film, TV, and Broadway stars: Michael-Leon Wooley (Film: THE PRINCESS AND THE FROG, DREAMGIRLS, B'way: LITTLE SHOP OF HORRORS, TV: "Grace and Frankie") and Carly Hughes (B'way: PIPPIN, BEAUTIFUL, TV:"American Housewife"), alongside music director Gregory Nabours (MARILYN! THE NEW MUSICAL), with the A Little New Music band.
The writing teams featured will include: Amy Engelhardt (BASTARD JONES), Claire Partin (SKY MALL: THE MUSICAL) & Angela Parrish (ASCAP's Abe Oleman Scholarship Award for 2017), Terry Delsing & Brian Dykstra (CRAZY MAKE CRAZY), Sam Carner & Derek Gregor (UNLOCK'D), Jessica Fleitman & Rick Bassett (THE AVERAGE-SIZED MERMAID), Gregory Nabours (DOWN TO THE DARKNESS), Thomson & Desmon (PUMP UP THE VOLUME), Noemi de la Puenta & David Davila (MANUEL VS THE STATUE OF LIBERTY), and Ari Afsar & Lauren Gunderson. Previously featured in the 2018 ASCAP Foundation Musical Theatre Workshop at The Wallis and joining us from NYC, Julian Hornik, will perform selections from his original musical, TENN, based on the life of the American playwright, Tennessee Williams.
Performers will include: Ari Afsar ("American Idol," Eliza in HAMILTON Chicago), Matthew Santos ("Superstar" by Lupe Fiasco), Jason Michael Snow (B'way BOOK OF MORMON, SOUTH PACIFIC), Payson Lewis (NBC's "The Sing Off"), Leah Lewis (YouTube RED's "Sing It!"), Rhett George (B'way WICKED, MEMPHIS), Sylvia MacCalla (RENT, HAIRSPRAY Nat'l Tours), Kenna Ramsey (B'way RENT; CAROLINE, OR CHANGE Nat'l Tour), Amy Engelhardt (the Bobs), Natalia Vivino (Cabrillo's CHILDREN OF EDEN - Ovation nomination ), Daniel Bellusci (Winner of Stage Star 2017), Matt Merchant (3D's PARADE and OKLAHOMA), Benai Boyd (VIOLET at Actors' Co-op), Kelley Dorney (NICE WORK IF YOU CAN GET IT at MTW), Nohely Quiroz (Rockwell's UMPO series: CLUELESS), and A.J. Rafael (Red Roses EP).
About A Little New Music
A LITTLE NEW MUSIC is the best 90 minutes of new and unheard musical theater material in Los Angeles. Whether a premiere from an established writer, or an undiscovered tune from a promising up-and-comer, our mission is to showcase these talents with a program that keeps your finger on the pulse of the musical theater scene. Since 2013, A Little New Music has introduced an impressive array of over 200 songs by over 125 writing teams,including Academy and Tony Award winners Pasek & Paul (The Greatest Showman, La La Land, Dear Evan Hansen) and Tony Award nominees Sankoff & Hein (Come From Away). LA Weekly claims, "A Little New Music is bringing the best of new musical theatre to LA, one song at a time."
About The ASCAP Foundation
Founded in 1975, The ASCAP Foundation is a charitable organization dedicated to supporting American music creators and encouraging their development through music education, talent development and humanitarian programs. Included in these are songwriting workshops, grants, scholarships, awards, recognition and community outreach programs. The ASCAP Foundation is supported by contributions from ASCAP members and from music lovers throughout the United States. www.ascapfoundation.org
Single ticket prices are $35/$25/$15. Audiences are invited to purchase craft cocktails, wine, or beer at the Briskin Bar located in the Jim and Eleanor Randall Grand Hall and may enjoy drinks at their seats during the performance. To purchase tickets, visit TheWallis.org/SortingRoom, call 310.746.4000, or in person at The Wallis Annenberg Center for the Performing Arts Ticket Services located at 9390 N. Santa Monica Blvd., Beverly Hills, CA 90210. For more information visit: www.alittlenewmusic.org
Related Articles View More Los Angeles

Stories

Shows
More Hot Stories For You