5-Star Theatricals Announces Full Cast To Join Adam Pascal In THE MUSIC MAN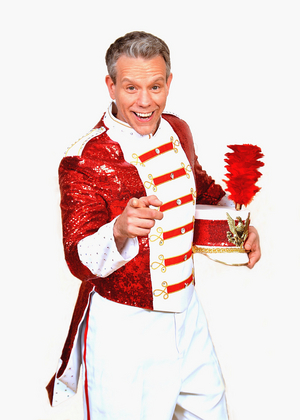 5-STAR THEATRICALS has announced the full cast to join previously announced Tony nominee Adam Pascal (Broadway's original "Roger" in Rent and original "Radames" in Aida) who will star as Professor Harold Hill in the first show of its 2019-2020 season, THE MUSIC MAN, book, music and lyrics by Meredith Willson, musical direction by Brad Ellis, choreography by Peggy Hickey and directed by Larry Raben.
THE MUSIC MAN opens on Friday, October 18, 2019 and runs through Sunday, October 27, 2019 at the 1,800-seat Kavli Theatre at the Thousand Oaks Civic Arts Plaza, 2100 Thousand Oaks Boulevard in Thousand Oaks. This beloved Meredith Willson musical with Broadway's Adam Pascal starring as fast-talking traveling salesman Harold Hill is very special to 5-Star. It is the first show they produced in the Kavli in 1994 and heading into the 25th Anniversary they are bringing back this audience favorite.
In 1957, the show became a hit on Broadway, winning five Tony Awards,including Best Musical, and running for 1,375 performances. 5-Star's production is going to be a bang-beat, bell-ringin' smash packed with brassy favorites like "76 Trombones," "Well Fargo Wagon," "Ya Got Trouble," "Shipoopi" and the beautiful ballads "Till There Was You" and "Goodnight My Someone."
"We are overjoyed to announce our full cast that will join Adam Pascal in our upcoming production of THE MUSIC MAN," says 5-Star Theatricals Artistic Director, Patrick Cassidy. "This will be the "can't miss" theatrical event of the Fall to see the Broadway star of Rent and Aida bring to life one of the most iconic roles in musical theatre, with this extraordinary cast and creative team, in this glorious new production!"
The Cast for THE MUSIC MAN will alsofeature: Katharine McDonough as "Marian," Trent Mills as "Marcellus Washburn," Joshua Blond as "Winthrop," Lisa Dyson as "Mrs. Paroo," Savannah Fischer as "Amaryllis," Dani Gonzalez as "Ethel Toffelmier," Rich Grosso as "Charlie Cowell," Joe Hart as "Mayor Shinn," Christie Lynn Lawrence as "Eulalie Shinn," Antonia Vivino as "Zaneeta Shinn," Chris Hunter as "Oliver Hix," Jonathan Matthews as "Ewart Dunlop," James Thomas Miller as "Olin Britt," Richard Storrs as "Constable Locke," L. Michael Wells as "Jacey Squires" and Adam Winer as "Tommy Djilas."
The Ensemble will feature: Brittany Anderson, Laura Aronoff, Nichole Beeks, Lucas Blankenhorn, Lucy Bollier, Calvin Brady, Samara Gottlieb, Tina Hidai, Scotty Jacobson, Rachel Josefina, Cleo Magill, Anne Montavon, Chet Norment, Luke Pryor, Camal Pugh, Aria Surrec, Bayley Tanenbaum, Joshua Tanenbaum, Abigail Thompson, Zachary Thompson, Dekontee Tucrkile, Spencer Ty, Weston Walker-Pardee and Samantha Wynn Greenstone.
Ticket prices range from $35-$83. For ticket and theatre information, call (805) 449-ARTS (2787). THE MUSIC MAN performs exclusively at the Kavli Theatre, Thousand Oaks Civic Arts Plaza, Bank of America Performing Arts Center, at 2100 Thousand Oaks Boulevard in Thousand Oaks.