BWW Review: INTO THE WOODS at Merrick Theatre & Center For The Arts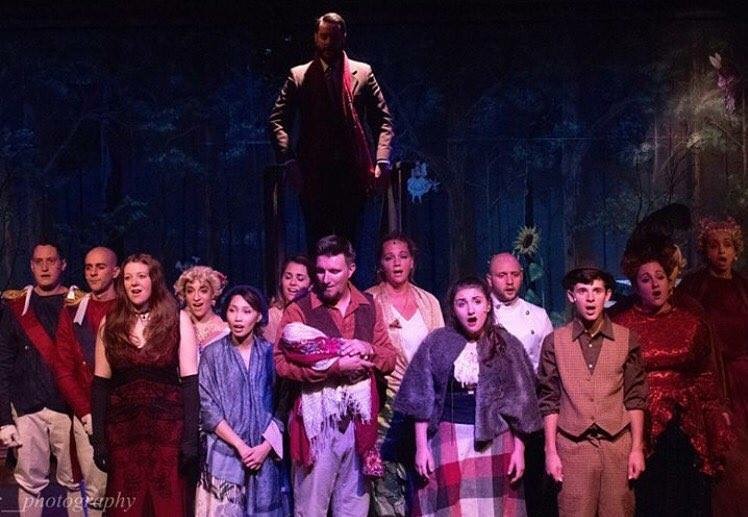 The Merrick Theatre and Center For the Performing Arts is casting a spell over its patrons with a magical production of Stephen Sondheim and James Lapine's classic musical "Into the Woods" running until October 1.
The fairytale inspired show strives for originality and achieves that through all levels of theatrical craftmanship - focused direction, bouncy choreography, detailed costuming, and a set that looks right out of a storybook. While viewing this particular production it is evident that director Bobby Montaniz, who also lent his talents to choreographing both this season's "Hair" and "Sweeney Todd" this summer, and his team have a true passion for creating theatre.
What stands out more than anything is the unity of this cast - working together like a well oiled machine to tell the story of a Baker and his wife who go on a mission to break a witch's curse that prevents them from having a child. The relationships portrayed onstage - often between storybook favorites like Jack the Giantslayer, Little Red Riding Hood, Cinderella, and more - come off as genuine and each character is as compelling as the next.
Long Island theatre veteran Danny Amy plays the Baker. He provides a solid backbone for the entire company with his excellent vocals and subtle charms. Playing his wife is Alyson Rogers, giving an endearing performance that makes her character's fate all the more tragic.
However, the show is nothing without its complex villain of sorts and Emily Edwards follows in the footsteps of legends like Bernadette Peters and Donna Murphy to bring The Witch to life. Looking like the epitome of an old crone, Edwards exhibits her craft and hides her youth both physically and spiritually to completely become the character.
Rounding out the leads are Meagan Materazo as Cinderella, Samantha Foti as Little Red Ridinghood and Kiernan Urso as Jack. Each performer is undoubtedly skilled and is deeply dedicated to portraying such well-known figures. Materazo has a beautiful soprano which is featured in "On the Steps of the Palace" and the Act II tearjerker "No One is Alone." Meanwhile Ms. Foti provides rich comic relief as The Manic Little Red and Mr. Orso performs from the heart as his character overcomes many obstacles.
Like every show I have seen at Merrick this season, this production relies strongly on its ensemble and they have not and did not disappoint: John Dunphy as the Narrator and the Mysterious man is like a ringmaster of sorts to the story that is unfolding. He brings much more to the table than most I have seen in the role with his off-beat charm and comic timing. Stephanie Moreau also breathes new life into the role of Jack's mother - bringing some modernity and flair to the typically one-tone role. And Gina Morgigno as Rapunzel dazzles with her beautiful soprano and dramatic scenes opposite Ms. Edwards.
The production also features a strong group of male actors filling out the roles of the Princes, the Steward and the Wolf. Christopher Russo and Andrew Murano almost steal Act I as they complain about their love lives in "Agony." Rich Corragio is also amusing as the Wolf, selling his number "Hello Little Girl" for all its creepy comedy.
It would be a crime to finish this review without mentioning the comedic gold of Cinderella's Stepmother, Melanie Dominick and her pair of Stepsisters, Colleen Curry and Brittany Hughes. A theatre mentor near and dear to my heart always told me there are no small parts, only small actors and these three bring that notion to life. Every moment they are onstage they had the audience in stitches with their physical comedy and slight improvisations.
In his letter to the audience, director Mr. Montaniz explains that this production boasts a powerful, timely message: even in stressful times, we can get through it with the love of our family and friends.
And if you're looking for an escape, an adventure "Into the Woods" may be just what you need.
-----------------------------
"Into the Woods" is presented by the Merrick Theatre & Center for the Arts through October 1. For more information and to purchase tickets, please call 516-868-6400 or visit www.merrick-theatre.com/home
Music and lyrics by
Stephen Sondheim
. Book by
James Lapine
. Directed and Choreographed by
Bobby Montaniz
, Musical Direction by Zach Mandernach, Costume Design by Meagan Materazo, Lighting Design by Nicholas Cariello, Sound Design by Nicholas Cariello, Assistant Sound Design by Chris Damp, Set Design by Nicholas Cariello, Scenic Painter and Design, Colin O'Leary, Stage Management by Austin Cutler, Hair and Wig Design by Seneca Bell, Produced by Joe Mauro. Starring: John Dunphy as the Narrator/Mysterious Man, Meagan Materazo as Cinderella, Kiernan Urso as Jack, Stephanie Moreau as Jack's Mother, Danny Amy as The Baker, Alyson Rogers as The Baker's Wife, Melanie Dominick as Cinderella's Stepmother, Colleen Curry as Florinda, Brittany Hughes as Lucinda, Samantha Foti as Little Red Riding Hood,
Emily Edwards
as The Witch, Gina Morgigno as Rapunzel/Cinderella's Mother, Rich Coraggio as The Wolf/The Steward, Christopher Russo as Rapunzel's Prince,
Andrew Murano
as Cinderella's Prince
Related Articles View More Long Island

Stories

Shows