Photos: RAIDING THE ROCK VAULT Raises $3,500 for The Cultural Arts Training Foundation
"Raiding the Rock Vault" raised a total of $3,500 for The Cultural Arts Training Foundation at #RockAndRise, a special charity performance on Friday, Feb. 13, 2015. Proceeds from the event will support the foundation's programs that correspond to One Billion Rising, a global campaign to empower women. Scroll down for a photo!
A check for $3,500 was presented to Lance Parvin, Executive Director of The Cultural Arts Training Foundation, on stage at the Tropicana Showroom at the end of the show.
The One Billion Rising global campaign was started in 2012 as part of the V-Day movement to end violence against women and girls. The "billion" refers to the UN statistic that one in three women - or about one billion - will experience physical or sexual violence in their lifetime. The campaign seeks to end violence again women, rise for justice and promote gender equality.
The Cultural Arts Training Foundation is a local Las Vegas charity that was established in 2011. It was founded on the idea of using movement arts to empower and improve overall health. Programs that correspond to the One Billion Rising campaign include a Women's Empowerment Program, Veterans Internal Health Program, Child Empowerment Program,
"Raiding the Rock Vault" brings the history of rock 'n' roll to life with musicians from iconic bands who played it, including Whitesnake, Bon Jovi, Heart, Survivor, The Offspring, Quiet Riot, Asia, and Badfinger. Featuring classic anthems from The Rolling Stones, The Who, The Doors, Jimi Hendrix, Led Zeppelin, Deep Purple, Free, Eagles, Fleetwood Mac, Queen, Boston, Kansas, U2, Aerosmith, Van Halen, AC/DC, Pat Benatar, Foreigner, Heart, Journey, Bon Jovi, Whitesnake, Supertramp and many more, "Raiding the Rock Vault" was voted Reader's Choice Best of Las Vegas. For tickets, call (800) 829-9034 or visit the Tropicana Las Vegas Show Tickets desk or TropLV.com.
Photo Credit: Ira Kuzma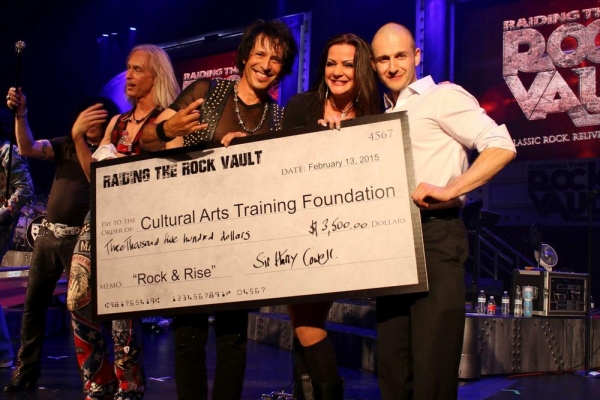 Jay Schellen and Carol-Lyn Liddle present the check to Tolerance Parvin, Executive Director, The Cultural Arts Training Foundation