Photo Flash: MILLION DOLLAR QUARTET Celebrates One Year in Las Vegas
On Wednesday (Feb. 19, 2014) the electrifying musical, MILLION DOLLAR QUARTET, celebrated its first anniversary in Las Vegas at Harrah's Las Vegas. Following a full standing ovation during the show's finale, cast member Marc D. Donovan ("Sam Phillips") took the stage to address the house, sharing words of gratitude for the audience's support of MILLION DOLLAR QUARTET in its first year. At the conclusion of his speech, the company was presented with a commemorative guitar-shaped cake onstage. Scroll down for photos!
Since its debut at Harrah's Las Vegas in 2013, MILLION DOLLAR QUARTET has completed nearly 500 performances, delighting audiences with the extraordinary true story of the legendary night that brought Elvis Presley, Johnny Cash, Jerry Lee Lewis and Carl Perkins together at Sun Records Studio. Embraced by the Las Vegas community and fans nationwide, the cast of MILLION DOLLAR QUARTET continues to welcome repeat show goers of all ages into the Harrah's Showroom nightly, as well as invites local Las Vegas entertainers to sit in with the band for one-night-only encore performances onstage. Celebrity fans and past guest performers include actor Nicholas Cage, singer-songwriter Debbie Gibson, E! reality star Holly Madison, American Idol winner and Paris Las Vegas headliner Taylor Hicks, Broadway star Pia Zadora, Strip headliner Frankie Moreno, Bally's headliner Véronic DiCaire and others.
ABOUT MILLION DOLLAR QUARTET: The Tony Award winning musical, MILLION DOLLAR QUARTET takes place on December 4, 1956, when Sam Phillips, the "Father of Rock 'n' Roll," brought iconic musicians Elvis Presley, Johnny Cash, Jerry Lee Lewis and Carl Perkins together at the Sun Records storefront studio in Memphis for the first and only time.
MILLION DOLLAR QUARTET brings that legendary December night to life with the extraordinary story of secrets, betrayal, and the once in a lifetime celebration of four friends that is both poignant and funny. Relive the era with the smash-hit sensation featuring an incredible score of rock 'n' roll, gospel, R&B and country hits, performed live onstage by world-class actors and musicians. Showcased hit songs include: "Blue Suede Shoes," "I Walk the Line," "Great Balls of Fire,""Sixteen Tons," "Who Do You Love?," "Fever," "Folsom Prison Blues," "Hound Dog," "Whole Lotta Shakin' Goin' On," "Ring of Fire," and more.
MILLION DOLLAR QUARTET performs Sunday - Wednesday and Friday at 7 p.m.; Thursday at 5:30 and 8 p.m.; and is dark on Saturday. Ticket prices begin at $62.70 plus applicable fees. For more information on MILLION DOLLAR QUARTET, visit www.MDQVegas.com.
Photo Credit: Caesars Entertainment

Cast Members Robert Britton Lyons, Martin Kaye, Justin Shandor and Benjamin D. Hale

The Cast of MILLION DOLLAR QUARTET

Cast of MILLION DOLLAR QUARTET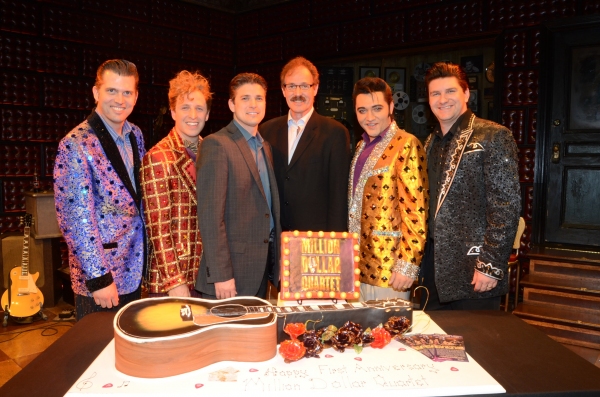 The Cast of MILLION DOLLAR QUARTET with Caesars Entertainment Executive Damian Costa and Ted Rawlins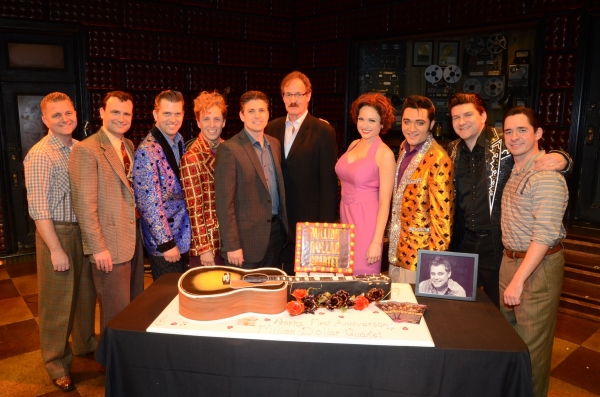 The Cast of MILLION DOLLAR QUARTET with Caesars Entertainment Executive Damian Costa and Ted Rawlins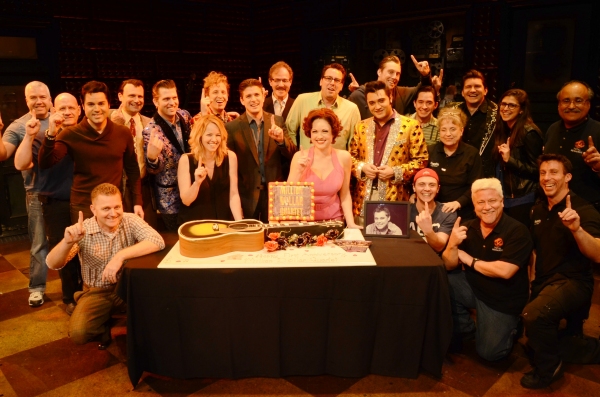 The Full MILLION DOLLAR QUARTET Company

The Full MILLION DOLLAR QUARTET Company