BWW Interview: Allegra Libonati, Director of CELESTIA at The STRAT Hotel, Casino And SkyPod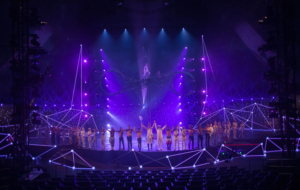 The all-new, one-of-a-kind immersive production experience, CELESTIA is capturing the imagination of the audience. The tour de force of acrobatics, technology, artistry, and creativity amazes everyone nightly in a unique 30,000-square-foot, state-of-the-art theatrical tent at The STRAT Hotel, Casino and SkyPod.
Allegra Libonati, the show's director, brings excitement, skill, music, humor, and acrobatic feats together for a fantastic evening. She has directed theater, circus, Shakespeare, and opera. Her credits include the Tony Award-winning revival of HAIR (Assistant Director) and Tony Award-winning revival of PIPPIN workshop (Associate Director) on Broadway. Libonati In the Body of the World by Eve Ensler (Associate Director), Sleep No Morea-an original production (Artistic Associate), Henry IV PT 1&2, Theatre Row, and The Light Princess, New Victory Theater off-Broadway. She spoke with BroadwayWorld.com about her latest adventure in Las Vegas.
What was your vision with this production combining spontaneity, the audience, and the acts?
Allegra Libonati: When we brought the team together, we focused on presenting a worldly, modern circus. We wanted the WOW factor and keep everyone on the edge of their seats. I want to keep it inventive, fresh, dazzling, and new with each performance. I was very interested in bringing acts together that have never performed together before.
The main character is very ethereal and brings the story together.
Allegra Libonati: The main character is a girl who wants to bring light to the entire planet. Along her journey, she encounters diverse people and unique beings in different situations. She brings her light to shine on everyone.
What were some of the challenges presenting the show in a tent?
Allegra Libonati: We have to deal with the elements including wind, rain, and heat. Also, the tent is different from a theater with staging and the intimacy with the audience. It is all about presenting a great show while the audience feels comfortable and engaged.
Have you directed other shows in Las Vegas?
Allegra Libonati: I have directed a show for the Cockroach Theatre Company in Downtown Las Vegas. I have also worked in The Smith Center and the University of Nevada, Las Vegas as well.
CELESTIA offers eight performances per week, with 7 p.m. shows on Wednesday and Thursday, and 7 p.m. and 9 p.m. shows on Friday, Saturday, and Sunday, and is dark Monday and Tuesday. Locals and tourists, including global visitors, can enjoy the 70-minute family-friendly show. Tickets are available for purchase online at StratRising.com.