BWW Feature: MASTERS OF ILLUSION at Jubilee Theater At Bally's Las Vegas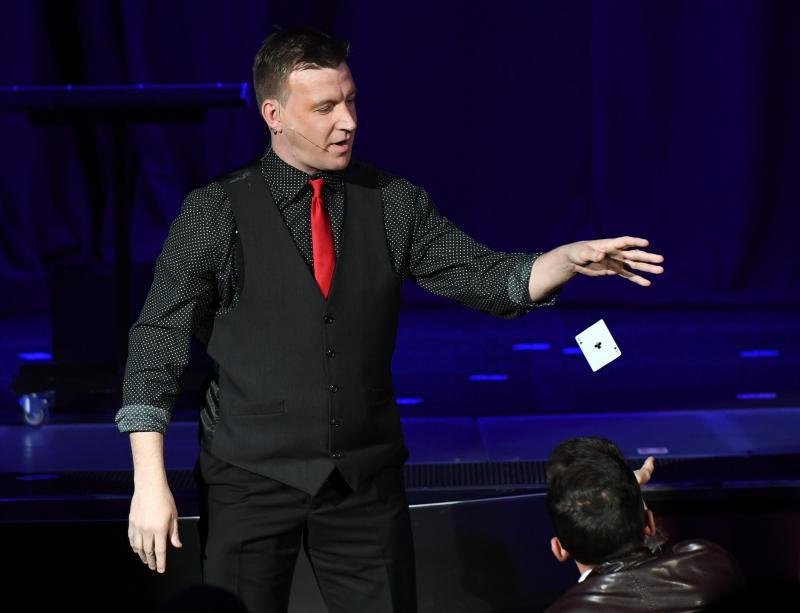 It is the art of illusion, mystery of magic and mind-blowing sleight-of-hand showcased in "Masters of Illusion" now performing at the historic Jubilee Theater at Bally's Las Vegas.
Showcasing the live version of the CW television series "Masters of Illusion," the ensemble cast is comprised of five of the world's best magicians. Jason Bird, Farrell Dillon, Greg Gleason, Tommy Wind and Chris Randall create an exciting and hilarious family-friendly evening of entertainment.
Las Vegas native Randall, who has performed on the television series, is known for his close-up, sleight-of-hand illusions. In fact, he wants to get as close as he can with his audience to delight and amaze them.
Ironically, even with all of the magicians that perform in Las Vegas, his inspiration was watching the David Copperfield television special as a child when Copperfield went over Niagara Falls.
"It was the most amazing thing I had ever seen," he told BroadwayWorld.com. When his father took Randall to see Copperfield and master magician Lance Burton perform in Las Vegas, Randall knew this is what he wanted to do.
"I especially appreciated Lance's classic magic style. And as I always say, I didn't find magic, magic found me," he explained.
At the time Randall was perfecting his illusions, competitions would be held at Tropicana Las Vegas to select one illusionist/magician from every country to compete for titles. He so enjoyed watching the show as well as learning from the various magicians. Years later, Randall would compete and become the only American to be selected twice. He has performed in over 36 counties including Switzerland, England, Greece, Thailand, France, China, Spain, Egypt, Japan, Mexico and Lebanon. Randall is also a world champion of magic, winning multiple awards, including Stage Champion 2015 from the International Brotherhood of Magicians.
According to Randall, magic embodies all forms of art including dance, music, theater, lighting and the added bonus of telling a story. There is the moment of time standing still almost with a bright white light filling the space and then astonishment.
As a Las Vegas native now performing on the Las Vegas Strip, this is his dream come true. At the age of 18, Randall worked at the box office at Bally's Las Vegas and would watch George Carlin perform the Jubilee Theater. He would take notes and make plans to become a top performer. Now he is shining on stage and sharing the dream.
There is a real collaboration both on and off stage and the magicians in the show have known and worked together. "We all just want to do magic tricks and make people happy," Randall stated. "We love meeting the fans from all over the world after the show."
Masters of Illusion performs Wednesday through Monday at 7 p.m. and is dark on Tuesday. Tickets may be purchased online at MastersOfIllusionVegas.com, by phone at (702) 777-2782 or in-person at any Caesars Entertainment box office. The show is suitable for ages 8 and up. For more information, visit MastersOfIllusionVegas.com.