OriginKC: New Works Festival to Welcome Major Artistic Leaders for Festival Weekend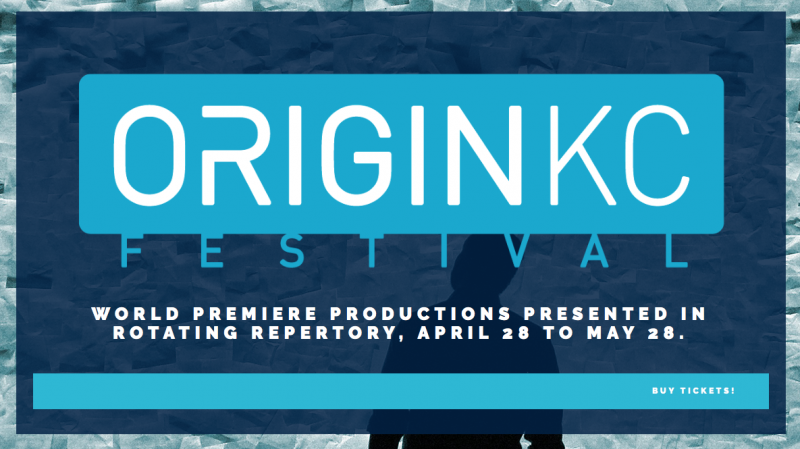 Kansas City Repertory Theatre elevates its profile in the national theatre community with the second annual OriginKC: NEW WORKS FESTIVAL. In addition to a striking lineup of playwrights and directors for this year's festival, an impressive list of arts leaders from preeminent regional theaters across the country will be attending the Festival Weekend, May 12-13.
Festival Weekend offers a robust line-up of free events including staged readings by acclaimed playwrights Kara Lee Corthron, Ricardo Khan, and KCRep's Playwright in Residence Nathan Louis Jackson, in addition to deep dive panel discussions with leaders in the field, as well as lunches and parties.
"We're excited to attract major national players to Kansas City for our Festival Weekend, forwarding KCRep as the heart of a great theater city," says Artistic Director Eric Rosen.
"Festival Weekend is filled with an electrifying buzz as we listen to new plays read out loud, and engage in vital conversations about theater making," says Director of New Works, Marissa Wolf. "Panel conversations will include topics around the philosophy and opportunities within the development and production of new work, as well as playwright-centered roundtable discussions."
Check the website for an up to date schedule of events, originkc.kcrep.org.
---
OriginKC: New Works Festival - Rotating Repertory:
Both at the Copaken Stage in downtown Kansas City
April 28 - May 28, 2017
Curated by Marissa Wolf, Director of New Works at KCRep
What Would Crazy Horse Do?
Written by Larissa Fasthorse
Directed by Sam Pinkleton
Man in Love
Written by Christina Anderson
Directed by Marissa Wolf
Antony and Cleopatra
A workshop production of the UMKC Department of Theatre in partnership with KCRep
Written by William Shakespeare
Translated and Adapted by Christopher Chen
Commissioned by the Oregon Shakespeare Festival's Play on! Program
Spencer Theatre
May 5-14, 2017
---
National Artistic Leaders attending the 2017 Festival Weekend:
Lue Morgan Douthit: Oregon Shakespeare Festival's Dramaturg and Director of Play on! Commissioning program. In 23 seasons at OSF: Production dramaturg for more than 40 productions, including 14 world premieres (Head Over Heels; A Wrinkle in Time; Family Album; The Unfortunates; The Tenth Muse; WillFul; Throne of Blood; Equivocation; Don Quixote; Welcome Home, Jenny Sutter; Tracy's Tiger; By the Waters of Babylon; Continental Divide and The Magic Fire) and more than a dozen Shakespeares.
AIMÉE HAYES is the Producing Artistic Director of New Orleans' Southern Rep, where she has focused on new play development, producing many writers during her tenure, including Andrew Hinderaker, John Biguenet, Eric Coble, Zayd Dohrn, Catherine Filloux, Jim Fitzmorris, Ross Maxwell, Tarell McCraney, Peter McElligott, Peter Sinn Nachtrieb, Joe Sutton, and Steve Yockey. In 2016, she was a finalist for the prestigious Zelda Fichandler Award presented by the Stage Directors and Choreographers Foundation.
Andrew Russell is a writer, director and the Artistic Director of Seattle's Intiman Theatre. While at Intiman, he has commissioned and produced new work that celebrates diversity onstage through its Startup Stagings program (Miracle! by Dan Savage, Stu for Silverton by Breedlove and Peter Duchan, John Baxter is a Switch Hitter by Andrew and Ana Brown), and has produced classic socially progressive productions such as Trouble in Mind by Alice Childress, Angels in America by Tony Kushner, We Won't Pay! We Won't Pay! by Dario Fo, Lysistrata by Aristophanes, and Dirty Story by John Patrick Shanley.
Tim Sanford is the Artistic Director of New York City's Playwrights Horizon Theatre. In his tenure, he has championed new works by a vast array of playwrights including Rinne Groff, Christina Anderson, Edward Albee, Annie Baker, Kia Corthron, Lisa D'Amour, Christopher Durang, Michael Friedman, A.R. Gurney, James Lapine, Craig Lucas, Richard Nelson, Bruce Norris, Lynn Nottage, Sarah Ruhl, Nicky Silver, Jeanine Tesori, Nathan Tysen, and Doug Wright. Under his leadership, Playwrights Horizons received a special 2008 Drama Desk Award for "ongoing support to generations of theater artists and undiminished commitment to producing new work."
Molly Smith is the Artistic Director of Washington D.C.'s Arena Stage. She has championed projects including How I Learned to Drive; Passion Play, a cycle; Next to Normal; and Dear Evan Hansen and worked alongside playwrights Sarah Ruhl, Paula Vogel, Wendy Wasserstein, Lawrence Wright, Karen Zacarías, John Murrell, Eric Coble, and Charles Randolph-Wright among many others. During her time with the company, Arena Stage has workshopped more than 100 productions, produced 39 world premieres, staged numerous second and thiRD Productions and been an important part of nurturing nine projects that went on to have a life on Broadway.
Chay Yew is the Artistic Director of Chicago's Victory Gardens Theatre. He has directed world premieres by playwrights Jose Rivera, Naomi Iizuka, Kia Corthron, Julia Cho, David Adjmi and Jessica Goldberg, and performance artists Rha Goddess, Universes, Alec Mapa, Sandra Tsing Loh and Brian Freeman. Yew is also an accomplished and widely respected playwright, and his plays are published in two titles, The Hyphenated American Plays and Porcelain and A Language of Their Own, by Grove Press.