BWW Review: SEVEN SOULS IN THE SKULL CASTLE (DOKUROJO NO SHICHININ) at IHI Stage Around Tokyo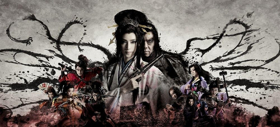 Seven Souls in the Skull Castle (Dokurojo no Shichinin), The Ultimate Fighting Fantasy Spectacle at IHI Stage Around Tokyo, Makes History for Japan and the Global Entertainment Industry!
The Japanese might not always be the first, but they have a history and reputation for taking something pre-existing and painstakingly perfecting it until it is the best, or vastly superior to the original. This has been the case with many things from technology to fashion to food, but it was unlikely that Tokyo would be the next place to make such a revolutionary stride and contribution to live theater, before even New York or London, by building a 360-degree rotating stage theater (the second in the world), IHI Stage Around Tokyo.
Japan has a small theater market mostly comprised of longer runs of Western musicals with Japanese casts produced by Shiki Theatre Company in their own theaters (like The Shuberts or Nederlanders of New York) or foreign imports and original productions in Japanese by companies such as HoriPro, traditional Noh or Kabuki theater and a few notable troupes like the all-female Takarazuka Revue, all of whom only run their programs for about a month to keep up with the fickleness of Japanese audiences.
So it was an enormous risk to TBS (Tokyo Broadcasting System Holdings, Inc.) along with other major backers such as the conglomerate IHI Corp. (for whom the theater is named) to take inspiration from the very first 360-degrees revolving stage, Holland's Hangaar Theater, whose original musical in Dutch, Soldier of Orange (Soldaat van Oranje), has been playing successfully for 8 years and to strive to improve upon it further -- the Japanese way.
The 1300 seat IHI Stage Around Tokyo was built on reclaimed land (formerly a landfill) in the Koto Ward Toyosu Wharf district atop Tokyo Bay as there was simply no room at any reasonable cost in central Tokyo for such a mammoth construction. But fortune favors those with foresight as the area is a prime location and hotbed for the activities of the 2020 Olympics. But first, what to debut at the massive new theater, three years ahead of the international sports competition and all of the excitement and visitors it brings? In an even bolder move, IHI Stage Around Tokyo was opened not with the safe choice of a Western musical but with an epic samurai drama for an unprecedented 15-month run.
Fortunately, their risks were greatly rewarded as the inaugural season was a success surpassing all expectations. Much of that is thanks to the choices of what play to launch such a remarkable debut and who to involve in such an ambitious undertaking. The choice was: Seven Souls in the Skull Castle (Dokurojo no Shichinin) by multi-talented playwright Kazuki Nakashima, a National Treasure of Japan who also writes novels and anime (including Kill la Kill, Oh! Edo Rocket and Batman Ninja) and who has a special knack for both honoring Japanese history while celebrating its unique pop culture by creating work that is commercially appealing to the masses yet still retains depth and resonance.
The perfect pairing to guide this piece and play with the incredible, unique opportunities such a stage could provide was the long-time collaborator of Nakashima and very capable, visionary director: Hidenori Inoue. Inoue's theater company, Gekidan Shinkansen (which translates to "a new sense of feeling" and is a homonym for the famous Japanese bullet train) was formed in the 1980s and has performed a version of Seven Souls in the Skull Castle about every seven years since 1990.
Indeed, the piece follows the lucky number seven in multiple ways and it has been compared to a combination of Akira Kurosawa's Seven Samurai and John Sturgess' Magnificent Seven by Japan Foundation in an interview with Nakashima. But it would take more than lucky numbers to bring in the multitudes needed to sustain a 15-month engagement. For that the clever producers and director turned to casting Japan's hottest talents, not limited to one or two starring roles but a rotating cast over five different "Seasons" or variations of the production, each one re-written to suit the central performers. This appeals to Japan's "idol star" culture, where fans come out to support their favorite performers multiple times and devotedly follow their careers.
The final "Season Goku," or the "Final/Ultimate Season", which concluded the premiere run for IHI Stage Around Tokyo on May 31st, was subtitled "Shura Tenma" (Hell Lord) and starred former Takarazuka Revue top actress, Yuki Amami. Set in 16th century Eastern Japan, Amami portrays the role of Gokuraku Tayuu, who poses as a geisha/prostitute renowned for "providing the most paradisiacal pleasure," to conceal her true identity as a highly skilled sniper/assassin and trusted ally of the recently deceased Lord Oda Nobunaga (the only real-life character, Nobunaga was a famed Daimyo or "Feudal Lord" of ancient Japan, for whom the writer Nakashima has a particular fondness for as he modeled The Joker's Daimyo character after him in Batman Ninja). Gokuraku and a team of wily rebels she befriends on her journey are hell-bent on stopping the tyrannical Tenmaoh (Great Devil), played by Arata Furuta, the masked master of Skull Castle and leader of the Kanto (Eastern) Skull Corps who are against the unification of Japan. But no one is truly as they appear and everyone has their secrets. The enchanting transgender concubine/entertainer, Yumesaburo, of the brothel village of Mukai (where the heroes go into hiding) is performed exquisitely by Ryo Ryuusei who, at only 25 years old, gave the role grace, complexity and power. But Yumesaburo turns out to be the wicked warrior son of the villainous Tenmaoh, who may actually be no other than Lord Nobunaga himself, not dead after all (or is he?).
The epic, Shakespearean-level saga is four hours long but flashes by in the blink of an eye, thanks to the stellar cast, Inoue's superb direction, enchanting music by Tsukasa Okazaki and Yuuichi Matsuzaki, and Nakashima's quick-paced writing, but it's the magic of the 360-degree stage that makes the audience feel as if they are in the middle of live-action manga or samurai film. The circular stage allows for four different complete sets to exist simultaneously, sometimes supplemented by gorgeous digital projections, from the dank insides of Skull Castle to the vibrant brothels of Mukai to sparse plains where the battles take place. The revolving stage makes the combat scenes and chanbara (sword fighting) particularly thrilling as ten actors appear to multiply into tens of thousands of warriors. It also enhances the emotional capacity in an almost cinematic way. The moment when the heroine Gokuraku stands still to reflect on her memories while her allies and enemies clash swords before her very eyes is both visually breathtaking and profoundly moving, opening up new possibilities for powerful moments on stage.
But Seven Souls in the Skull Castle is hardly all death and drama. Nakashima's writing is always imbued with a playfulness which light-heartedly pokes fun at Japanese stereotypes and winks at pop culture references. The shining example of this production was when the laziest member of the rebels (who also regularly betrayed them for his own gain) dressed as a panda as his "weapon" for no one (hero or villain) could resist interrupting their conflict and shrieking "Kawaii! (cute)" whenever he'd roll over like a recumbent bear.
Though the production is visually captivating enough to hold one's attention without a grasp of the language, it would be a shame to miss the masterful text and story for those who don't speak Japanese. For that, IHI Stage Around Tokyo and TBS are again one step ahead of the curve by providing the most advanced technology surpassing any subtitles offerings currently available and rivaling the new smartphone app, Gala Pro, being developed by The Broadway League and The Shubert Organization in aims to increase inclusivity on Broadway. The AR (Augmented Reality) headset looks a bit like a Google Glass and provides English translations in real-time as the actors speak or sing and moves with the viewer's field of vision, rather than forcing one to strain to catch up with words on a fixed screen. It enables a much more natural, personal and enjoyable experience.
Seven Souls in the Skull Castle (Dokurojo no Shichinin) is the ultimate fantasy spectacle with all of the excitement of a Kurosawa film or action anime unfolding live in front of your eyes. The genres featured reflect not only traditional Japanese theater and cultures but also borrow from Western styles. The production features: kabuki, chanbara, martial arts, opera, musical theater, heavy-metal music, drama and slapstick comedy. Though these may seem to be a broad spectrum of techniques, they blend together seamlessly making the show not only a phenomenal achievement for Japanese theater but for live entertainment worldwide. It will be exciting to watch IHI Stage Around Tokyo continue to grow and evolve further after such a remarkable, revolutionary debut!
For the final performance on May 31st, superstar journalist, musician and former front man of the heavy-metal band, Seikima-II, Demon Kakka (His Excellency Demon), acclaimed for being the first Japanese musician on the Larry King show in 1994 and who wrote the lyrics to most of the songs in the show , came out for the encore finale to celebrate the accomplishment. He also served as an appropriate oracle to usher in the next production, ONWARD presents Shinkansen RS "Metal Macbeth" disc1 Produced by TBS which opens July 23, 2018.
For more information about IHI Stage Around Tokyo, visit: www.tbs.co.jp/stagearound/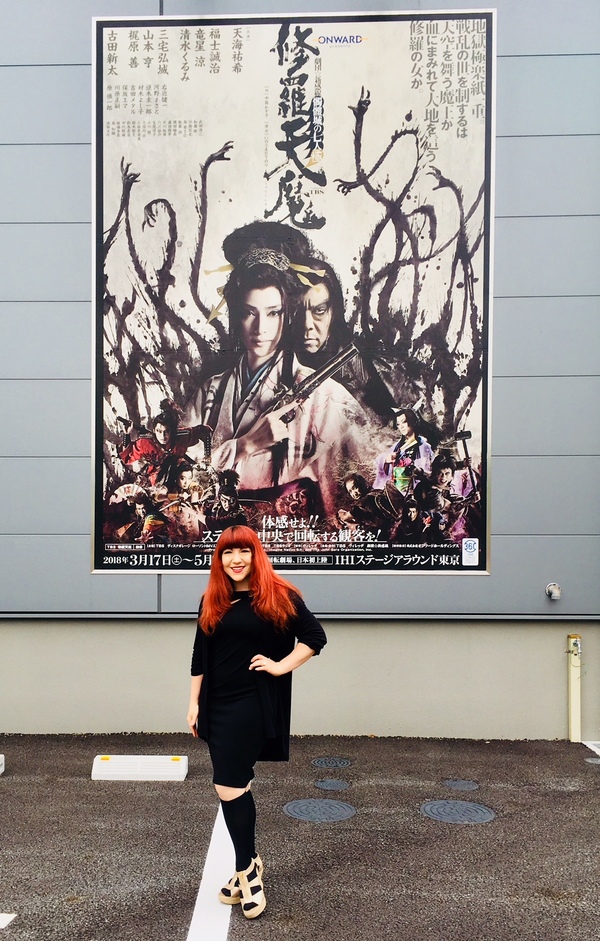 BWW Writer/Reviewer Cindy Sibilsky at IHI Stage Around Tokyo poster for the final "Season" Seven Souls in the Skull Castle: Goku ("The Finale/Ultimate").

Playwright Kazuki Nakashima and BWW Writer/Reviewer Cindy Sibilsky.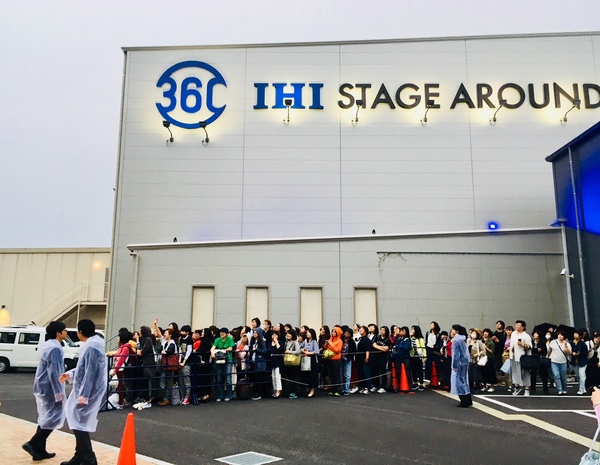 Fans await the stars of Seven Souls in the Skull Castle: Goku ("The Finale/Ultimate") outside the stage door of the final performance.

BWW Writer/Reviewer Cindy Sibilsky with TBS mascots outside IHI Stage Around Tokyo.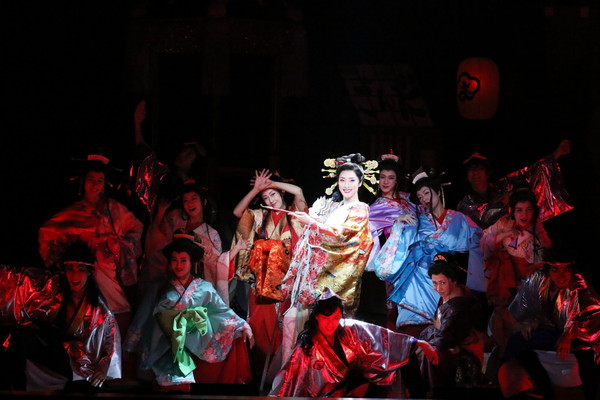 c2018 "Shura-tenma Seven Souls in the Skull Castle Season Goku"/ TBS, Village, Gekidan☆Shinkansen Photo by Aki Tanaka.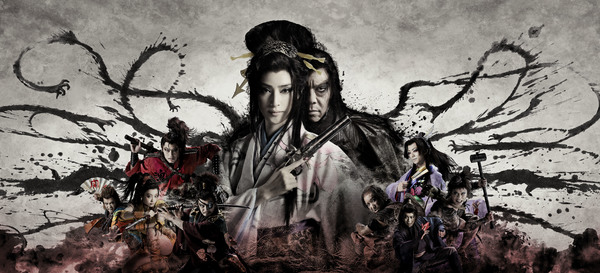 Seven Souls in the Skull Castle: Goku ("The Finale/Ultimate") starring Yuki Amami and Arata Furuta.