Girl Power Meets Greek Comedy In LYSISTRATA At The 5 & Dime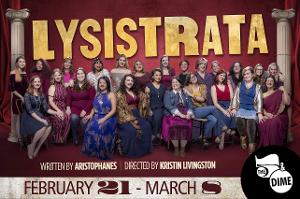 A classic Greek comedy with modern-day relevance kicks off The 5 & Dime's 2020 main stage season. "Lysistrata," directed by Kristin Livingston and featuring an all-women cast and crew, will run February 21 through March 8. Tickets are now on sale at bit.ly/Lysistrata2020.
Set in classical Athens in 411 B.C., "Lysistrata" is a comic account of a woman's extraordinary mission to end the Peloponnesian War between Greek city-states by wildly unconventional means. Embroiled in a bitter civil war with seemingly no end, Greece has become an epicenter of destruction and devastation. The tides are turned, however, when the bold and strong Lysistrata persuades the women of the warring cities to withhold sexual privileges from their husbands and lovers as a means of forcing the men to negotiate peace - a strategy that ultimately inflames the battle between the sexes. By denying all the men of the land any sex, the only thing they truly and deeply desire, "Lysistrata" deftly explores sexual relations in a male-dominated society mired in war and dysfunction - a theme that remains relevant in modern-day American culture.

"The enduring popularity of 'Lysistrata' reflects the need for grassroots movements that affect change by challenging the status quo. Our goal is for this show to inspire every member of our audience to consider how they can make their voices heard for the causes that matter most to them," said Lee Hamby, artistic manager of The 5 & Dime.
Livingston has assembled a team of 29 women for this production's cast and crew, including Stephanie Santiago as Lysistrata; Katie Johnston as Kalonika; Bethany Paolini as Myrrhina; Paige Ruggles as Lampito/Senator; Ma Bones as Kinesias/President of the Senate; and Rachel Sadowski, Sommer Farhat, Deborah Reid, Farah Nesargi, Catherine Tetzlaff, Marielle Erskine, Mary Schubert, Kenggy Bravo, Cordelia Palmer, Talsie Zide and Rachel Swanzy as the chorus.
The 5 & Dime enthusiastically participates in partnerships with other artists and organizations in an effort to make change in Jacksonville. For this production, The 5 & Dime will partner with Yellow House to display a collection of posters created by women to highlight themes about voting, democracy and women's rights, curated through a partnership with Amplifier.
Related Articles View More Jacksonville

Stories

Shows
More Hot Stories For You