Industry Pro Newsletter: New Health and Safety Webinar, NYC to Reopen July 1, and Covid Safety Officers
Navigating Union and Local Regulations can be a challenge - next months webinar tries to answer many of those challenges.
This week, the Industry Pro Newsletter is brought to you by Axiom Medical.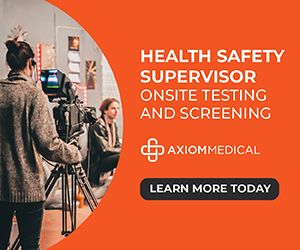 Axiom Medical provides preventive medicine and public health expertise to mitigate the spread of infectious diseases in the workplace. Our services are consistent with the workplace safety regulations and guidelines outlined by The Directors Guild of America, IATSE, and SAG-AFTRA. Our team always follows all required procedural standards to ensure your workforces' safety.
May 3, 2021 -
Reopening announcements continue to pour in from around the world, and even in New York last week a timeline has started to be narrowed in on the return of shows both on Broadway and off. More and more municipalities have given clearer guidance on the easing of their restrictions - and the weather is even starting to turn to temperatures that support outdoor events. Momentum is building within the industry, and while companies across the globe work to pick up the pieces, there is also a lot of work yet to be done to reopen safer, stronger, and better. We'll continue to bring you stories of ways companies are doing just that, and next month, be sure and plan to join us for a webinar with Axiom Medical about best practices in health and safety protocols.
Industry Pro Webinar with Axiom Medical: Safely Taking the Stage - Best Practice Strategies for Success
The webinar will take place on Wednesday, May 12 at 2:30 pm Eastern Time
Navigating both union requirements and local governmental regulations is one of the biggest hurdles still facing many companies - and working with Axiom Medical, BroadwayWorld Industry Pro is proud to bring you this webinar not only about how to navigate those requirements, but how to do so in a way that is cost effective, feasible, and confidence inspiring amongst both your audiences and company members.
Don't miss out - make sure you register today!
Mayor De Blasio Wants NYC Open by July 1 - Broadway League Confirms September Target for Broadway
Late last week, New York Mayor Bill De Blasio announced a target date of July 1 to have New York City be fully reopened. While he acknowledged that date would be a little early for Broadway to return, he noted that he hopes smaller productions will be back on that timeline. Shortly thereafter, the Broadway League confirmed a September timeline for the return of productions.
Performers Unions Announce Changes
Last week, Actors Equity Association concluded its first ever convention of delegates. At the convention, a number of new resolutions were adopted, and you can see a roundup of those resolutions here. In film and tv, SAG-AFTRA announced a new effort to certify intimacy choreographers and curb workplace sexual harassment.
The Debate Over Covid Passports Continue
With continued discussion about whether or not Broadway theatres should require proof of vaccination or negative status (note that currently New York does offer the Excelsior Pass to enter concert venues, sports stadiums and shows), artists in the UK have signed a letter to the Prime Minister requesting a similar requirement to help revive the industry.
What Producers Should Look for in a COVID Safety Officer
As part of both return to set procedures and return to the stage procedures from both Unions, that has brought in the introduction of a new part of the health and safety team - the Covid safety officer. Writing in the Wrapbook, Teresa Beardsley lays out what film and television producers should be looking for - but the lessons are very similar for theatre producers as well.
BroadwayWorld Rolls Out Stage Mag 2.0
With a new, sleek interface and featuring a single column mobile version and a two column desktop version, Stage Mag is now even more prepared to offer you and your audiences a show program ready for both your digital offerings and in person performances. The easy to use interface also makes program building a breeze - check out this new free tool today.
Signs of Encouragement from Across the United States
Writing in his column in the Chicago Tribune, Chris Jones lays out all the reasons that the Chicago theatre scene has for hope. As restrictions ease, there are clear indications that ticket buyer demand is there to meet the availability of tickets. In Florida, the legislature approved a budget that includes a nearly 24% increase in funding for arts and cultural institutions. In California, a new bill currently in the state legislature would offer a lifeline to 99-seat theatres in Los Angeles, which were put into financial stress first by the passage of a bill in 2019 that significant raised costs related to production, and have been further stressed by the conditions of the pandemic that have kept them from producing for well over a year.
The BroadwayWorld Streaming Calendar is the go-to resource for theatre audiences looking for a theatrical experience in their own living room. The best part? Listings are completely free of charge (with paid boosting options available). Add your streaming content today!
BroadwayWorld Stage Mag - A Fully Interactive Show Program
The digital solution to your show program needs - want to see what's possible? Check out the Stage Mag's for Disney's Women's Day on Broadway and A Love Letter to Liza: A 75th Anniversary Celebration Then start building your own at stagemag.broadwayworld.com.
The BroadwayWorld Streaming Calendar is the go-to resource for theatre audiences looking for a theatrical experience in their own living room. The best part? Listings are completely free of charge (with paid boosting options available). Add your streaming content today!
Want more information about marketing options with BroadwayWorld? Request a media kit here and a member of our sales and marketing team will reach out promptly.