Photo Flash: New Shots from SOUTH PACIFIC at Beef & Boards Dinner Theatre
Get swept away to an exotic tropical paradise in Rodgers & Hammerstein's 10-time Tony Award-winning musical SOUTH PACIFIC. Now on stage at Beef & Boards Dinner Theatre through Oct. 4, this show proves all things are not always fair when it comes to love and war. BroadwayWorld has new shots of the cast in action below!
Nellie, a spunky nurse from Arkansas, has been stationed on a SOUTH PACIFIC island during World War II, where she meets a dashing Frenchman, Emile de Becque. Nellie is seduced by his charms as he sings the famous romantic ballad "Some Enchanted Evening." But when she learns more about him and starts to doubt their future together, she and the other nurses declare "I'm Gonna Wash That Man Right Outa My Hair." Meanwhile, the restless sailors long for some affection of their own with the rousing "There is Nothin' Like a Dame." Ultimately, Nellie realizes her true feelings for Emile: "I'm In Love with a Wonderful Guy."
While 2015 marks 70 years since the end of World War II, SOUTH PACIFIC continues to remain relevant. Revolutionary for its time (opening on Broadway just four years after the war ended), it does not shy away from topics still making headlines today, including both war and prejudice ("You Must Be Carefully Taught"). Based on the Pulitzer Prize-winning novel, "Tales of the SOUTH PACIFIC" by James A. Michener, this show is more than simply a musical romance in a beautiful setting. Rodgers and Hammerstein have incorporated real-world issues and how they impact our own lives.
Deb Wims reprises her role as Nellie Forbush in this production, which also sees the return of Jeff Stockberger as Luther Billis and Cynthia Thomas as Bloody Mary. Newcomer Robert Wilde plays French plantation owner Emile de Becque.
SOUTH PACIFIC is on stage for 49 performances through Oct. 4 in the intimate space of Beef & Boards Dinner Theatre. Tickets range from $40 to $65 and include Chef Odell Ward's dinner buffet, prepared in-house for each performance, and select beverages. Parking is always free. For reservations, call the Beef & Boards Dinner Theatre Box Office at 317.872.9664 anytime between 10 a.m. and 7 p.m. Tuesday through Sunday and from 10 a.m. to 5 p.m. Mondays. Discounts are available to groups of 20 or more; contact the Group Sales Department for more details. For more information, including complete show schedule, visit beefandboards.com.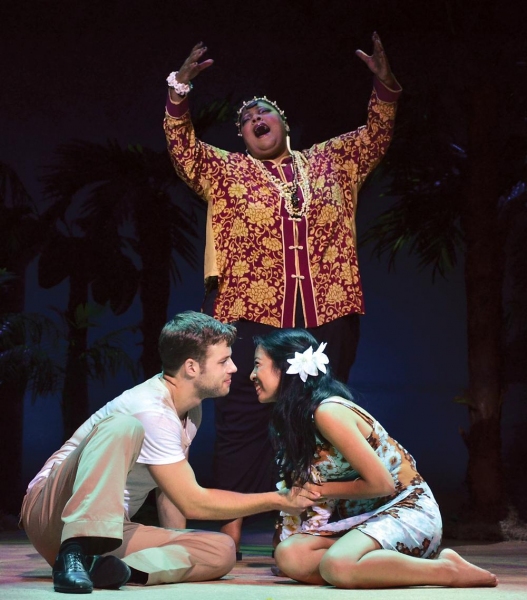 Bloody Mary (Cynthia Thomas) sings 'Happy Talk' to Lt. Joseph Cable (Mickey Rafalski) and Liat (Arianne Villareal)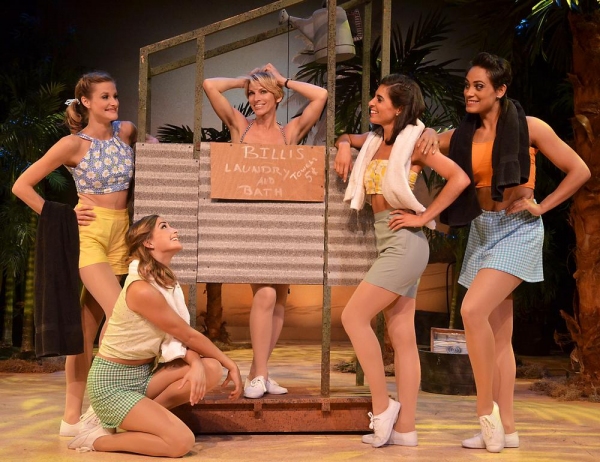 Nellie (Deb Wims), center, sings 'I'm Gonna Wash That Man Right Outa My Hair' with the nurses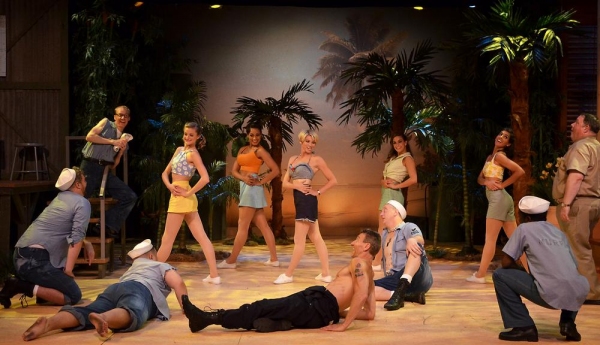 The Seabees admire the exercising nurses during 'There is Nothing Like A Dame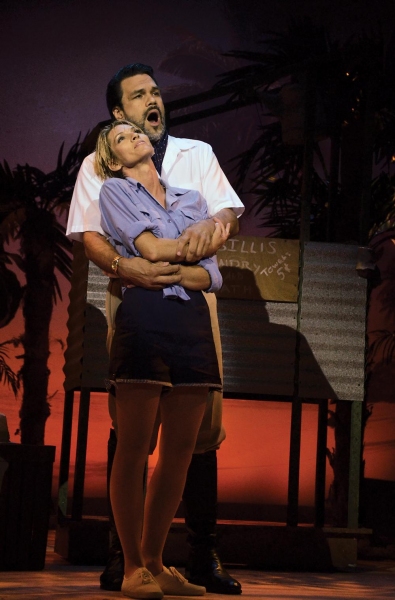 Emile de Becque (Robert Wilde) holds Nellie (Deb Wims) as he sings the iconic 'Some Enchanted Evening'
More Hot Stories For You