Photo Flash: First Look at THE DROWSY CHAPERONE at Beef & Boards
Mayhem and zany comedy are unleashed in Beef & Boards Dinner Theatre's premiere production of the Tony Award-winning musical The Drowsy Chaperone, now on stage through May 10. The production opens tonight, April 9, and BroadwayWorld has a first look at the cast in action below!
The past enters the present in this high-energy celebration of the Jazz Age, taking audiences back to a time of prohibition, flappers and gangsters. A lover of musical theatre, a character known only as the Man in the Chair, plays a recording of his favorite show: the fictitious 1928 musical, The Drowsy Chaperone. But as he listens, the recording comes to life in his apartment and the fun begins!
Show-stopping songs and rip-roaring dance numbers feature two lovers on the eve of their wedding, a bumbling best man, a desperate theatre producer, a not-so-bright hostess, two gangsters posing as pastry chefs, a misguided Don Juan and an intoxicated chaperone.
The Drowsy Chaperone opened on Broadway in 2006 and played for nearly 700 performances. The musical has had two national tours and won seven Drama Desk Awards in addition to its five Tony Awards.
Starring as the Man in the Chair is David Schmittou, who has been seen at Beef & Boards as Max in Lend Me A Tenor, Captain Georg von Trapp in The Sound of Music and Mortimer Brewster in Arsenic & Old Lace. Newcomers Victoria Weinberg, Laura Douciere and Alan M-L Wager play the Drowsy Chaperone, Janet Van de Graaff and Aldopho, respectively. Returning to the Beef & Boards stage are Timothy Ford (Anything Goes, Singin' in the Rain) as Robert Martin, Suzanne Stark (Mary Poppins, The Sound of Music) as Mrs. Tottendale, John Vessels (Smoke on the Mountain, Hairspray) as Underling, and Deb Wims (A Beef & Boards Christmas, Chicago) as Kitty.
The Drowsy Chaperone is on stage for 36 performances through May 10 in the intimate space of Beef & Boards Dinner Theatre. Tickets range from $40 to $65 and include Chef Odell Ward's dinner buffet, prepared in-house for each performance, and select beverages. Parking is always free. For reservations, call the Beef & Boards Dinner Theatre Box Office at 317.872.9664 anytime between 10 a.m. and 7 p.m. Tuesday through Sunday and from 10 a.m. to 5 p.m. Mondays. Discounts are available to groups of 20 or more; contact the Group Sales Department for more details.
For more information, including complete show schedule, visit beefandboards.com.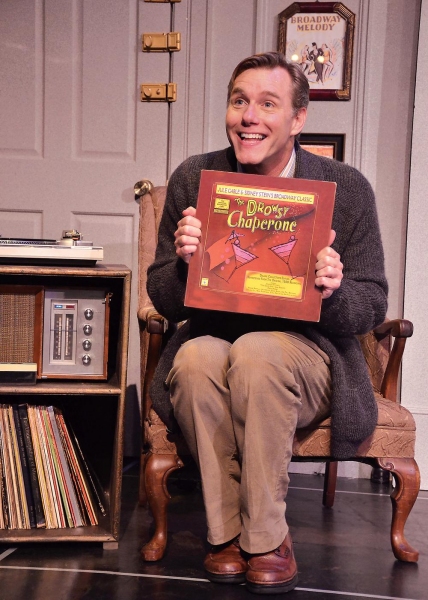 A lover of musical theatre, the Man in the Chair (David Schmittou) introduces the audience to the recording of his favorite: The Drowsy Chaperone, and the show comes to life on the stage.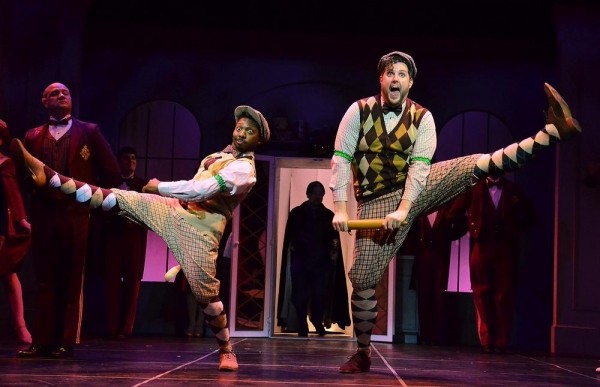 Two gangsters (played by Samuel McKanney, left, and Craig Underwood, right) pose as pastry chefs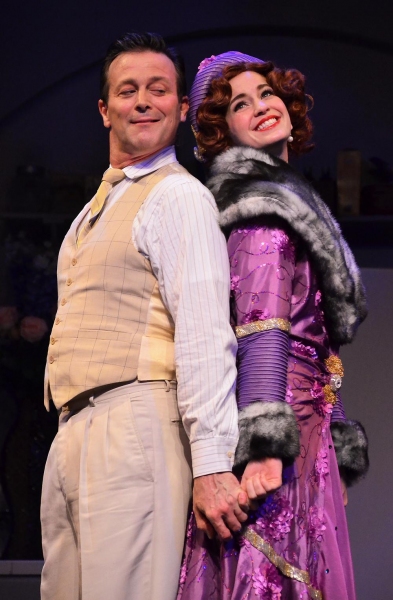 Trying not to 'see' each other on their wedding day are lovers Robert Martin (Timothy Ford) and Janet Van De Graaff (Laura Douciere)

Showgirl Janet Van De Graaff (Laura Douciere), center, declares she's ready to give up a life on the stage to marry Robert Martin and that she doesn't want to 'Show Off' anymore.