Photo Flash: First Look at CHURCH BASEMENT LADIES at Beef & Boards Dinner Theatre
Those hilarious Church Basement Ladies have cooked up an all-new show, and it's being served along with the buffet this summer at Beef & Boards Dinner Theatre. A Mighty Fortress is Our Basement, the fourth and funniest installment yet of this popular series, opens July 5. Scroll down for a first look at the show!
No one can dish out love, life and a casserole like the Church Basement Ladies. It's 1960 and the gals are once again required to face the challenges of change head-on. Beverly is turning 15 and gets her first pair of high heels for Confirmation; Karin is finally learning how to drive; Mrs. Snustad and Mrs. Gilmerson plan a food booth at the county fair to raise money, and the pastor announces his impending nuptials.
Against the shifting tide, these pillars of the church stand strong in their faith and in their friendships with more crazy antics, more great new songs and more lessons reluctantly learned.
Returning to reprise their roles are Licia Watson as Vivian Snustad, Karen Pappas as the always entertaining Mavis Gilmerson, Hillary Smith as Beverly Engelson and Eddie Curry as Pastor Gunderson. Carrie SaLoutos joins the cast in the role of Beverly's mother, Karin Engelson.
A Mighty Fortress is Our Basement is on stage for 52 performances through Aug. 17 in the intimate space of Beef & Boards Dinner Theatre. Tickets range from $38.50 to $63.50 and include Chef Odell Ward's dinner buffet, prepared in-house for each performance, and select beverages.
For reservations, call the Beef & Boards Dinner Theatre Box Office at 317.872.9664 anytime between 10 a.m. and 7 p.m. Tuesday through Sunday and from 10 a.m. to 5 p.m. Mondays. Discounts are available for children ages 3-15. Discounts are also available for groups of 20 or more - contact the Group Sales Department for more details. For more information, including complete show schedule, visit beefandboards.com. A Mighty Fortress is Our Basement is sponsored in part by WQME 98.7 FM.

Hillary Smith as Beverly and Licia Watson as Vivian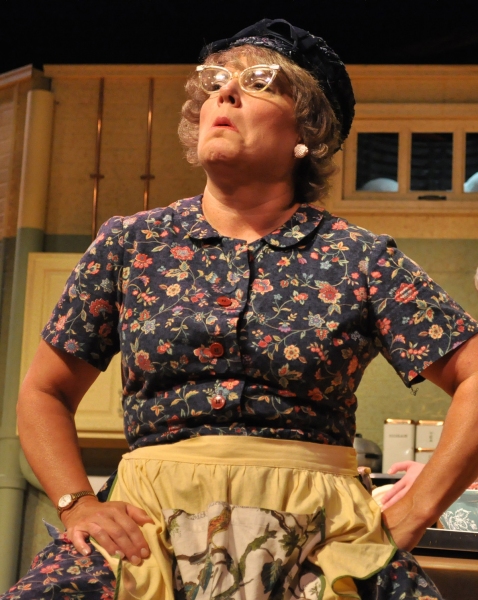 Karen Pappas as Mavis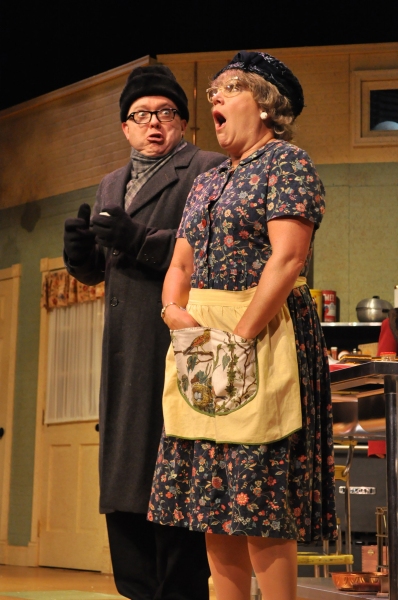 Eddie Curry as Pastor Gunderson and Karen Pappas as Mavis

Licia Watson as Vivian and Karen Pappas as Mavis