Photos: JESUS CHRIST SUPERSTAR Opens at Theatre at the Center
JESUS CHRIST SUPERSTAR, the Tony Award nominated, groundbreaking theatrical masterpiece by legendary writing team Andrew Lloyd Webber and Tim Rice, will be playing only at Theatre at the Center, 1040 Ridge Road, Munster, IN, July 8 through August 8. The press performance will be July 11. The first collaboration between Andrew Lloyd Webber and Tim Rice to be performed on the professional stage, JESUS CHRIST SUPERSTAR is one of the most popular and enduring works ever created for the musical theatre. The production will star Jeff Award Winner Max Quinlan as "Jesus" and will be Directed and Choreographed by Stacey Flaster.
Starring with Max Quinlan as "Jesus" in the cast of JESUS CHRIST SUPERSTAR will be Larry Adams as "Pontius Pilate", Joe Tokarz as "Judas", Audrey Billings as "Mary Magdalene", Jeff Diebold as "Caiaphas", Dante Murray as "Simon Zealotes", Steve Genovese as "King Herod", Kevin Barthel as "Annas", Jon Cunningham as "Peter" and ensemble members Daniel Castro, Lauren Creel, Courtney Crouse, Robert Deason, Jim DeSelm, Dan Ferretti, Jackie Gessert, Chie Isobe, Benjamin Kirberger, Alex McCrary, Ashton Napier, Rebecca Pink and Cory Stonebrook.
Joining Director and Choreographer Stacey Flaster will be Musical Director Bill Underwood. The design team for JESUS CHRIST SUPERSTAR is Scenic Designer Christopher Ash, Costume Designer Nikki Delhomme, Lighting Designer Tim Fandrei, Wig Designer Kevin Barthel, Props Designer Libby Fandrei and Sound Designer Barry Funderburg. The Stage Manager is Rita Vreeland.
Founded in 1991, Theatre at the Center is a year-round professional theater at its home, The Center for Visual and Performing Arts, 1040 Ridge Road, Munster, Indiana. Theatre at the Center is conveniently located off I-80/94, just 35 minutes from downtown Chicago, and has free parking.
Performances are Wednesdays and Thursdays at 2 p.m.; Fridays and Saturdays at 8 p.m.; Sundays at 2:30 p.m.; and select Thursdays at 7:30 p.m. or 8 p.m. and Saturdays at 2:30 p.m. Individual ticket prices range from $36 - $40. Special JESUS CHRIST SUPERSTAR events include a Wine Tasting on Friday, July 9th from 6:30 p.m. - 7:30 p.m.; Educator's Night on Thursday, July 15th; and Superstar Burger Buffet dinner/theatre event on Thursday, July 29th. Group discounts are also available for groups of 11 or more. For more information, to purchase gift certificates and/or individual tickets, call the Box Office at 219.836.3255, Tickets.com at 800.511.1552 or visit www.TheatreAtTheCenter.com.
Photo credit: Michael Brosilow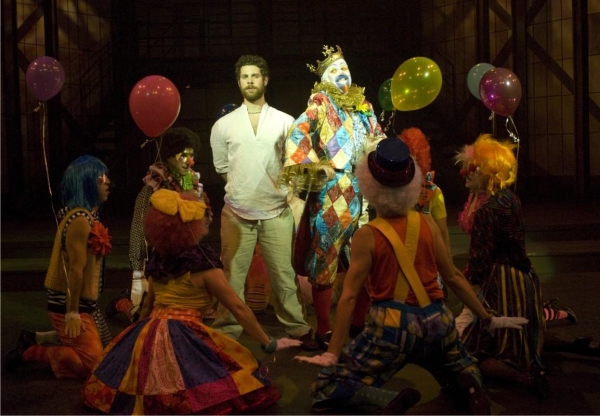 Max Quinlan, Stephen M. Genovese & Ensemble

Max Quinlan, Larry Adams & Jeff Diebold

Max Quinlan, Jonathan Lee Cunningham, Audrey Billings & Ensemble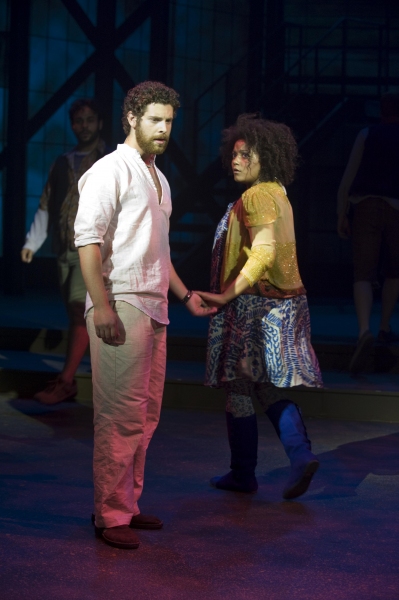 Max Quinlan & Jackie Gessert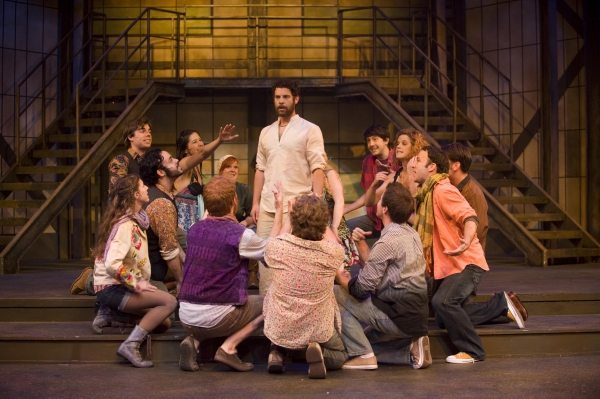 Max Quinlan & Apostles

Max Quinlan

Apostles & Max Quinlan