Iconotheatrix Becomes Part Of It All In [TITLE OF SHOW]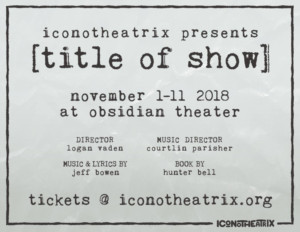 Iconotheatrix presents [title of show] November 1-11, 2018 at Obsidian Theater. In [title of show], Jeff and Hunter, two struggling writers, hear about a new musical theatre festival. However, the deadline for submissions is a mere three weeks away. With nothing to lose, the pair decides to try to create something new with the help of their friends Susan, Heidi and Larry on the eighty-eights. With the cast in place, Jeff and Hunter begin a conversation about what to write about. Eventually, Jeff suggests they write about what to write about. They make a pact to write up until the festival's deadline and dream about the show changing their lives. [title of show]-taken from the space on the festival's application form which asks for the [title of show]-follows Hunter and Jeff and their friends on their journey through the gauntlet of creative self-expression. In the span of 90 minutes they write and perform their show at the festival and learn lessons about themselves as people, friends and artists. [title of show] is, above all, a love letter to the musical theatre-a uniquely American art form-and to the joy of collaboration.
Iconotheatrix' production of [title of show] will be presented in the heart of the Houston Heights at Obsidian Theater. The production will run for 10 performances only from November 1-11. Tickets range from $21 for students to $26 for adults. Tickets can be purchased at http://www.iconotheatrix.org/current-production.
With music and lyrics by Jeff Bowen and a Tony Award nominated book by Hunter Bell, [title of show] is filled with quirky, funny, and often touching moments about collaborating on something that could very well end up be the character's best life work.
Iconotheatrix, a youth theatre company, has double cast several of the roles. Owen Lee plays book writer, Hunter. Sharing the role of music and lyric writer, Jeff, is Jonathan Bynum and Janson Hanes. In the role of established Broadway actress, Heidi, is Catherine Campbell and Gia Ochsenbein. Bailor Allen and Charlie McCoy take on the role of Susan, corporate worker turned actress. Playing the piano throughout the show and in the role of Larry is guest artist, Robert Lewis. To see the performance schedule of each actor, please visit http://www.iconotheatrix.org/current-production.
The creative team is comprised of familiar faces to Iconotheatrix, featuring direction by Logan Vaden (Carrie: The Musical and Heathers The Musical), music direction by Courtlin Parisher, and assistant direction by David Allen III (Avenue Q).
"The mission of Iconotheatrix is to bridge the gap between educational and professional theatre. We provide an authentic artistic experience in a safe, inclusive environment for young adults. Through bold and innovative theatrical productions and community outreach, our students are a part of the positive progression of the growing Houston theatre economy." Iconotheatrix made it's debut in December of 2014 with their inaugural cabaret, Iconotheatrix: A Prologue. The cabaret kick-started ITX and allowed it to produce their first full production, RENT, in May of 2015. Since then, Iconotheatrix has become a non-profit organization and produced its first full season in 2016-2017 featuring Carrie: The Musical, The 25th Annual Putnam County Spelling Bee, and Heathers The Musical (High School Edition). In January of 2018, Iconotheatrix was awarded the Most Improved Theatre in Houston by Broadway World. For more information, please email iconotheatrix@gmail.com or visit Iconotheatrix' website at www.iconotheatrix.org.
Related Articles View More Houston

Stories

Shows
More Hot Stories For You