Company Onstage Local Writers Series to Present INSIDE THE MIND OF CASSIE RANDALL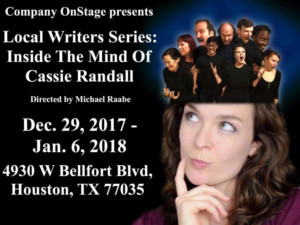 "The Collected Works of Cassie Randall," directed by Michael Raabe, will play at The Company Onstage Fridays and Saturdays, December 29 to January 6, at 8 pm.
These collected short plays and monologues range from biting social satire to absurd comedy to deeply personal pieces that examine situations of lives that could have or should have been.
"My best pieces make people react," says Randall. "I want my writing to mean something. I want to challenge my audience; I want them to feel like their time is well-spent watching my work. I love to hear the audience crack up when I poke fun at situations-satire is my jam. And of course it's always an honor to hear the audience quietly sniff during my more emotionally intimate work.
"I'm so excited to have my show play at Company Onstage. I absolutely adore that theatre. And the entire cast and my director, Michael Raabe, are some of the greatest talent in Houston theatre, and they are working on bringing my work to life. It's surreal."
"I took on this project with mixed emotions and expectations, and was presented with a landslide f stories that, at first, seemed over-the-top and impractical for conventional theater. I was pleasantly WRONG on both counts," says director Michael Raabe. "As I worked through the pieces crafted so well by Miss Randall, I found depth and a voice that speaks to most people on so many levels. I cannot read her work without a response. I have worked to bring those responses to life, fleshing out each moment with a brilliant cast. I have been very fortunate to take a look into this wild, and often irreverent look into the mind of Cassie Randall. Hang onto your seats, it is going to be a wild ride!"
"The Collected Works of Cassie Randall" runs on Fridays and Saturdays at 8 pm, December 29 to January 6, at The Company Onstage's new location at 4930 West Bellfort, on the campus of Salem Lutheran. Tickets can be purchased at the door or online for $18, with senior/student discounts at $15 and groups of 10 or more at $13.50. For more information, visit www.companyonstage.org or call 713-726-1219.
More Hot Stories For You