BWW Review: THE PLAY THAT GOES WRONG at Renaissance Theater Berlin - Great Cast. Great Farce. Great Fun!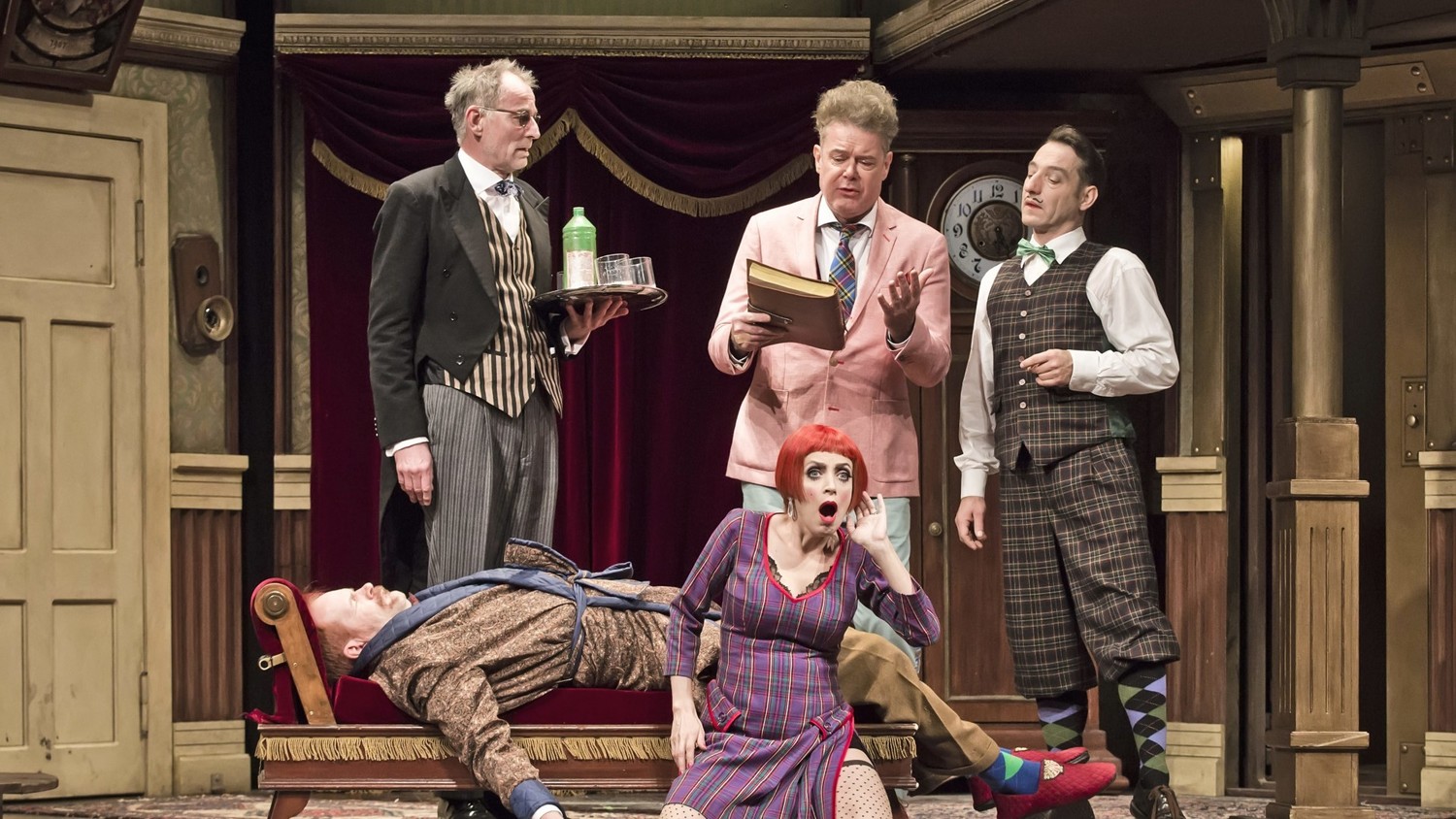 From the masters Shakespeare and Feydeau, to John Cleese and Monty Python's Flying Circus, to the more recent works of Ken Ludwig and Michael Frayn, farce is a comic gift that keeps on giving. The Theater Gods have bestowed their highest blessing on the Renaissance Theater's hilariously funny production of THE PLAY THAT GOES WRONG (Mord auf Schloss Haversham). If you want a laugh-out-loud evening in the theater, run, don't walk to the Renaissance Theater's Box Office and get yourself a ticket to this limited engagement. Everything's right about THE PLAY THAT GOES WRONG.
Want depth of characterization?? Look elsewhere. THE PLAY THAT GOES WRONG is a one-trick pony, a convivial valentine to the motto "The Show must go on!!" Here a group of amateur thespians serve baked, broiled, fried, and boiled ham during a performance of an onstage murder mystery, "The Murder at Haversham Manor." What ensues is a theatrical night from hell, where everything that can possibly go wrong, goes wrong. These put-upon performers don't even have a chance to "chew the scenery," as it comes falling, quite literally, down around their feet, taking their characterizations, concentration and the audience's decorum down with it. The comedy of errors has been ratcheted up to new theatrical heights, as writers Henry Lewis, Jonathan Sayer, and Henry Shields have concocted a witches brew of situations that would make even the great Meryl Streep break character.
Kudos to the brilliant cast of Anna Thalbach, Boris Aljinovic, Anna Carlsson, Guido Föhrweißer, Thomas Schendel, Klaus Christian Schreiber, Martin Schneider, and Guntbert Warns who were uniformly excellent, and pricelessly entertaining. Though chaos was reigning onstage, the exactitude and precision of each and every performance should not be underestimated. Jokes are not only landed, they are detonated, to brilliant comic effect. Aided and abetted by the endlessly inventive staging of director Guntbert Warns and the eye-popping set of designer Manfred Gruber, the perfect setting was created to let allow this ensemble of gleeful misfits to shine their very brightest, finding merriment in each onstage moment.
The revival of THE PLAY THAT GOES WRONG is currently performing until September 18th. Check the theater's website for further performances.
Related Articles View More Germany

Stories

Shows