Showtime's David Whalen And Broadway's Jeffrey Binder To Star In Gulfshore Playhouse Mystery Thriller HOLMES AND WATSON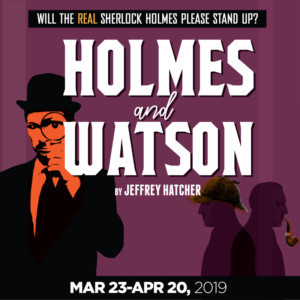 Mystery takes the stage at Gulfshore Playhouse, Naples' premier professional regional theater, with its latest production "Holmes and Watson." Filled with frauds, fakes and charlatans all claiming to be the real Sherlock Holmes, Dr. John Watson is on a mission to solve the mystery of the "real Sherlock Holmes." Packed with twists and turns, this adventurous production runs March 23 through April 20.
Award-winning playwright Jeffrey Hatcher is no stranger to the famous, fictional detective. Known as one of contemporary American theatre's greatest Holmes experts, Hatcher also wrote the 2015 screenplay for the film, "Mr. Holmes" starring legendary Lord of the Rings actor Ian McKellen.
The show is directed by Andrew Paul, who previously directed "The Hound of the Baskervilles" from the 2017 Gulfshore Playhouse season. He is the founder and producing director of Kinetic Theatre Company in Pittsburgh, Pa.
In addition to Paul, the creative team for "Holmes and Watson" includes Scenic Designer Robert Koharchik, Costume Designer Renee Baker, Stage Manager Emily Hauger, Lighting Designer Graham Zellers, and Sound Designer Angela Baughman.
The cast includes:
David Whalen (Dr. Evans) - Most recently starring in the Showtime miniseries, "The Loudest Voice in the Room" with Russell Crowe and Naomi Watts, Whalen has appeared in more than 100 productions across the country, including best-rated motion pictures, "Southpaw," "The Last Witch Hunter," "Jack Reacher," "Insomnia," "Bystander," "The Last Samaritan," "Black Dahlia," "My Bloody Valentine," and "Diagnosis: Murder."
Jeffrey Binder (Watson) - A 15-year Broadway veteran, whose New York credits include Zazu in Disney's "The Lion King" and George Banks in the hit musical "Mary Poppins," both performed at the New Amsterdam Theatre on 42nd Street. Television credits include "Damages," "Law & Order" and "Law & Order: Criminal Intent," "Guiding Light," and "All My Children." Binder also serves as Gulfshore Playhouse's associate artistic director, and most recently made his mainstage directorial debut at Gulfshore Playhouse's "In the Next Room or the Vibrator Play."
Christopher Kelly (Holmes 1/Fonseca) - Appearing in Tony Award-winning theatres across the United States, Kelly's film and TV credits include "Dr. Quinn, Medicine Woman," "Damages" and "Brothers of the Borderland."
John Glowacki (Holmes 2) - A recent graduate of NYU's graduate acting program, Glowacki previously served as stage manager at the Milwaukee Public Theatre.
Gregory Johnstone (Holmes 3/The Client) - Also a regular at the Kinetic Theatre with director Andrew Paul, Johnstone is a veteran stage and screen actor, previously starring in "One Dollar," "The Great One," and "The Last Witch Hunter."
Joanna Strapp (Matron) - No stranger to Sherlock Holmes, Strapp's credits include "Sherlock's Last Case" at Kinetic Theatre Company as well as "Blithe Spirit, Fallen Angels" at North Coast Rep and "Steel Magnolias" at The Laguna Playhouse.
The story begins on a dark and stormy night, three years after detective Sherlock Holmes plunged to his death off Reichenbach Falls. A mysterious telegraph arrives from a doctor at a mental asylum, with a message that three men claiming to be Sherlock Holmes are in his care. Alas, it's up to Holmes' trusty companion, Dr. Watson to investigate. Audiences will be on the edge of their seats demanding, "Will the real Sherlock Holmes please stand up?"
Evening shows begin at 8 p.m.; matinees begin at 3 p.m. Tickets begin at $42; all tickets are $37 two hours before a performance. For purchase information, visit www.GulfshorePlayhouse.org or contact 866-811-4111.
Free pre-show discussions take place March 24 and 27 and April 7 and 10, where Gulfshore Playhouse artistic staff lead conversations about themes and topics related to the production. Audience members can also stick around after the show for a sit down with the cast and director on March 28 or a post-show conversation with staff about themes from the show on March 31.