Broadway's Becky Timms To Direct Gulfshore Playhouse Teen Conservatory Production Of LES MISERABLES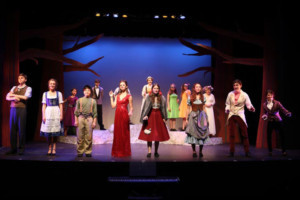 Gulfshore Playhouse, Naples' premier professional regional theater, will hold auditions for its summer 2019 Teen Conservatory production of "Les Misérables" on March 3, directed and choreographed by Broadway veteran Becky Timms.
Timms has worked with theater legends Jerome Robbins, Harold Prince, Bob Fosse, and Susan Stroman and has directed and choreographed more than 60 productions for theaters all over the country. She was in the original Broadway production of "Cats" and served as associate choreographer for the Tony Award-winning "Thoroughly Modern Millie."
Part of Gulfshore Playhouse Education's summer programming, the by-audition only Teen Conservatory for ages 13 to 18 runs from July 8 to Aug. 10. This pre-professional program offers training in acting, voice and musical theater, culminating in a mainstage production of the Tony-winning musical. Program fee is $800; need-based scholarships are available.
"The most exciting part of the Teen Conservatory program is watching the students transform from nervous teenagers into young pre-professional artists who conduct themselves with grace and confidence," said Hester Kamin, director of education for Gulfshore Playhouse. "The program is incredibly demanding and instills in our students a sense of accomplishment and confidence, as well as a new understanding of teamwork and the importance of lifting each other up."
Auditions will take place Sunday, March 3 from 10 a.m. to 6 p.m. at The Norris Center. To register for an audition, contact Hester Kamin at 239-261-7529, ext. 207.
The Teen Conservatory performances of "Les Misérables" will take place Aug. 1-4 and 6-10 at 7 p.m. and Aug. 2, 4 and 9 at 2 p.m.
Gulfshore Playhouse is passionately committed to enriching the cultural landscape of our region by producing professional theater to the highest artistic standards and providing unique educational opportunities to diverse groups of people in a spirit of service, adventure, and excitement. The Playhouse's work is inspired by a belief in the magic of theater to expand the imagination, challenge the senses, provoke discussion, and revitalize in its audience an understanding of our common humanity. This belief drives the care with which Gulfshore Playhouse treats its artists, audiences, students, staff, and members of the greater community.
This focus is also at the core of its newest endeavor - the creation of a cultural landmark facility in downtown Naples. Plans are currently underway for the new Gulfshore Playhouse Theater and Education Center at Goodlette-Frank Road and First Avenue South, which will include two theaters and an education wing to support programming for children, adults, and families.
For more information about Gulfshore Playhouse, visit www.GulfshorePlayhouse.org or call 239-261-PLAY (7529).