Review and Photos: DISNEY'S LITTLE MERMAID PREMIERED AT HELSINKI AND LOOKS MAGICAL
Little Mermaid musial at Helsinki City Theatre.
Director: Samuel Harjanne. Music Alan Menken, scriptwriting Dough Wright. Translation Reita Lounatvuori and Song translation Hanna Kaila. Conductor Risto Kupiainen, Choreography Gunilla Olsson-Karlsson, Set Design Peter Ahlqvist, Light Design William Ile, Video projections Toni Haaranen.
Key Roles On Stage: Sonja Pajunoja as Ariel, Martti Manninen as Prince Eric, Tero Koponen as Sebastian, Samuel Vihma as Flounder, Tuukka Leppänen as Scuttle, Sanna Saarijärvi as Ursula and Mikko Vihma as Triton.
I went to see Little Mermaid on Friday 30th of August, just a day after the premiere!
I hope everyone knows the story of Little Mermaid, for I'm taking a little more concrete and analytical review of the seen show than focusing on the storyline.
I step into the auditorium. The awaiting audience is as if underwater already because of the lighting that resembles water. As the show starts, we get the logo of "The Little Mermaid" projected onto otherwise transparent screen. The music plays the classic tunes, for example Part of Your world. It looks 3D! Two little fish puppets swim and seem to fall in love, guiding us into the under sea world and puppetry.
The show masters the amazing projections and effects that take the audience to another imaginary level. Technology is cool! What possibilities does it give! Along with the sound effects that carried the illusions, of course. The theatre has a great all-around sound-system!
One of my favorite scenes was how Ariel, floating in her secret place, dreaming about the world of humans, hears a boat coming. The stage gets a little darker, Ariel gazes the back of the audience, and we hear how the ship roars forwards.
Also, how Prince Eric drowned was one of the most amazing moments I've experienced in theatre. William Iles is behind lighting, Kai Poutanen behind the sounds and Toni Haaranen behind the video projections.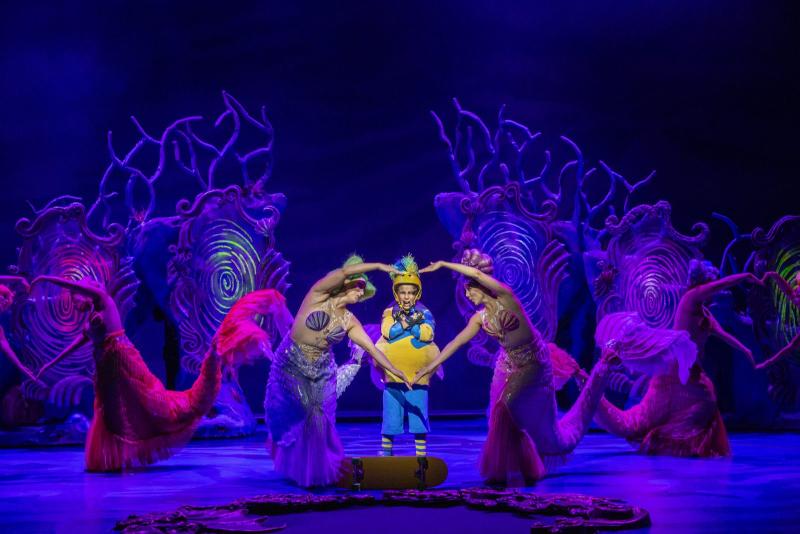 The puppetry is amazing, kudos of it to Paul Vincett and Becky Johnson, "Stitches and Glue Ltd". I didn't get tired of admiring the many ways of how the colorful fish were brought on stage. They hang, are attached to clothes people wear, they roll around as one rides a minibike slowly at the back of the stage... Very creative and nifty! And what it came to the big ones, the floating milk-cap and the kind looking shark were my favorites. I'm not surprised that Paul and Becky's talent has been used for Star Wars too, tells the program!
Colors are the key in this. The costume design by Pirjo Liiri-Majava is dashing and the scene where Eric, Triton, Ariel and Sebastian all four sang I spotted some nice color design. Every character had some detail colors of the other's main colors: Blue, Green, Yellow and Red.
Complimentary colors are also used in Ursula's cave where there's toxic green and purple, giving me shivers. Also, how Flotsam and Jetsam first time appeared on stage, their eyes blinking, peeking from behind the walls-- I'm 22 and still got a little jittered! Phew.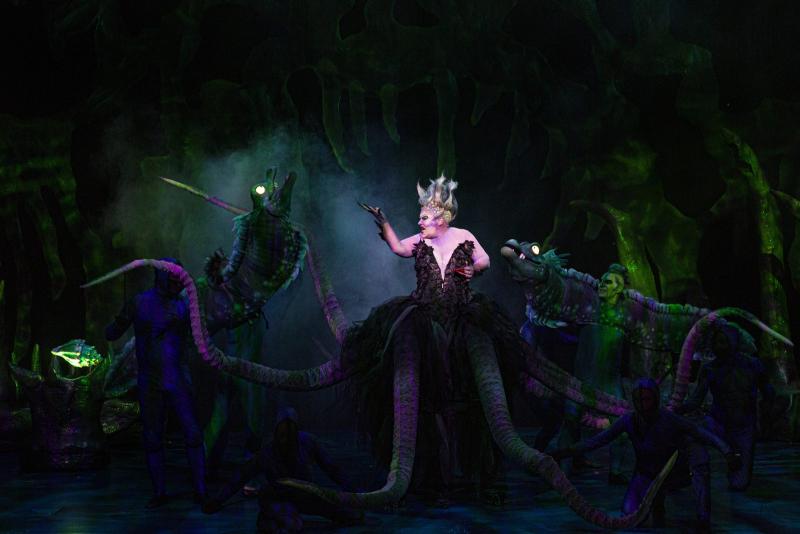 Ursula, performed by Sanna Saarijärvi has gotten praises in other reviews too, but I'm going to give one more: she is relaxed, clearly enjoys performing her delicious character, rolls her r's and is not afraid of show off grandly expression-wisely or how she speaks. Other favorites of mine were definitely Samuel Vihma's Flounder and his solo song. He was brave and I have a feeling we're going to hear about that boy in the future too. Tuomas Uusitalo as Chef Louis was a spot on enjoyment as well.
All of the three performers enjoyed the present, had good connection to the surroundings and took time in their parts.
What it comes to other actors their performing seemed to be hasten, a little too rapid. Not in terms of tempo but in terms of presence, and there was a lot of air in some of their voices. Perhaps they were nervious, it's a big budget show anyways! Martti Manninen's voice as Prince Eric was very pleasant and he spoke clearly and enjoyably and had some scenes where he was quite rooted too. His assistant Grimpsy, on the other hand, performed by Matti Olavi Ranin spoke a little too unclear that evening, though otherwise he was a jolly character.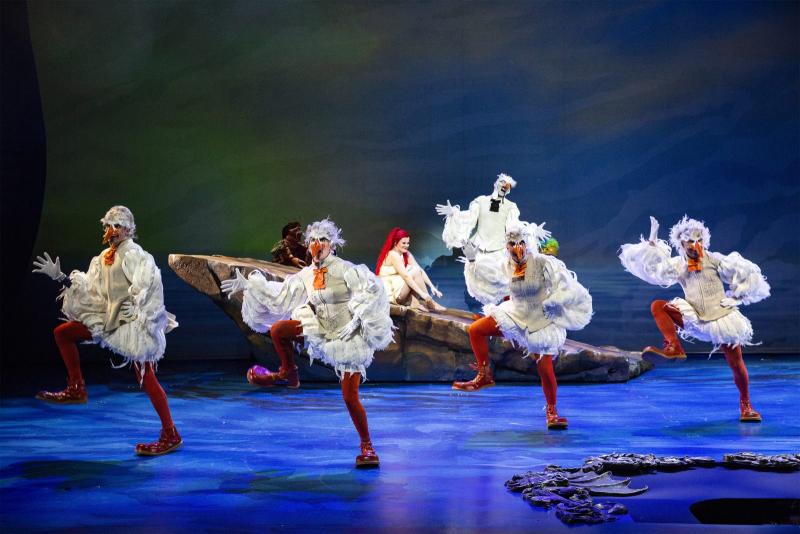 My favorite musical part was definitely the Under the Sea where I couldn't help but jam to the music with my friend on my seat! Thanks to the Orchestra! The feeling was nothing less but a carneval-like, topped up with the talented acrobats of the ensemble who did flips and other sphagats. In terms of dancing choreography the Positoovity was one of the best ones!
One thing left to bug me a little: in the First act Ariel, performed by Sonja Pajunoja, for example in the Part of the World musical piece, didn't contact with the audience much if any. Nevertheless in the Second Act she had clear connection with the audience members, for example when she rejoiced by waving her fist like a teen as the Prince noticed her, making the kids of the audience giggle. I think there could have been a great spot for a clear audience connection in the First Act too as she for the first time sprung up to the air-- I mean higher in the water to sing.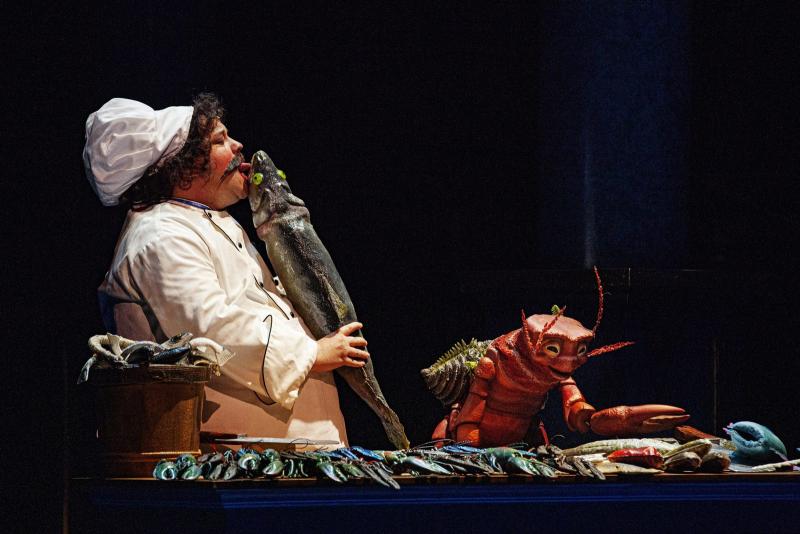 Compared to the Disney's film adaption the text of the Stage Musical has a lot of fishy jokes... Pun absolutely intented. To my taste there were too much of them but some moments where good, for example how Sebastian complained how he doesn't have enough spine to do a task. I also loved the moment how Ursula screamed how there's one power stronger than her magic: teenage hormones!
And the two fish from the beginning got each other-- on a hook?-- as well in the end. Ariel and Eric did too. A little tears were shed by me, if it's even possible underwater... as we were!
Love wins!
A lot of people from this production have worked together earlier in other grand musicals in Helsinki City Theatre, so Samuel Harjanne for sure does a great job in Little Mermaid again with his team!
Article: Rosanna Liuski
Photos: Robert Seger