Tickets to Northern Light Theatre's 45th Season Are On Sale Now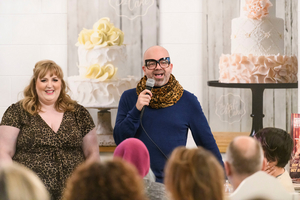 Following an exciting season launch at the Art of Cake in February, NLT's 45th season is available for everyone and on sale now. Director Trevor Schmidt will direct all four shows before presenting his own new play reading We Had A Girl Before You in November.
THE OLDEST PROFESSION
by Paula Vogel
Sept 18 - Oct 3, 2020
(Preview Sept 17)
A Black Comedy about the 80's, economics and octogenarian working girls. Pulitzer Prize-winning playwright
Paula Vogel
explores the obstacles that women face when trying to find where they belong in society. Maybe you can guess what 'the oldest profession' might be?
THE UGLY DUCHESS
by Janet Munsil
Nov 6 - 21, 2020
(Preview Nov 5)
A peek behind the curtain at one of history's most powerful - and hideous - women. Partly true, partly imagined, this play was inspired by a portrait playwright Janet Munsil saw in London's National Gallery called "Portrait of a Grotesque Old Woman" by Quentin Matsys.
THE LOOK
by Alexa Wyatt
Jan 22 - Feb 6, 2021
(Preview Jan 21)
A training session for Estelle Cosmetics that threatens to go off the rails."We all like to be looked at, don't we?" prompts Marilyn, our protagonist who goes from photographic model to lecturer of the next generation of "Estelle girls." For the first time in her life she ceases to be an object, but is unsure if she can cope with this new sense of self-awareness.
SOMETHING UNSPOKEN
by Tennessee Williams
Apr 15 - May 1, 2021
(Preview Apr 14)
A bristling drama in 1950's Mississippi, where long suppressed secrets crackle in the air. Williams, probably the most familiar playwright in this season's lineup, explores issues of vulnerability and codependency, perhaps inspired by his own personal difficulties in life and certainly themes that hold true even today.
WE HAD A GIRL BEFORE YOU
by Trevor Schmidt
Nov 27 & 28
"The house loomed above me, towering over the cliff, leaning as though it meant to hurl itself to the crashing sea below. Whisham Manor. Now called...Desolation." A candle-lit recounting of a Gothic tale of suspense and spine-tingling terror.
Photo Credit: Epic Photography
Related Articles View More Edmonton

Stories

Shows
More Hot Stories For You