BWW Review: AS YOU LIKE IT Gets a 1960s Makeover at Edmonton's Citadel Theatre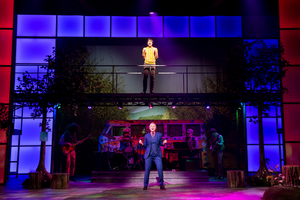 It's love at first sight for wrestler Orlando and starry-eyed groupie Rosalind. Torn apart by sudden banishment, the lovers seem doomed from the start. However, with a foolproof disguise and a little help from their friends, the couple will stop at nothing to live happily-ever-after. Whimsical, imaginative, and laugh-out-loud funny, the Citadel's production of As You Like It marries sly Shakespearean dialogue with a 1960s setting, featuring professional wrestling and 25 of The Beatles' greatest hits.
As Orlando and Rosalind, Jeff Irving and Lindsey Angell share a sweet and infectious chemistry. Irving plays the knight in shining armour with boyish charm while Angell shines as the tough-as-nails heroine. They are a delight to watch from start to finish, making it all too easy to fall for them.
The supporting cast sparkles, brimming with performances as colourful as the production's VW Bus. Jameela McNeil is engaging as Rosalind's cousin Celia, Kayvon Khoshkam is hilarious as the girls' flamboyant servant/pack horse Touchstone, and Farren Timoteo earns big laughs as hapless hillbilly Silvius. Complete with a band of orchard-dwelling hippies, the cast regales with beloved hits such as She Loves You, Here Comes the Sun, and All You Need is Love while dabbling in unabashed silliness. Standout moments include Touchstone producing wineglasses from inside a tree stump and Silvius literally falling over his feet in the presence of his beloved but indifferent Phoebe (Emily Dallas).
A celebration of love in all its forms, As You Like It plays at the Citadel Theatre through March 15th.